In the 70s, it was Ali vs Frazier. The 80s saw Tyson take the championship. And the 90s welcomed Lewis, Holyfield, and Iron Mike battling it out. Today, however, the biggest battle lies with two tech heavyweights, and it's one of the most thrilling contests of all.
Since the emergence of the smartphone, both Apple and Samsung have been desperate to take the title of industry leader, releasing products ever year labelled 'the next big thing.'
The latest from the rumour mill, which is now a well-established war front, is that both tech giants plan to offer new dual-camera abilities for their latest brand of bleeding-tech, cutting-edge smartphones. It should come as no surprise that both are invested in increasing the capabilities of their respective smartphones' offerings so that they are not just the best of the bunch among cell phone quality shots, but so that they rival, or at least approach, DSLR photo quality. This is a major selling point for prospective smartphone buyers, so camera technology potentially stands as a lucrative investment.
Nor should it come as a surprise that both are engaged in an arms race of sorts to have the better tech in this regard, with Apple recently acquiring Linx Computational Imaging, a company that specialises in capturing 2D and 3D photos by utilizing dual sensors, while also patenting a dual-camera setup earlier in 2014. At the same time, Samsung has invested in the Exynos 7420 processor, adding the capability to use dual cameras as well. As another example of their competition, reports come out at the same time that both are said to be interested in sapphire displays to replace the Corning-made proprietary Gorilla Glass, as the former material is lighter and more scratch-resistant.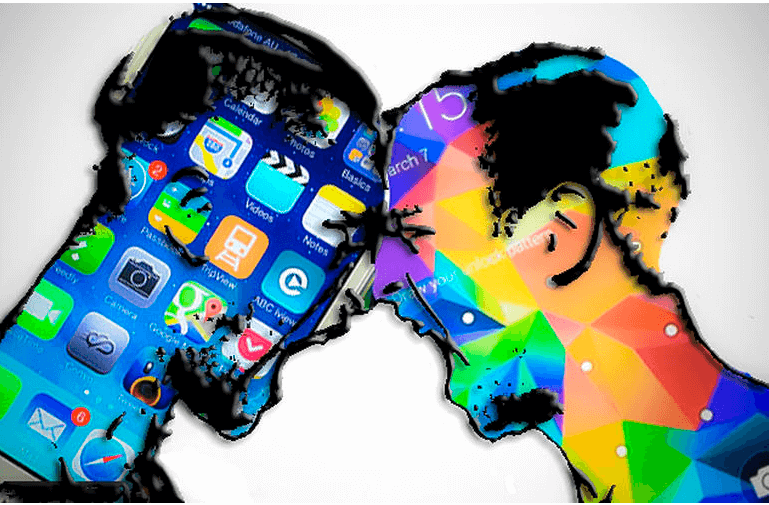 Why is none of this surprising? Because, while the two companies have a complicated marriage, they have also been going at it for quite some time now. Yes, in this arms race, both sides have also accused the other of copying one another.
These days, it seems they are playing nice again, with Samsung no longer launching merciless ads mocking the image of Apple users as too cool for school. The two even released a joint statement stating that they would be dropping all lawsuits alleging charges of copying each other's patents. While patent wars seem to increasingly be a part of the cost of doing business for tech giants, who routinely stockpile them like their shareholders' lives depended on it, it should also be noted that the sum of the damages awarded do not actually amount to all that much for such large corporations. This was not the proverbial knockout punch that put the Korean manufacturer on the ropes, by any means.
Uncomfortable Bed Partners
The largest and most obvious point of their rivalry is in the smartphone field, where they contend annually for adopters for their newest flagship devices. This year, it was Samsung's line of the Galaxy S6 and Galaxy S6 Edge that went head-to-head with the latest iteration of the iPhone, the iPhone 6 and the iPhone 6 Plus. The latter's larger screen size signalled a direct shot against the other already five-inch flagships, HTC's M9, Google's Nexus Device, and, of course, the Galaxy S6; by following the trend of increasing screen real estate, Apple conceded that was a ring they needed to throw their hats into.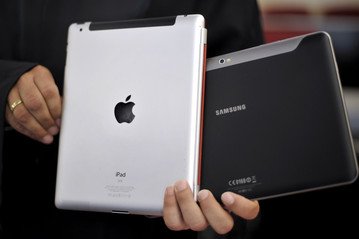 The most recent battle on a new hardware front is in their respective offerings for smartwatches. Penetration for these devices are still very low, and the most successful devices on the market tend to be underpowered gadgets like the Kickstarted Pebble, which basically acts as an interface for one's smartphone and little else. Its killer app is saving the user from the hassle of pulling the phone out of their pocket.
Conversely, the wearable philosophy Apple and Samsung have opted for – and it remains to be seen if this will work – is powerful devices that replace and augment much of the functionality of a phone. This results is more power with much shorter battery lives – a day or two versus the Pebble's week of going without a recharge. Yet, the wearable arena is just another tussle the two tech giants are engaging in.
Still, Samsung has had a history of making microprocessors and chipsets for the Apple, although Apple outsourced the component manufacturing to a Taiwanese firm, only to return to Samsung for that manufacturing process. Meanwhile, Samsung recently announced that they would be producing screens for Apple devices with a 200-person team. These screens would be for things like iPads and MacBooks, not surprising considering they have a history of making premium screens for their television sets, among other devices.
These two have a symbiotic relationship of sorts: Apple products depend on the components that Samsung and only Samsung produces for the products that they go into. The rivalry would decidedly tilt in Apple's favour if Samsung were merely relegated to producing said components on a tight operating margin while Apple were to reap the fruit of the more profitable flagship smart phone war.
Impact on the Games Industry
These corporations are both tightly intertwined in the gaming industry. Apple, long rumoured to have a home console of sorts in the works, officially shook the mobile gaming industry to its core with its Apple store, where a huge chunk of the profits from software sold comes from gaming apps. These profits have eaten away at the traditional powerhouses of the mobile gaming ring, as both Nintendo and Sony have seen their install base shrink with each new iteration of their mobile platforms. Nintendo 3DS sales – that is, all varieties of the console – while sitting at a healthy 15 million units sold in the US (all at a profit, since it is the Japanese gaming giant's philosophy to earn on each piece of hardware sold), pale in comparison to its predecessor at this point in its lifespan.
This is not just thanks to Apple, but all smartphone devices capable of operating sophisticated graphics and games, including Samsung's and other Android devices. Apple is merely responsible for starting the wave of smartphone gaming and taking it to a new level of sophistication previously unseen. Thanks to their head start in gaming apps, the Apple Store has a greater breadth and depth of games compared to what's available on Google's Play store, while the hardware capabilities for both Samsung and Apple phones are very comparable. This makes iPhones the de facto choice for gaming devices. Apple is also due credit for changing the pricing structure. Games on the 3DS and Sony Vita cannot compete with the pricing structure of less than a dollar for an addictive pick-up-and-play experience of a mobile game like Angry Birds.
The addictiveness of Angry Birds spawned thousands of developers trying to break through and replicate the success. Flappy Bird did for a short period, driving the developer to pull it down from the App Store due to him feeling guilty about its addictive nature.
Elsewhere however, thanks to the dominance of both brands, they've brought major brands to our small screens through the App Store and Google Play store. The likes of the iPhone 6 and its superior A8 chip has meant console games such as Grand Theft Auto and Call of Duty are as impressive as they are on the likes of the PlayStation of Xbox.
And the same applies to games on desktop. Whilst having no direct influence on what products can offer, the millions of units of iPhones and Galaxy's has brought convenience to gaming. You only need to look at the online gambling industry to see that.
In recent years it's gone from strength to strength becoming an industry worth tens of billions of dollars, and mobile is a huge part of that. We've seen brands such as PokerStars make the transition to mobile, and thanks to new technologies have been able to enhance their products even further. Most recently they've catered to the now huge mobile market adding roulette, blackjack, and slots to their offering in the new casino section and placing it in their mobile app.
Of course, that's partly down to the technology available on desktop too and the distances between mobile and desktop shortening tremendously over the years. But when it comes to gaming, despite both being market leaders, they're still trying to get one over on each other.
Today, Samsung looks to be leading the charge in a space Apple has had little to no influence in. Sony just announced that their relatively new PlayStation Now cloud streaming service will be available to use on newer versions of Samsung's Smart TVs. This marks the first time users will be able to play PlayStation games on a piece of hardware that does not belong to Sony. It remains to be seen how much use this will have on Samsung's TVs, but it could signal a radical shift in the way games are played going forward.
At the same time, Android devices as a whole and Samsung devices specifically have been vying for influence in the virtual reality space. Apple as of yet has not produced anything of note here, while Samsung's Galaxy Note 4 has been used as a prime example of how ample processing power and a 5.7" Quad HD screen running at 60 frames per second provide sufficient real estate for a wide, 96 degree field of view when the phablet is strapped onto your head with Google Cardboard.
The applications for this kind of experience are as of yet unexplored since this is still new to developers and consumers alike, but it is not hard to imagine immersive adventure games where the primary objective is to explore from a first person perspective (not unlike the experience offered with VRSE, a photo-realistic journey on a lake with dragon flies and other creatures, just a bit more interactive and 'gamey'). Nor is it a stretch to envision sitting at a virtual poker table, turning your head would allow you see the avatars or even digital versions of other players, while looking down would let you see your hand. Samsung could yet be a pioneer in the mobile VR space in the same way Apple was for mobile gaming.
They've already got started on this; Oculus Rift has teamed up with the South Korean brand to create Samsung Gear, and it's out priced around $200, and should it take off users will be playing the likes of poker in a whole new dimension.
In the short term, that's definitely where the battle lies, but overall it remains to be seen where this ongoing tussle of these titans will lead.
Both are sure to be in the ring in the phone space for a long time, and both will influence major tech trends. Which giant will win out ultimately? It'll certainly go the distance…