Losing the data on your computer's hard drive can be the biggest nightmare for anyone. Even if you don't use your computer system for official purposes, an accidental formatting, a malware attack or any other way of losing data on your hard drive may mean that the data is lost forever. However, any issue with the hard drive doesn't mean that the data is lost forever. The same can be said for your microSD card, the storage on your cell phone and tablets, and even on your digital camera's storage. All these storage systems are recoverable with the most reliable file recovery software EaseUS Data Recovery Wizard Free.
Whatever the cause of data loss, this recovery software makes it easy to recover all types of data. The only thing you should ensure is that the hard drive doesn't have any physical damages. EaseUS Data Recovery Wizard Free comes as a respite for millions of people using computers and storage devices at the workplace and home to get access to their lost data without the need having advanced computer knowledge.
When Does a HDD Data Loss Take Place?
There are many situations when the data on your hard drive may be lost:
Accidental loss of file or folder.
An important file or folder on the HDD has gone missing without any reason.
You have lost files on your HDD because of some malware attack.
Any partition has been formatted.
The partition table has been damaged or become corrupt for some reason.
You are seeing the message – "NTLDR is missing….."
Everyone must have faced different situations where they lost their important Word, Excel or PowerPoint files, images, MP3 files, video files, and other key documents on their computer or laptop's hard drive. Many times it's due to a virus attack. The files become corrupt and cannot be accessed. Many times the files are lost after running anti-malware programs. Sometimes accidental partitions by novice users can also create such situations.
EaseUS Data Recovery Wizard Free can be used to recover all types of files using simple steps. Almost anyone with basic computer skills can use this file recovery software.
What is EaseUS Data Recovery Wizard Free?
EaseUS Data Recovery Wizard Free is the best and easiest-to-use, advanced file recovery software that can be used for recovering data from HDD and a wide range of storage systems. This program un-formats and un-deletes files that have been lost or even emptied from the Recycle Bin. Whatever the cause of data loss, this program can help you recover your files using a Windows-based system.
Underlying Concept
The EaseUS Data Recovery Wizard Free program works on the following concept for recovering your files:
When a file gets deleted from a hard drive, the file's content's don't get destroyed right then. The Windows system will mark that spot on the hard drive to be available for storage by making changes to just a single character within t he file tale. The file may not be visible any longer in My Computer, but it is still present there. The file entry will not be displayed. In order to get that file back all that is required is to turn 'on' the flag – that single character.
How to Use the Program?
Here is how you can use this recovery software for getting your valuable data back.
Step #1:
Install the file recovery software by downloading it.
Step #2:
Open the program and choose the type of file(s) you want recovered. The following screenshot shows you how you can choose the file type: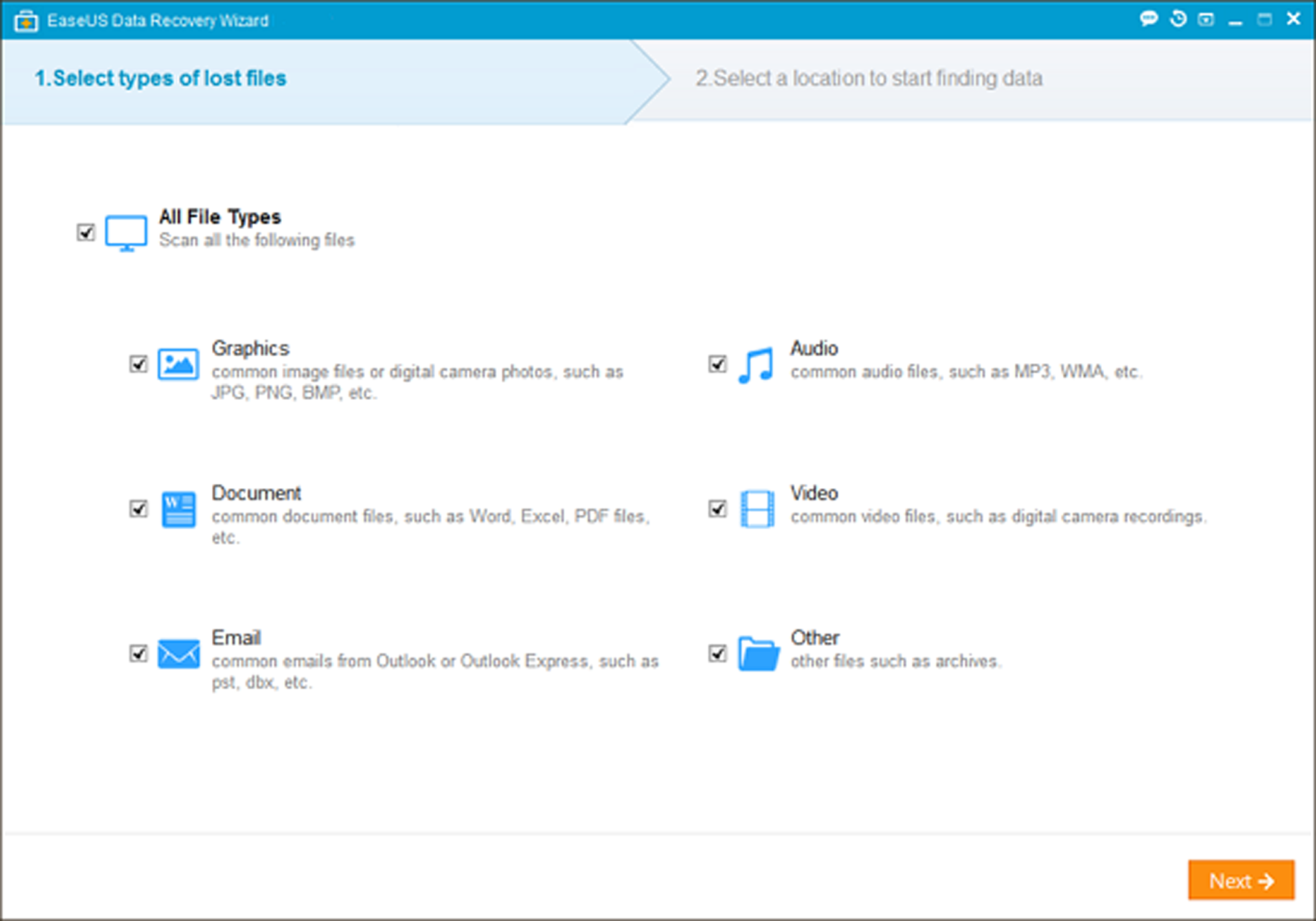 You can also select "all file types." Click on 'next' to make the next selection.
Step #3:
Choose the disk on which you lost the data. Then 'scan' and the selected disk will be scanned in an instant to find the type of file you want. If the partition has been lost, the recovery software allows you to choose "lost disk drives" before clicking on 'scan'.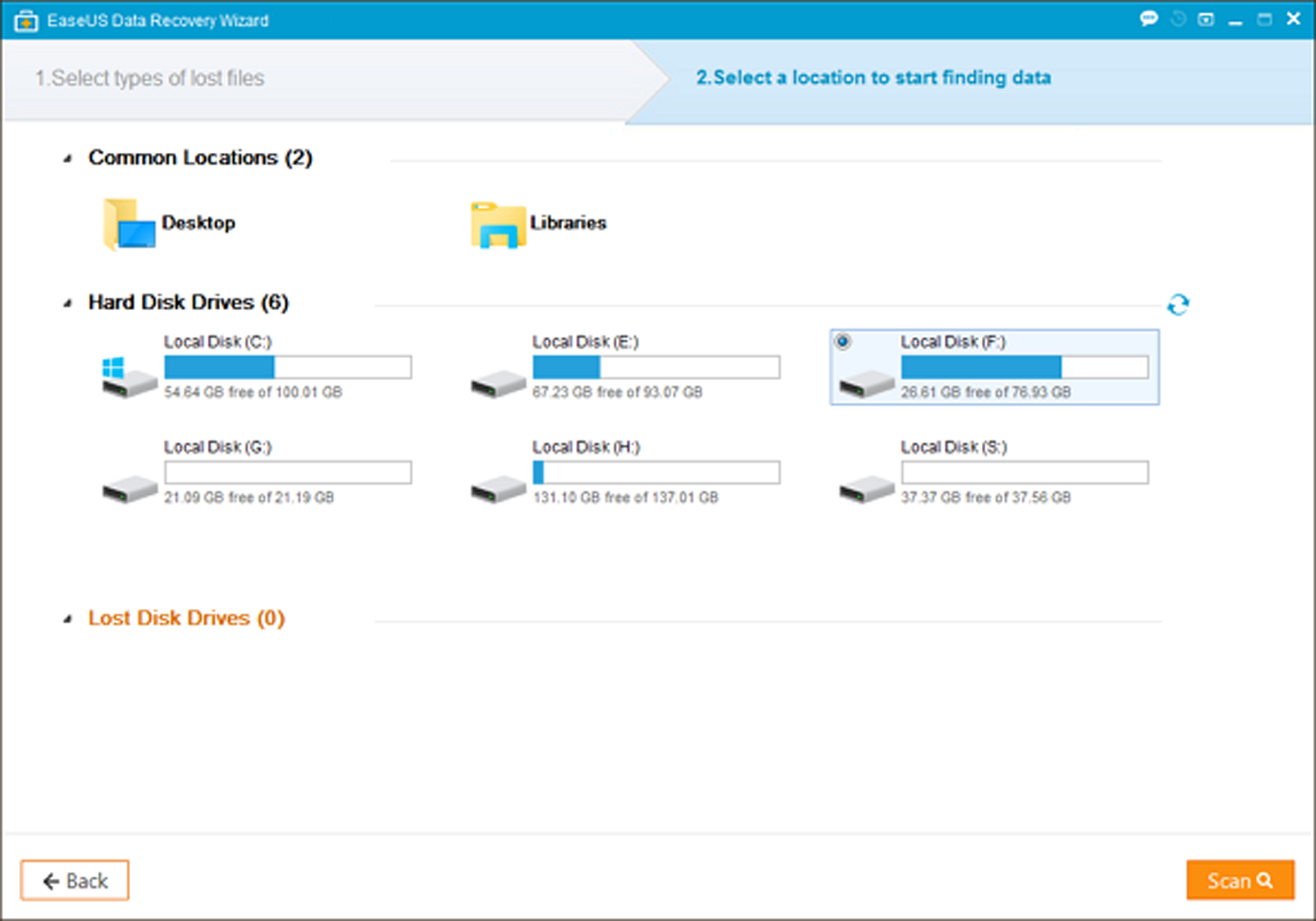 Step #4:
Once the scanning is complete, the EaseUS Data Recovery Wizard Free interface will provide you a preview of the listed recoverable files. You can now even select the files you want to recover. Once the files are chosen, click on 'recover'. The recovered files should be saved on another disk for preventing overwriting.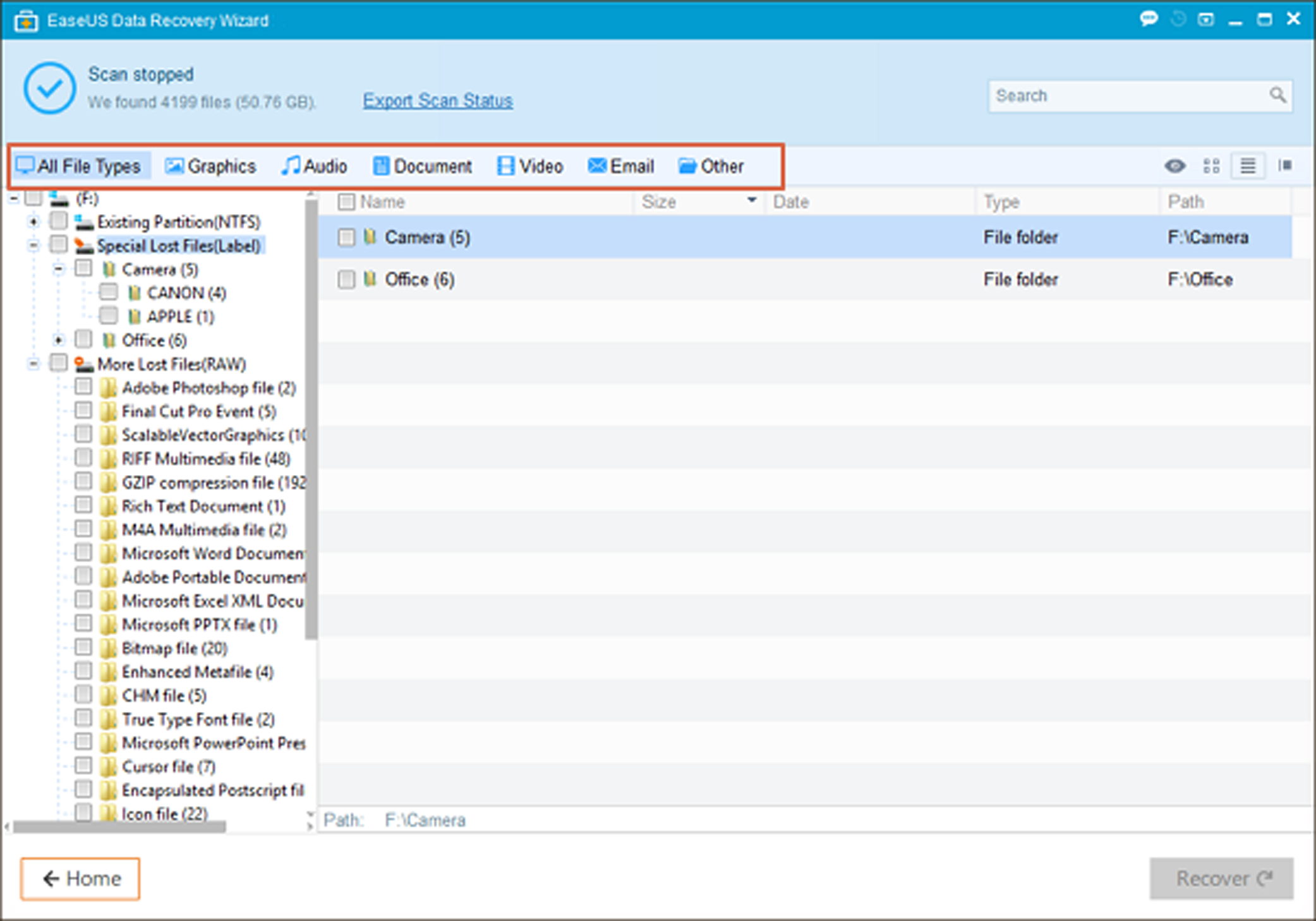 This file recovery software can also recover your deleted files which have been emptied from recycle bin. Whether it's your MS Office files, photos, videos, emails, database files or any other file types.
Even when the partition is not visible, it doesn't mean that it has been lost. The partition is not visible when the partition table has been destroyed or deleted due to virus attack or accidental deletion.
The recovery software EaseUS Data Recovery Wizard Free can be downloaded for free. The free plan allows you to recover up to 2GB of lost data. Upgrades are also available.