Sony India is about to have a press event on October 21, at New Delhi which will probably see Xperia Z5 series handsets getting launched in India. Sony has already released Xperia Z5, Xperia Z5 Compact, and Xperia Z5 Premium in many regions around the world. It is expected that India may see only Xperia Z5 and Xperia Z5 Premium getting launched and might be available in November for purchase.
Sony India is sending a press invite for the above said event which says ,"Block your Date". Earlier a month back, Sony launched Xperia M5 and Xperia C5 Ultra in India.
Sony's press event on October 21 in India
Check out the media event invite sent by Sony India below.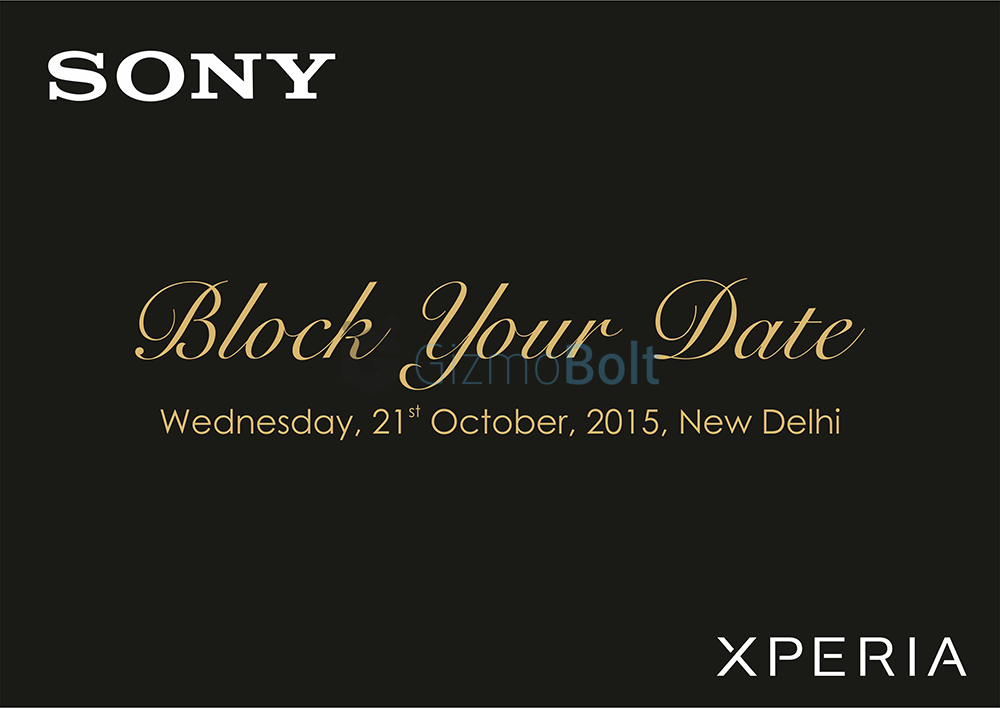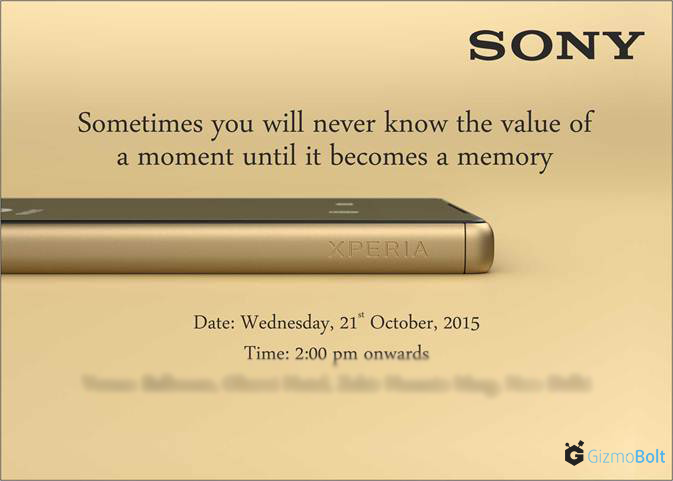 Sony Xperia Z5 series features a new integrated fingerprint sensor power button. Xperia Z5 features 5.2" FHD 1080p (1920×1080), Triluminos display for Mobile display powered by Snapdragon 810 processor, featuring octa-core CPUs 64-bit, Adreno 430 GPU, LTE enabled, 3 GB RAM, 32 GB internal storage, Qualcomm Quick Charge 2.0 enabled with 2900 mAh battery, IP 65 and I68 certified, weighing 154 grams and, 7.3 mm thin.
It features new large 1/2.3 Exmor RS for mobile 23MP sensor and F2.0 G Lens (rear camera) and 5 MP front camera.
Xperia Z5 Compact, as the name suggests is the compact version of the Xperia Z5 with similar specifications except it features 4.6″ HD 720p (1280×720) Triluminos display for Mobile, 2 GB RAM, 8.9 mm thin weighing 138 grams backed by 2700 mAh battery.
On the other side Sony Xperia Z5 Premium features vivid 5.5" 4K Triluminos display for Mobile, 3430 mAh battery, 7.8 mm thick, weighing 181 grams.
We will keep you updated once we get more details on pricing on Xperia Z5 series in India. Drop your comments below.