Sony has updated its Party Share app to newer 01.01.00 version which brings Material Design UI to the app from older 01.00.00 version. Sony Party Share 01.01.00 app update brings usual bug fixing and music shuffle support.
Download the Sony Party Share app from Play Store. Install it > Tap on "Host a Party" allowing you to share your photos and music playlist with maximum 10 people ( Host a Party option is only exclusive for Xperia users ). You can either join a party by NFC or tap on the concerned party you want to join by going to main screen of app.
Sony Party Share 01.01.00 app
Download Sony Party Share app from below Play Store link. App is available for download from Google Play Store only in India and Brazil.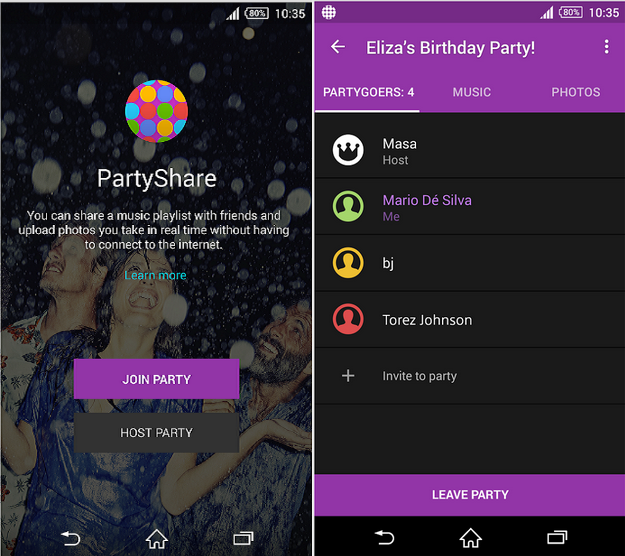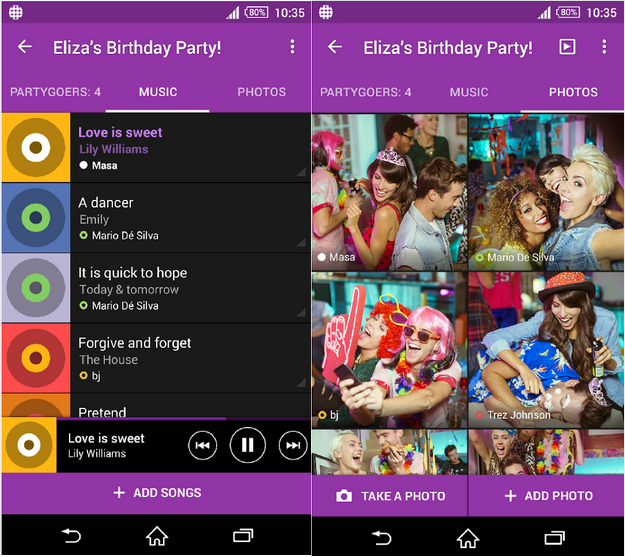 Sony Party Share app is compatible with only Wi-Fi Direct compatible phones and tablets ( running Android 4.4+ ). Following Xperia devices are not supported for the time being ( will soon be supported ) Xperia Z2, Xperia Z2 Tablet (SOL25, D6503, D6563, SO-03F, L50u, D6502, L50w, D6543, SOT21, SGP521, SO-05F, SGP541, SGP551, SGP511, SGP512, SGP561, L50t).
If you are connected via Wi-Fi HotSpot, the application may be unavailable at that time. You can add your favorite songs to playlist shared and all songs will be played via host device only.
Like the new design of app, let us know. Drop your comments below.