Sony BSP10 Bluetooth Speaker made its first appearance at IFA 2014 event along with Sony SBH60 Stereo Bluetooth Headset, both being stylish Bluetooth powered accessories. It alone gives you wireless speaker functionality with superior audio and hands-free calling, compatible with a variety of Bluetooth powered smartphones/tablets.
It is available in white and black color priced at $125 ( including VAT )/ £79.99 / Rs 7728  from Clove UK. We tested it with our Xperia Z2, Xperia SP & Nexus 7 2013 with no hiccups experienced in connecting. Check out the hands on Sony BSP10 Bluetooth Speaker review in below post or hop over to our friends at Soundwiz for an in-depth guide comparing the top Bluetooth speakers.
[ REVIEW ] Sony BSP10 Bluetooth Speaker
Let's take a closer look at Sony BSP10 Bluetooth Speaker.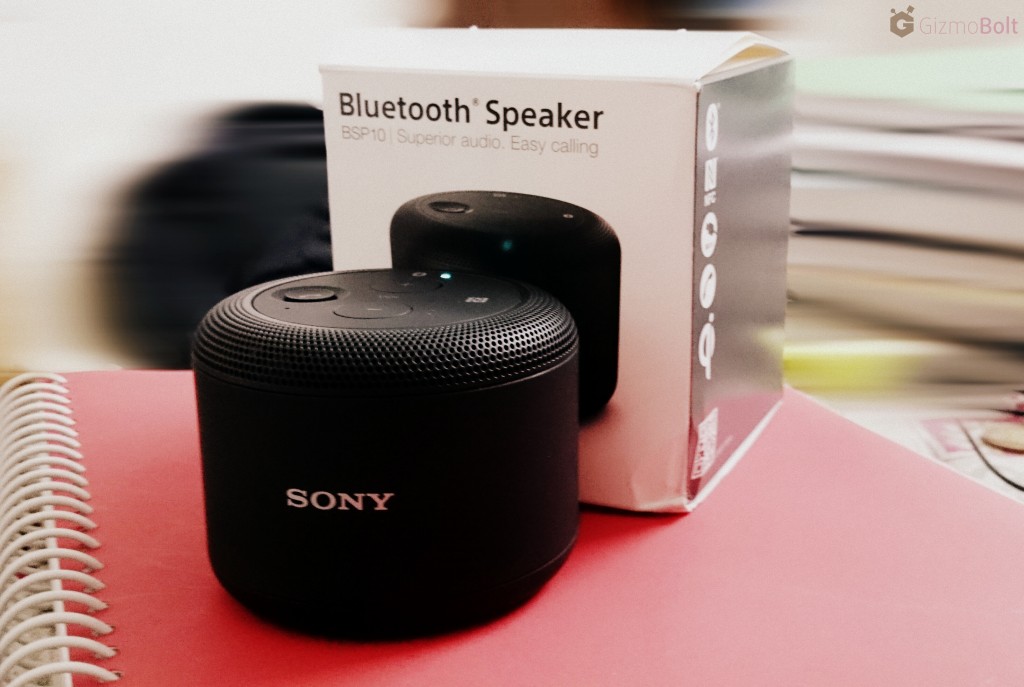 Box Contents
1 Sony BSP10 Bluetooth Speaker.
1 micro USB cable for charging ( Model : EC450 )
Carrying pouch ( silver grey color ).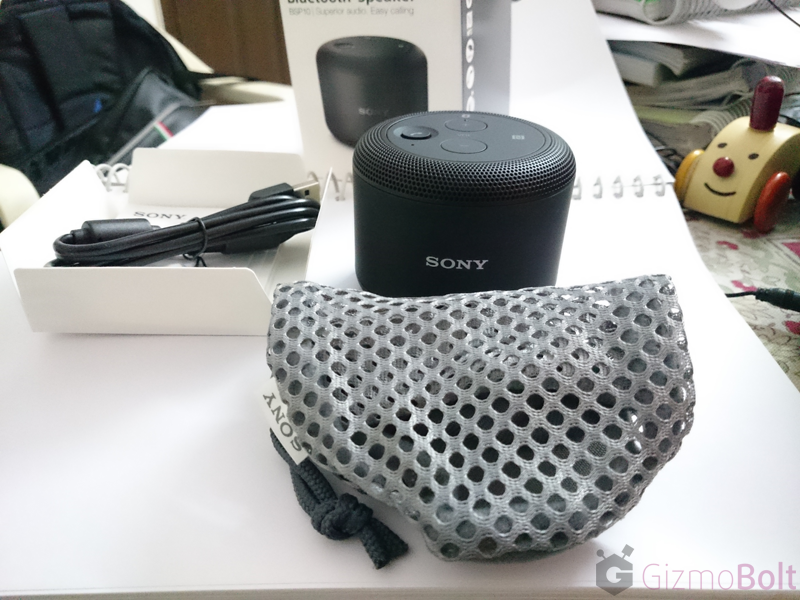 Specifications
Speaker Power : 5 W which is an improvement over Sony SRS-BTV5 which has 1.2 W speaker.
Bluetooth Profiles Supported : A2DP/AVRCP/HSP/HFP
Dimensions : 78 x 60 mm
Weight  300 grams
Sony BSP10 Bluetooth Speaker – Profile
You can see Bluetooth and NFC logo on top of Sony BSP10 Bluetooth Speaker and beside Bluetooth icon there is an LED which is lighted when the speaker is paired with any smartphone/tablet.
There is volume increase & decrease buttons ( in form of +/- icons ) and a button to receive/end calls beside which there is hole for inbuilt microphone.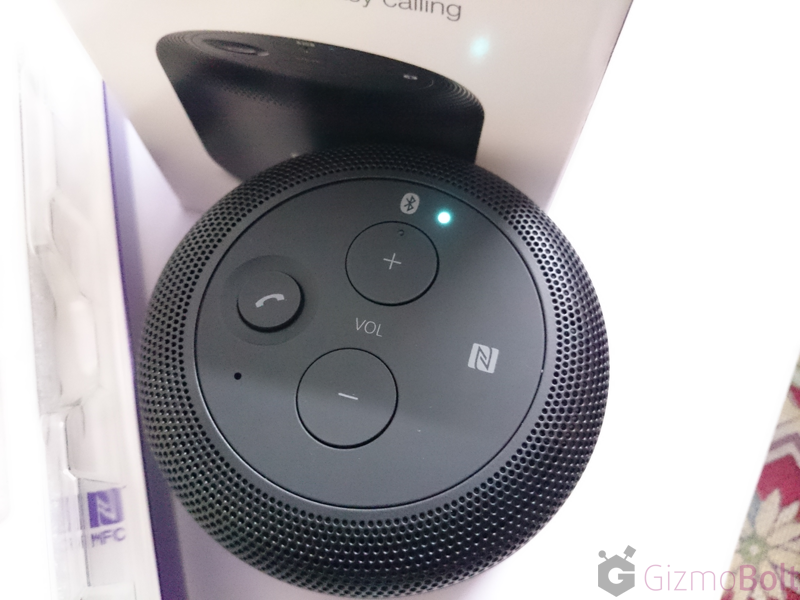 Take a closer look at web grill speaker wall.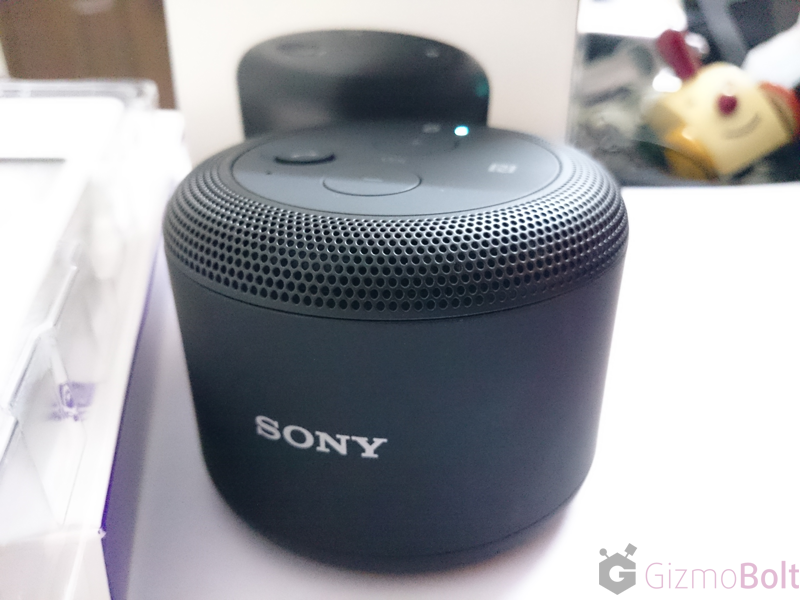 FCC, Bluetooth, Wireless and other certifications mark at the bottom side of speaker.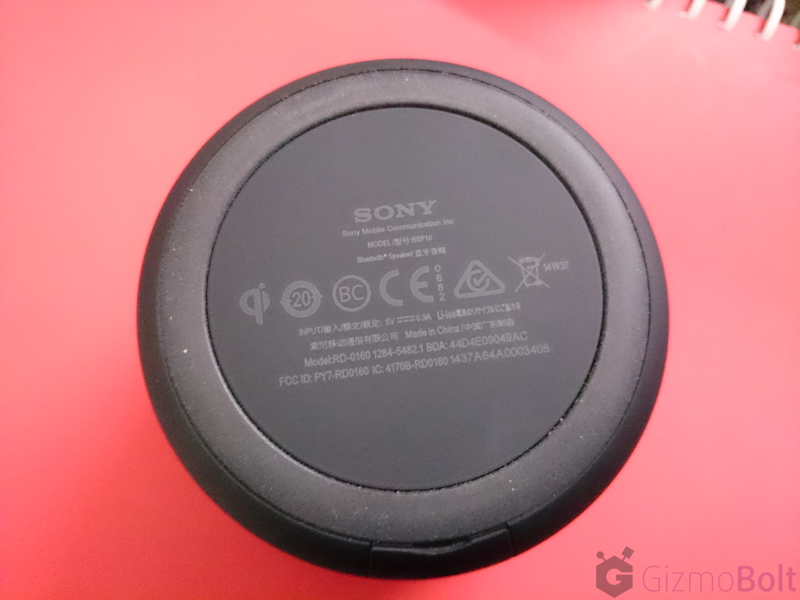 Power button and USB charging port shown in below pic.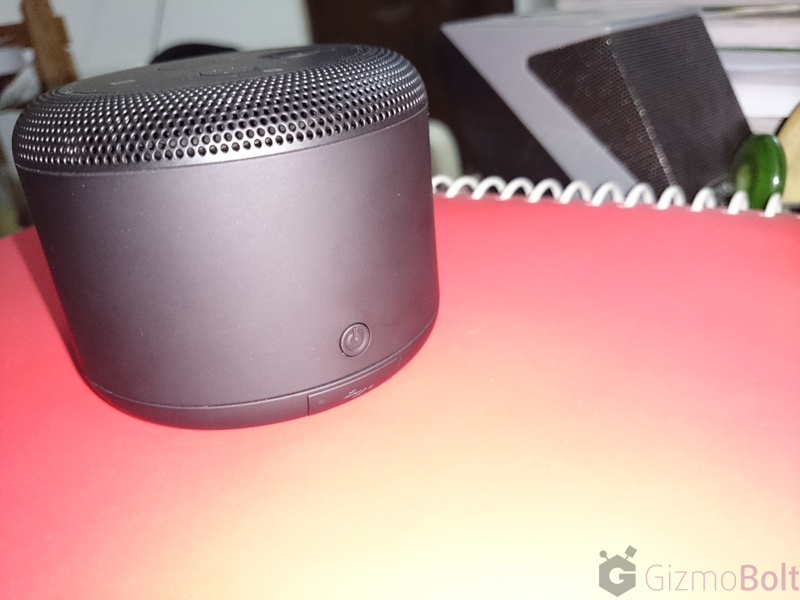 Inside the USB port there is also an LED which glows during charging.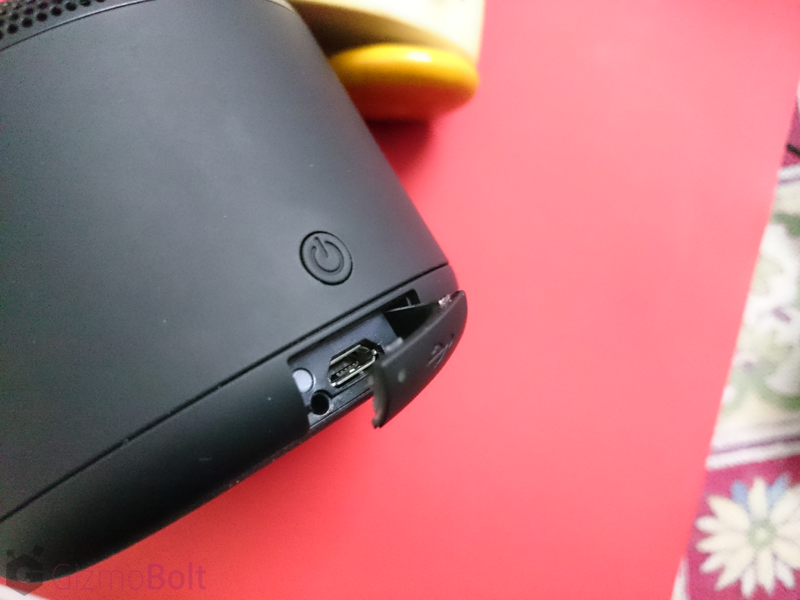 How to Pair it ?
It supports one connect pairing via Bluetooth & NFC. Press the power button for about 2-4 seconds on Sony BSP10 Bluetooth Speaker, a white
LED glows on then pair it with your device/smartphone/tablet; once paired light green LED glows.

You need Sony Smart Connect app to check the battery status of the speaker including music playback and standby time. Creating dedicated events functionality is alos available via Smart Connect app.
Bluetooth range is 10 meters for the speaker. If you leave it idle not connected to any device it goes in automatic power saving sleep mode.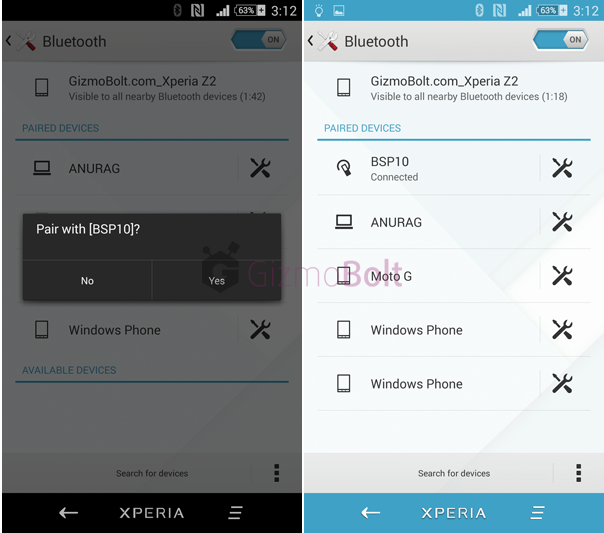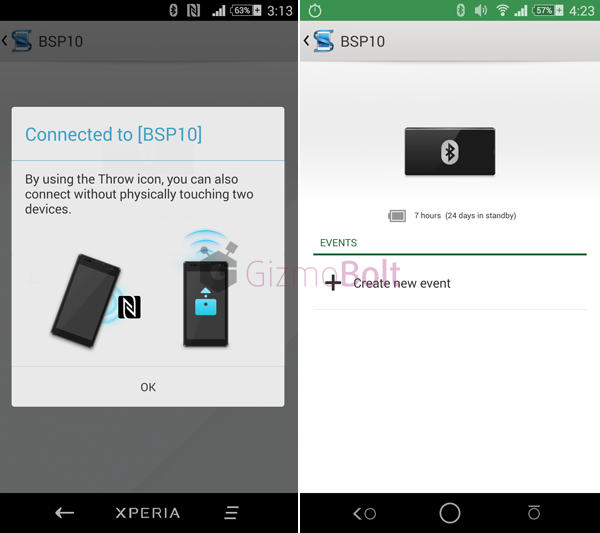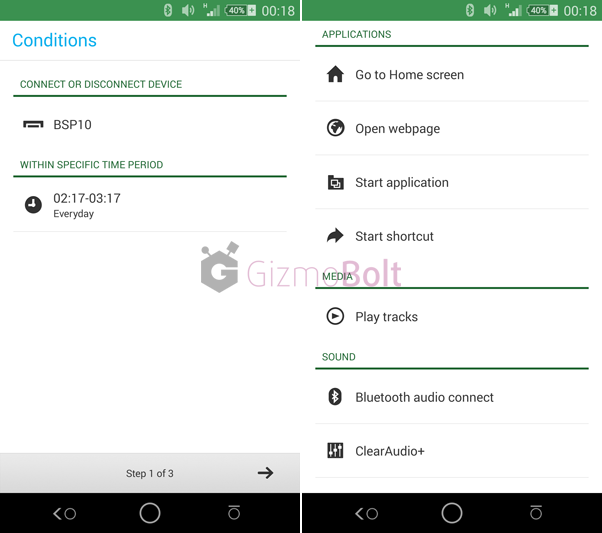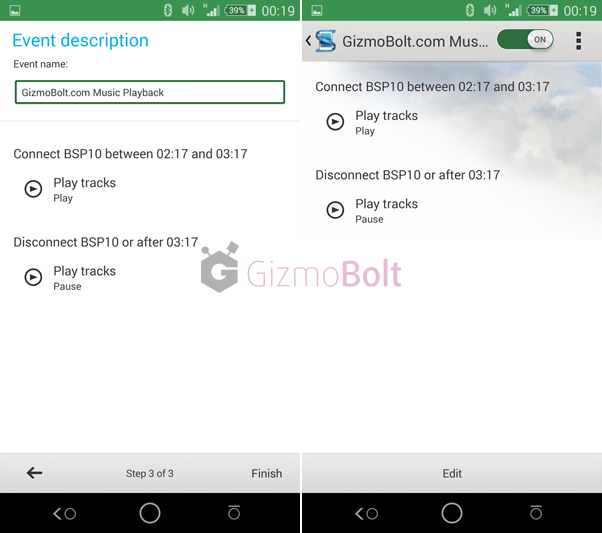 Charging/Playback Time
Charging Period
It took us around 1 hours and 35 minutes to charge it fully via 1.5 A Sony AC Adapter, which in Sony's Smart Connect app shows 7 hours of music playback time and 24 days in standby. It can also be charged via PC.
Music Playback Period
Sony BSP10 Bluetooth Speaker can play music for not more than 5 hours ( battery exhausts in b/w 4-5 hours of playback ).
How to Charge it ?
It supports charging via micro USB connector or via Qi Wireless plate ( use Sony's WCH10 Wireless charging plate ). While charging via USB cable, red LED glows and once it is fully charged green LED glows beside USB connecting point.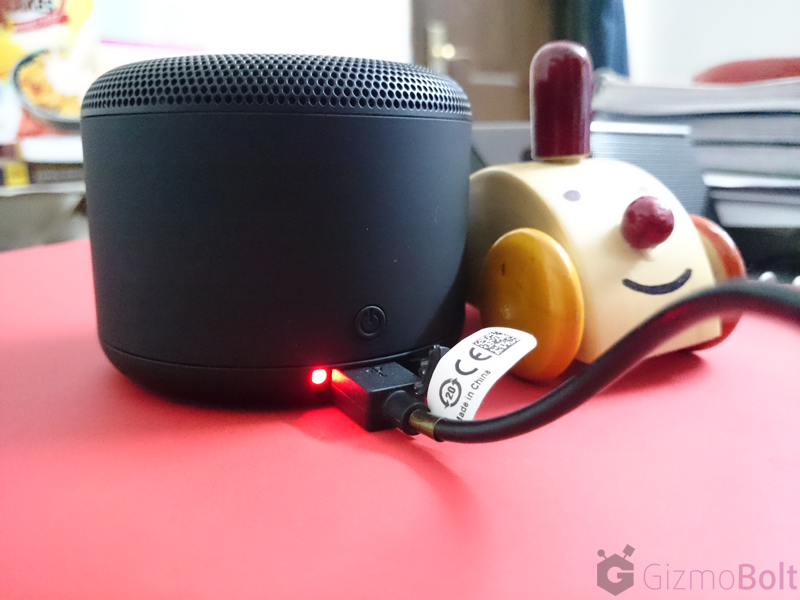 Call Quality
Whenever a call comes, a dedicated ring tone is played via Sony BSP10 Bluetooth Speaker, press the call button to pick up the call and press it again to end it.
Make sure whenever you are using it as hands free, increase the volume of speaker. One may need to speak a bit louder as inbuilt microphone seems not very much responsive wheres as caller's incoming sound quality is good.
Music Playback quality
Music Playback quality is very good as compared to Sony SRS-BTV5 speaker. If you have connected it via Xperia device and playing music in Walkman app then under audio settings enable Clear Audio+ and Dynamic normaliser option for better sound.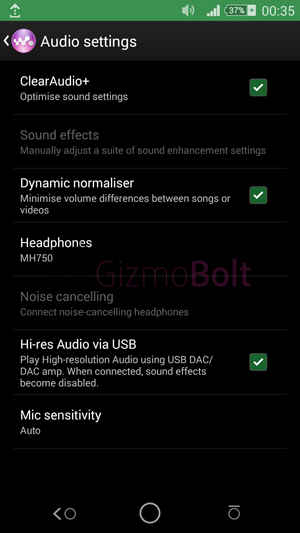 Pros
Powerful speaker.
One touch pairing via NFC and Bluetooth.
Qi and USB charging.
Accept/End call facility available.
360 degree speaker system.
Inbuilt microphone.
Charging / Pairing LED indicators.
Durable and strong built.
Automatic power saving sleep mode function.
Compatible with variety of Bluetooth enabled smartphones/tablets.
Compact in size.
Cons
No next/back track playback key on speaker.
Not waterproof ( like Sony  SRS-X1 &  SRS-X2 speakers ).
If you are looking to buy Sony BSP10 Bluetooth Speaker, check out the listing at Clove UK ( both white and black colors variants ) available, shipping worldwide.
Conclusion
We have been using the Sony BSP10 Bluetooth Speaker from past 1 week and it is simply awesome, a great improvement over SRS-BTV5 speaker and with calling facility and much powerful speaker makes it a better companion for your smartphone/tablet if you are looking for a wireless speakers in compact category.
Have you used Sony BSP10 Bluetooth Speaker, let us know your views on it. Share your experience with us. Drop your comments below