CES 2015 is scheduled from Jan 6-9 2015 at Las Vegas and Sony will be holding its press conference on Jan 5, 2015 at 5-5.45 PM PST ( 6.30 AM India, 6 Jan & 01.00 AM UK, 6 Jan) at LVCC, South Hall, Booth #14200. Last year at CES 2014 Sony unveiled Xperia Z1 Compact and Xperia Z1s T-Mobile variant of Xperia Z1 for US users.
New Xperia Z4 series can be speculated to be unveiled at CES 2015 from Sony. Today only rumored specifications of Xperia Z4, Xperia Z4 Compact, Xperia Z4 Tablet and Xperia Z4 Ultra were floating around the net and now we can expect any of them to come live hopefully.
Sony CES 2015 Press Cconference
Below you can see the official statement made by Sony's official's regarding Sony CES 2015 press conference.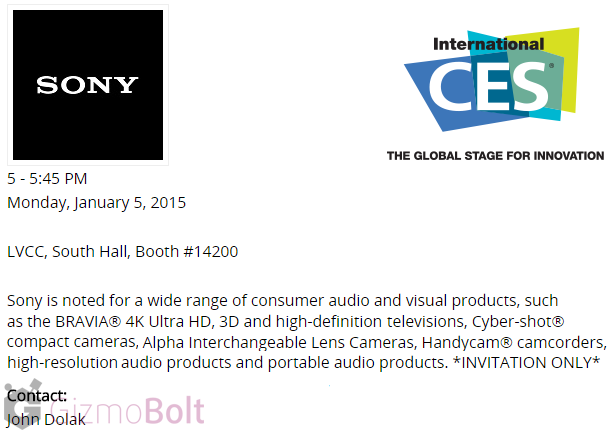 It is still a lot time for CES 2015 ahead, as the date comes closer live streaming link for the event will be updated by the CES.
What are you expecting from Sony at CES 2015 ? Let us know, drop your comments below.