Sony SmartBand SWR10 is a fitness band from Sony to track and log the details of your daily activities like walking, sleeping, cycling etc. Tagged with Sony doesn't mean it can only be used with Xperia devices, you can use it with any android device ( for Xperia handsets you need atleast android 4.4 running ). It has a light weight wrist strap with a Sony core which is used to track your physical activities like steps count during walking or running.
Sony SmartBand SWR10 has got a new successor now in the form of Sony SmartBand Talk SWR30 which has 1.4″ e-ink curved display which is missing in SmartBand SWR10 ( launched at IFA 2014 ), as you can't see any notifications from it ( it only vibrates when one comes ). Let's see what Sony SmartBand SWR10 holds in our hands on review below.
[ REVIEW ] Sony SmartBand SWR10
Sony SmartBand SWR10 is priced at $116.99 at MobileFun, available in black color originally while Sony has introduced buy alone wrist straps in multi-colors like red, green, blue violet, pink etc. It is IP58 certified (water resistant abilities that is can sustain submersion upto 1.5 meters inside deep fresh water for upto 30 minutes, as mentioned by Sony in the user guide.)
Out of Box:
Sony SmartBand SWR10 – 2 wrist straps of different lengths.
Sony Core unit.
Micro USB cable for charging.
User Manual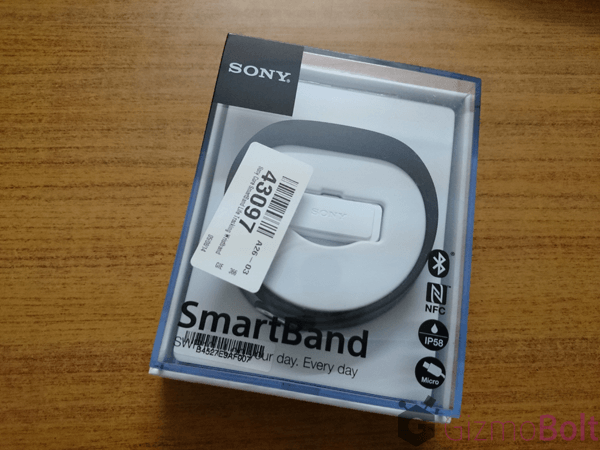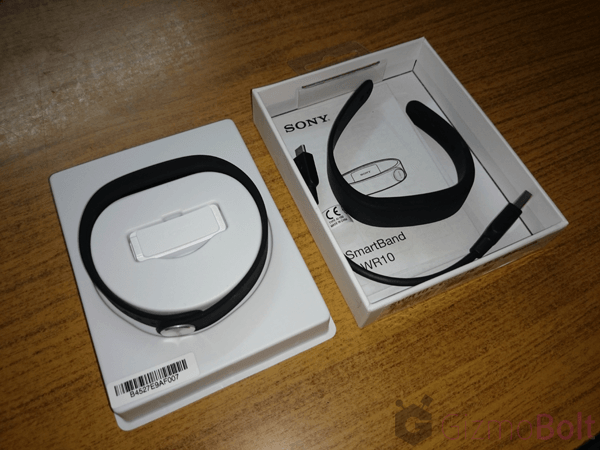 Design – Hardware
Sony SmartBand SWR10 best merit is that if you wear it on your hands you will see that it is super light in weight. Sony's core module goes inside the band. Module Core ( 7.8 mm thick ) weighs around 21 grams with the band ( 6 grams wt. including ).
Core unit has power on/off button and 3 LED lights which indicated battery level and charging. At the bottom side there is micro USB port for charging. It takes around less than 30 minutes to charge it fully ( LED light keeps on when fully charged ) and stays awake for more than 4 days with a single charge.
We used SmartBand during running and with the hands movement also core unit module remained fit inside the wristband so there is no possibility of it falling out.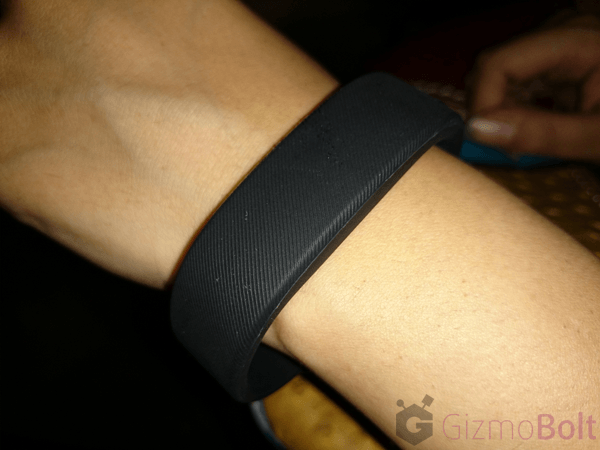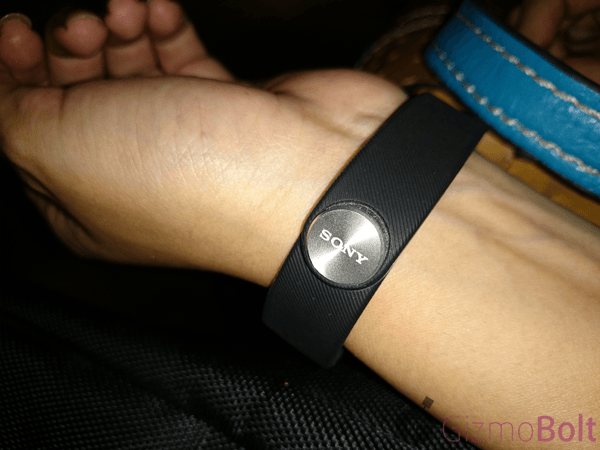 Sony SmartBand SWR10 wrist strap is made up of rubber ( silicon material ), very flexible in nature. We do noticed that it attracts dust if you keep it somewhere.
Sony has provided 2 wrist straps inside the box as mentioned above where larger one lengths about 250 mm and smaller one around 241 mm .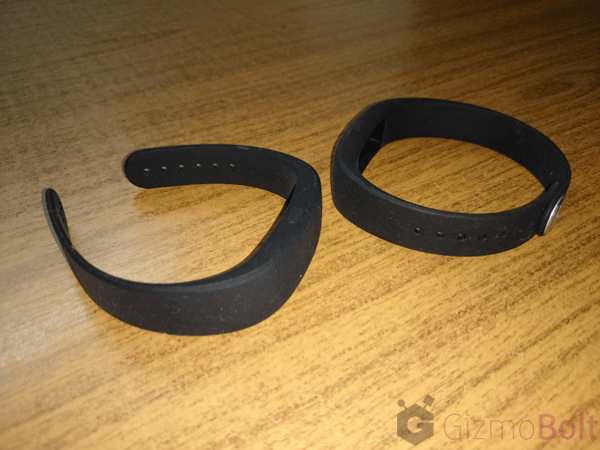 Core unit area is at the top side of the wrist strap where core is to be placed such that where Sony is written on it should face your wrist.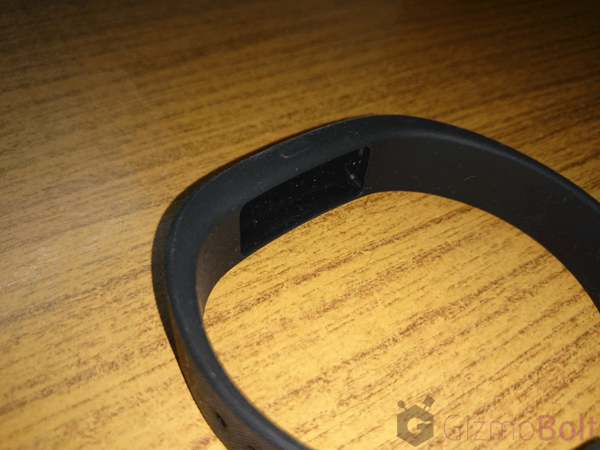 To tighten the wrist strap Sony has provided holes in the band just like there are in any wristwatch. You can remove the button to use it on another wrist strap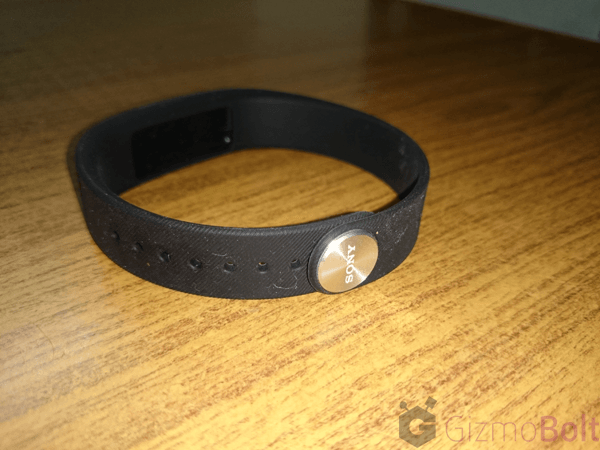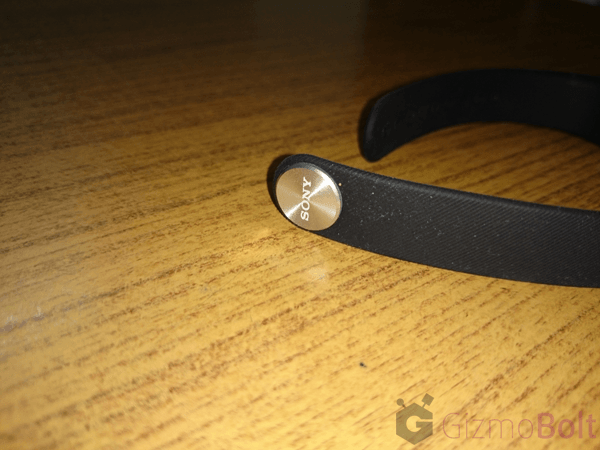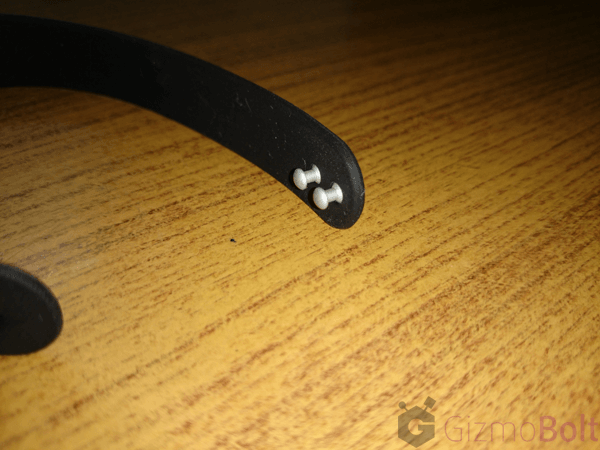 Setting up Sony SmartBand SWR10
To set up Sony SmartBand SWR10, you need to download Sony Lifelog app from Play Store which will be used to log the activities. To change the settings of Sony SmartBand SWR10 you also need to download the Sony SmartBand SWR10 app from Play Store.
Turn on the NFC on your device and power on the SmartBand. As soon as it is connected, it will be detected by the Sony SmartBand SWR10 app installed on your device and it will ask you to update the firmware if available.
Bluetooth and NFC are two connectivity options available to connect it with the phone / tablet.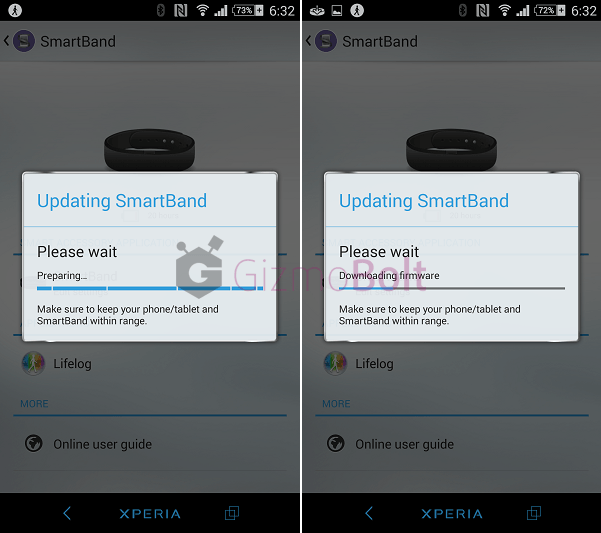 You have to allow Sony SmartBand SWR10 app to access the notifications from your phone ( go to settings menu on your device to do that ).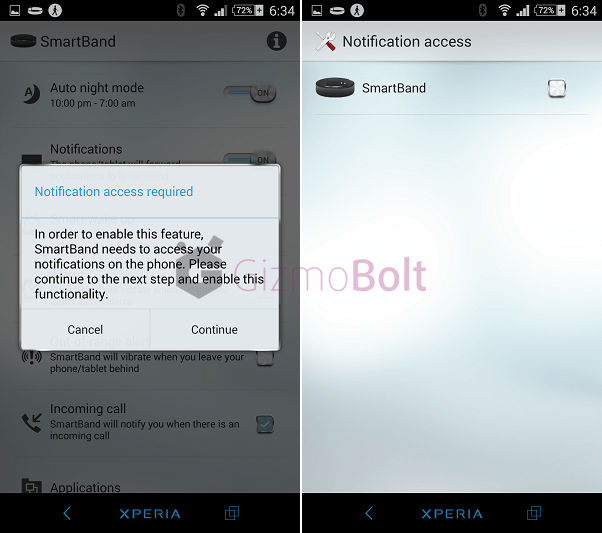 Change the settings of the band as per your need. SmartBand vibrates gently whenever any notification comes.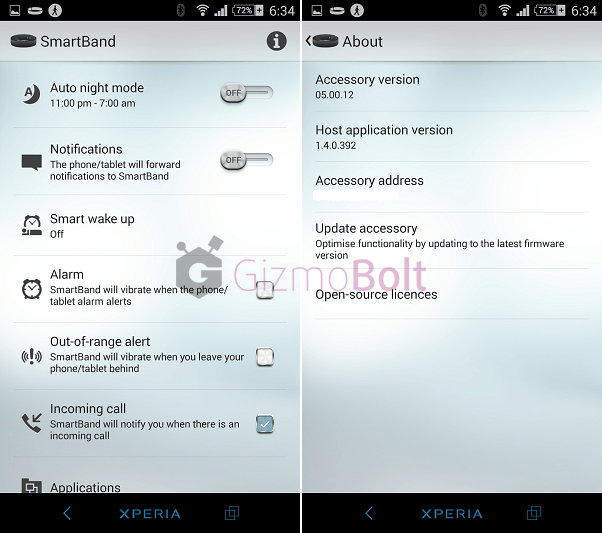 One of the best feature of Sony SmartBand SWR10 is that you can access various apps on your device from the band itself.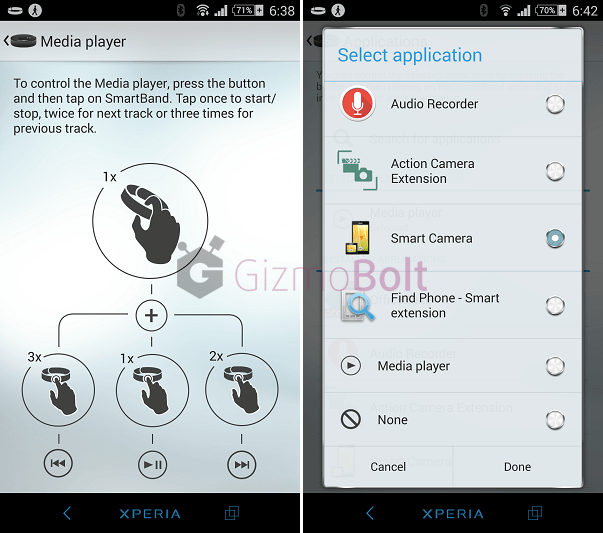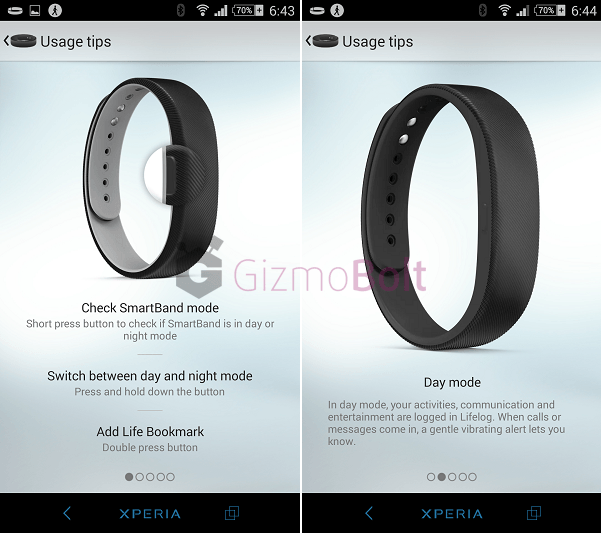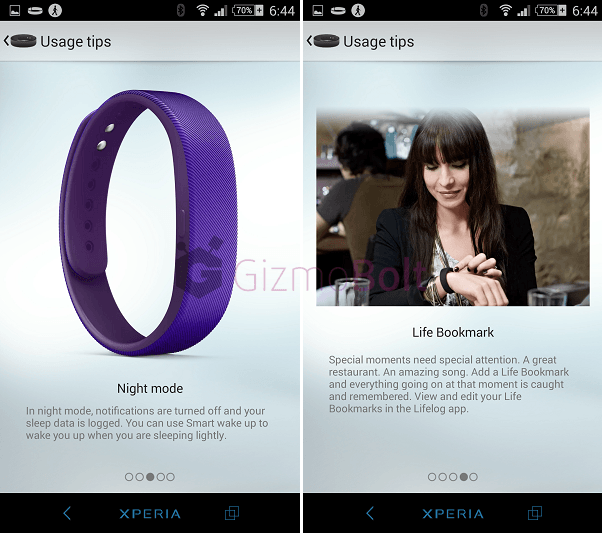 You need to turn on the GPS location to let Sony Lifelog app work properly. In the notifications area on your device you will see a message that "SmartBand connected", "Lifelog app activated". Open the Lifelog app to see your logged activities and change the settings as per your need.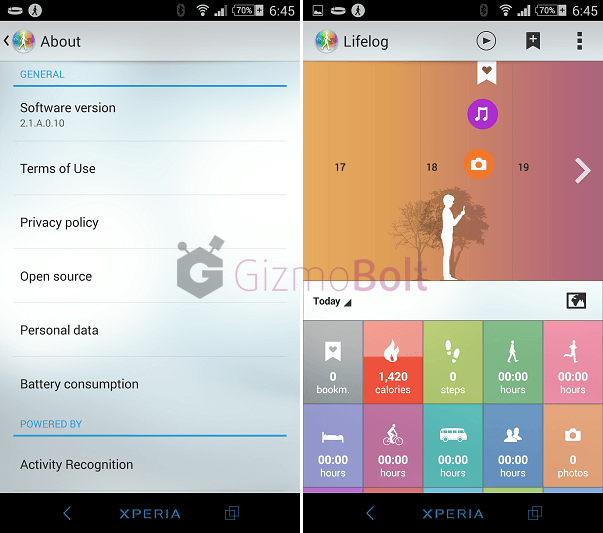 Even if you have not switch on the internet on your device, as when you turn it on, all the recorded data will be synchronized with the Lifelog app so you don't miss any log details.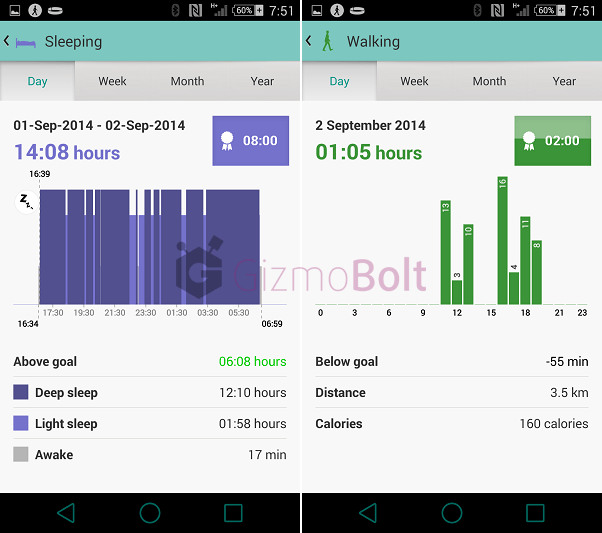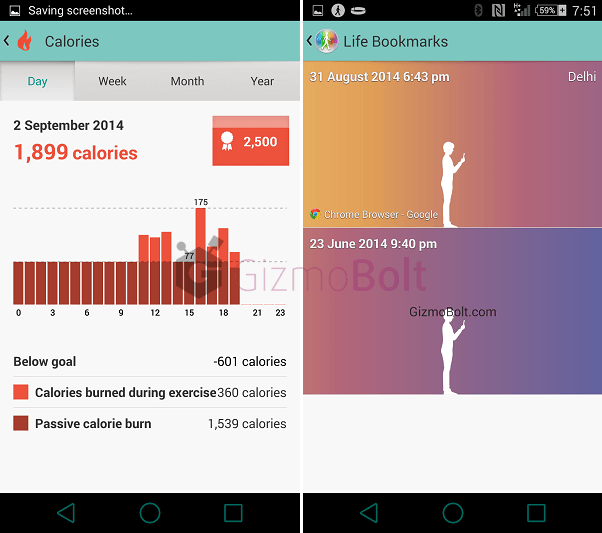 If you keep the SmartBand SWR10 in your pocket also, it still records your physical activities. When the SmartBand and your device gets out of range, SmartBand will vibrate thrice to let you know.
Though SmartBand is supposed to count the steps while walking or running, it does but not very accurately ( around 70% accuracy is there as found by our tests ).
Pros
Light weight.
Water Resistant ( IP58 certified )
Removable core.
Flexible wrist strap.
Long battery life.
Short Charging time.
Variety of apps on concerned device can be accessed like Music, Camera etc.
Variety of colors for wrist straps are available.
Silent alarm, sleep monitoring.
Cons
Not very accurate step counter.
No display panel
Conclusion
Sony SmartBand SWR10 do provides what it states. If you are an obsessed fitness freak then Sony SmartBand can help you to track your daily physical activities details. Sony has now enabled "Cycling" and "Transportation" tracking via app ( though till in beta phase ). Moreover if you are more concerned with recording details for walking and running, Sony SmartBand SWR10 seems to be a perfect companion.
We thank Mobile Fun UK for sending Sony SmartBand SWR10 for reviewing 🙂
If you have used Sony SmartBand SWR10 let us know do you like it. Does it record accurate details for you. Let us know. Drop your comments below on the product.