IFA 2014 event is coming soon and Sony Mobile is all set for its press conference on 3 Sept, meanwhile there are rumors about Xperia Z3 and Xperia Z3 Compact existence, it seems Sony is also planning a new Sony SGP621 Tablet in near future. Sony SGP621 Tablet has been certified at Indonesian Postel.
Sony SGP621 Tablet syncs in with previously released Sony SGP521 Xperia Z2 Tablet LTE and Sony SGP321 Xperia Z Tablet LTE; if we go by this naming convention we may be possibly looking at Xperia Z3 Tablet though launching a successor for Xperia Z2 Tablet at this moment makes no sense to us. There are rumors that Sony may come up with a 8″ screen display tablet.
Sony SGP621 Tablet
Below you can see certification details of Sony SGP621 Tablet.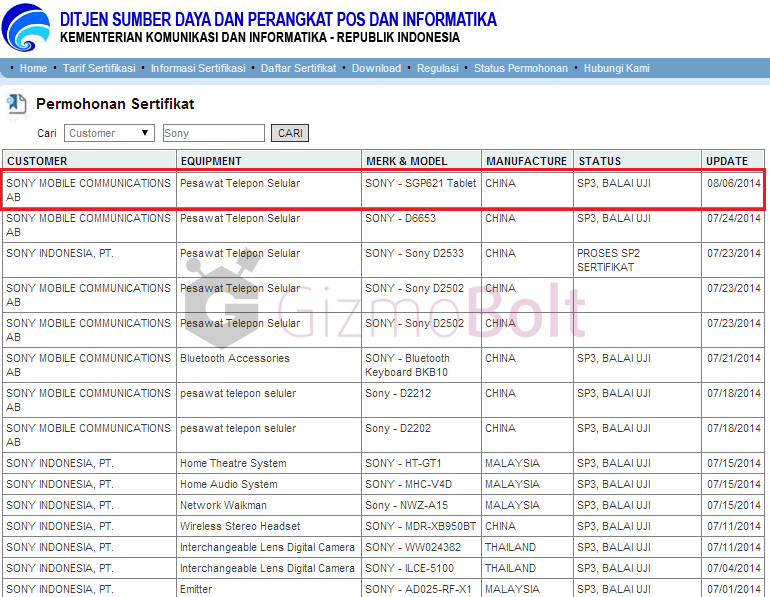 Looking at the time when Sony SGP621 Tablet popped up on Indonesian Postel, we may see it getting launched at IFA 2014 event on 3 Sept.
What do you think guys, are we looking at Xperia Z3 Tablet or some other Xperia tablet ? Drop your comments below.