We run many apps, games, etc. in our phones, be it android or iOS. We have applications made for purposes like searching businesses, searching ADs, Buying and Selling, etc. What if only one application could do that for you? Wouldn't life become easier? Here comes with tagline "The Bapp of all Apps" AskMe.
AskMe is a very smart app which lets you to stay away from the hassle of switching apps. It has details of millions of businesses within your city. Its "All in 1" app that allows you to search merchants & listings, classified ads, best deals, buy instantly.
What is AskMe?
AskMe is an application for smart phones running on Android operating system that serves information regarding your locality in various ways. This application was developed by Getit Inforservices Pvt Ltd, making it the third app in their list of developed apps and sits beside 'Yellow Pages India' and 'FreeAds' apps on Google Play store. Use this free android app to conveniently search for places to eat, shop, drink, relax and play, read reviews from an active community of locals in your neighborhood and take informed decisions.
How does it work
Open the application and you see an AskMe logo on the top and a Toll-free number for making queries through calls. Beneath it, you'll see a search bar where you can enter your query and location. If your device has GPS, it'll automatically figure out your location.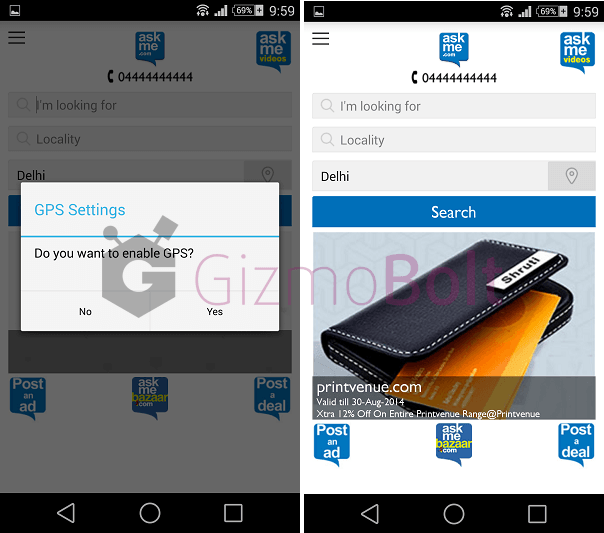 Swipe from left and you'll see a menu depicting some information about ASKME app at the bottom, you'll see three buttons to post an ad, or post a deal and a link to ASKME bazaar!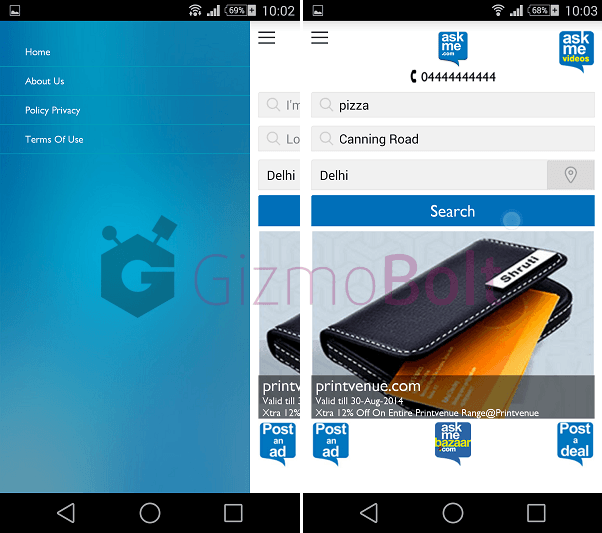 Search for a query, e.g. 'Pizza', and it'll list all the pizza stores near you. Want some deals? Tap the deals button to get offers from many stores! Not satisfied? Swipe from right to filter your results.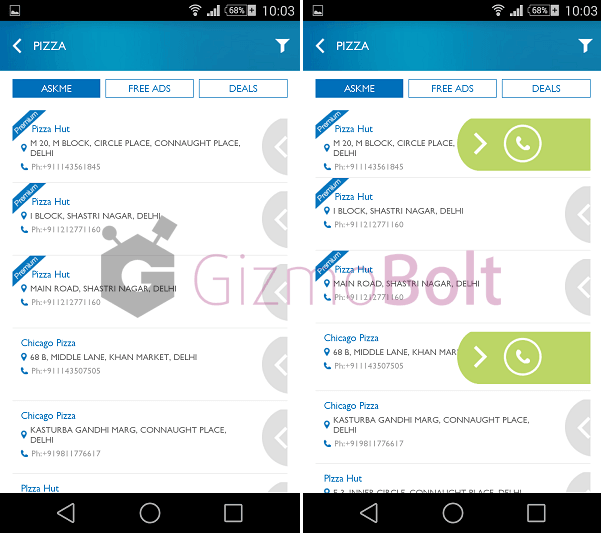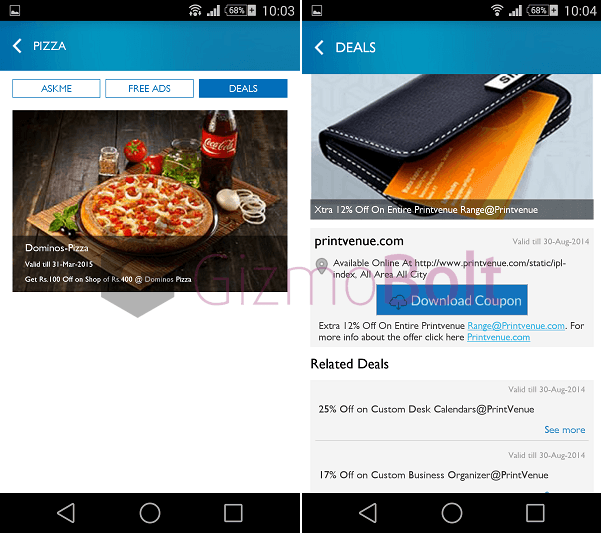 U.S.P.
Better Search Engine – When you are searching for something , you can simultaneously search for 'free ads' and 'deals' that are available in your locality without any need to go back to homepage.
Easy to use user interface
Cool looking Design
Less resource usage which means less data usage, and could be run on any budget android device.
Sharing your searched details.
What we don't like is that more number of cities should be covered so that more audience in the country can be targeted.
Interested in the app download it at play store.

Disclaimer: AskMe covers only India region for the listed details and offers. This app is only for android users.
Overall the app seems neatly done, with nice UI.