Google introduced the final version of Android Wear at Google I/O 2014. The company showed off the new software on the LG G Watch. As per Google's survey, people check their smartphones an average of 125 times a day. They claimed that smartwatches can let you access notifications without having to find your phone.
Google announced the first three Android Wear devices during the keynote. The LG G Watch and Samsung Gear Live smartwatch and Moto 360. All three smartwatches were used during the demos of Android Wear. About 2 days after launch, two of them are now available to buy through Google's play store and now they are also available in Indian Google Play Store.
Buy LG G Watch in India
The G watch is available for  Rs 14999 i.e. 251$ available in White Gold and Black Titan model, leaves Google warehouses by July 8. Get to know more about its specifcations here.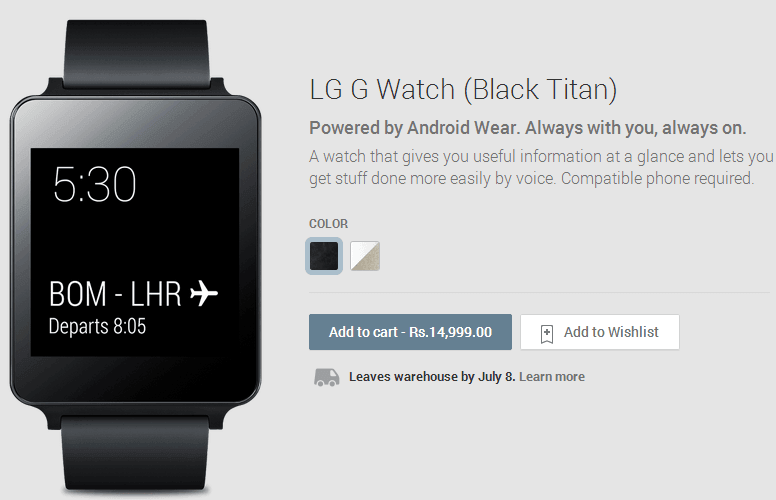 Buy Samsung Gear Live in India
The Samsung Gear Live watch is available for  Rs 15999 i.e. 268$ available in Black model, leaves Google warehouses by July 18. Get to know more about its specifications here.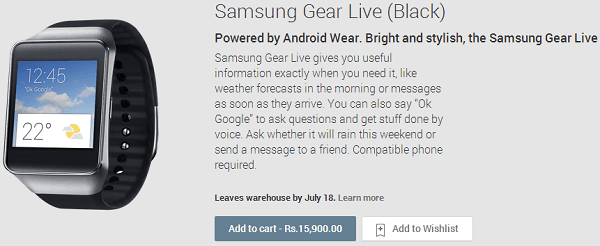 From an obsessed Sony SmartWatch 2 user recently introduced all three smartwatches really took out heart away. Do you prefer any of the above listed watches as par with Sony SmartWatch 2.
Moto 360 will be coming this fall later and we are eagerly waiting for it. Which is your favorite smartwatch guys ? Let us know. Drop your comments below.