Renowned developer and white hacker geohot has come up with a fantastic rooting tool named Towelroot which has successfully rooted Xperia handsets like Xperia Z1, Z1 Compact, M, Z, ZL, SP, M2, T, TX running android 4.3 and android 4.4.2 version. Towelroot exploit is using a apk file which after installing has successfully rooted many Xperia handsets so far as reported by the users. Best one click root method, roots in 30 seconds.
We have created a handy guide to root Xperia Z1 using Towelroot exploit which is confirmed working on Xperia Z1 C6902, C6903 running android 4.4.2 .757 firmware version. Rooting voids warranty so make sure you are ware of this, in order to get warranty back you need to re-install the stock firmware using PC Companion, SUS or flashing via flashtool.
Root Xperia Z1 / Z1 Compact using Towelroot exploit
Below method is confirmed working on Xperia Z1 C6902 / C6903, Xperia Z1 Compact D5503, Xperia Z Ultra. Works on locked bootloader handsets. It should work on all android 4.3+ versions.
For Xperia Z1 C6902 / C6903, Xperia Z1 Compact D5503, Xperia Z Ultra Prerequisites 
Enable 'unknown sources' option. Go to Settings > security > enable unknown sources.
Enable 'USB Debugging'. Go to Settings > Developer settings > enable USB debugging.
Connect phone to PC. Make sure your Phone's ADB drivers are installed in PC successfully.
Step 1: Download the below mentioned file, extract it in your PC. You will get two content named : folder 'files' and install.bat file.
Download z1cRoot v1.zip 

Step 2: Go to Towelroot site and download the tr.apk ( ignore any security warning ) file. Click the lambda image icon to download.
Step 3: Put the tr.apk file downloaded in above step inside files/tr.apk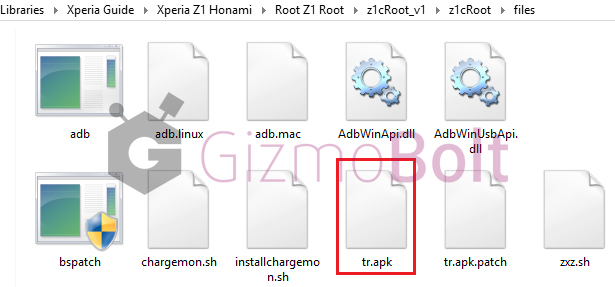 Step 4: Now click the install.bat file to run the cmd program.
Your phone will be recognized and the process will run. Follow the onscreen instructions displayed in cmd window.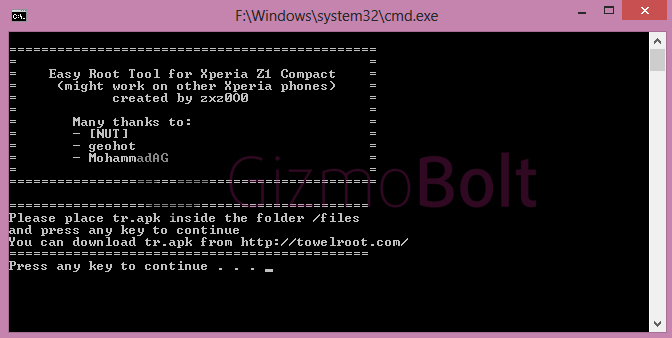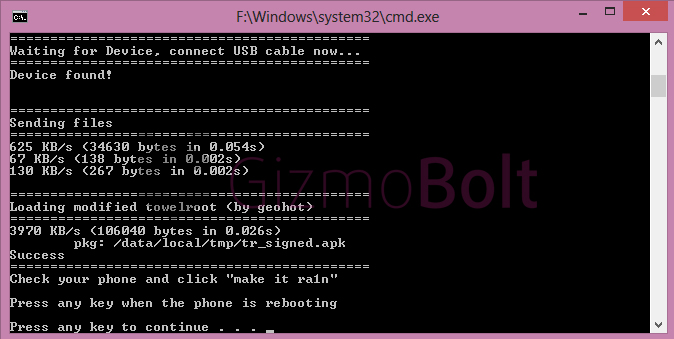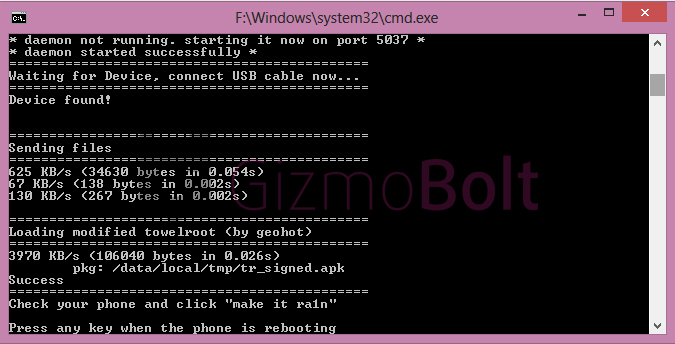 Step 5: Towelroot app will open in your phone, tap on "make it rain" button and your phone will be rebooted in 15 seconds.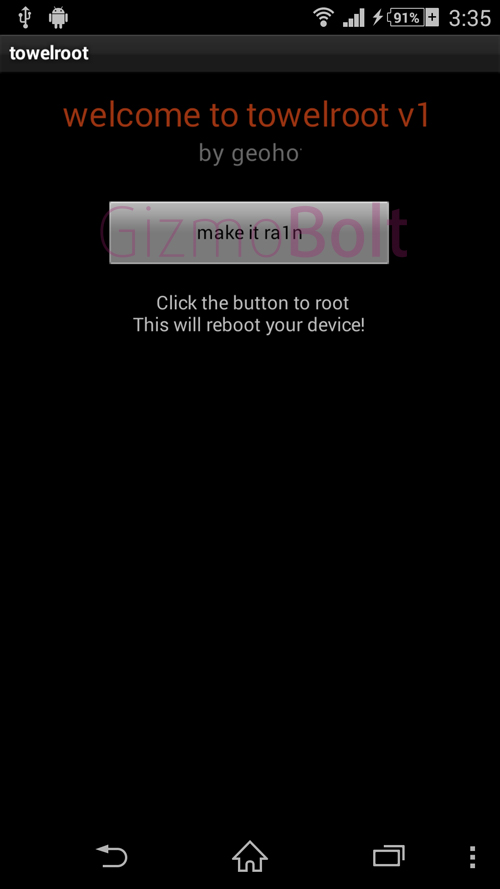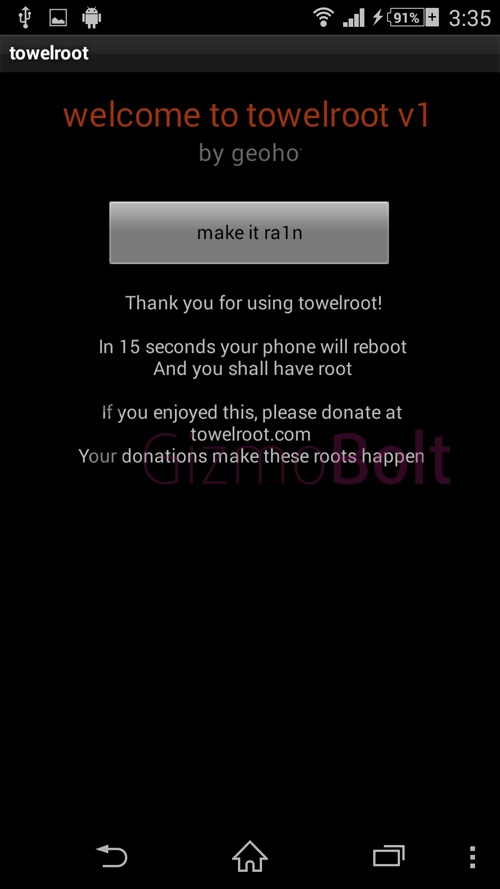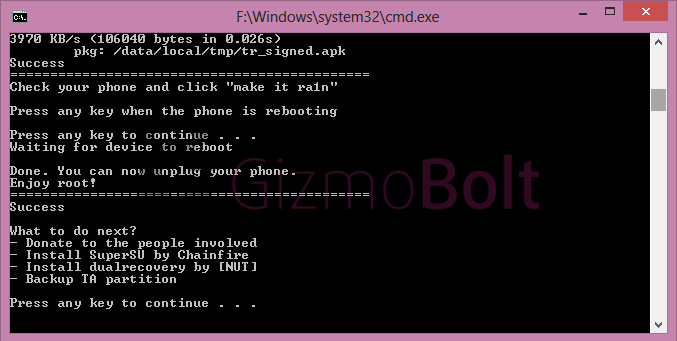 Your phone is now rooted. Reboot it. Download the Root Checker app from Play Store to verify for root access.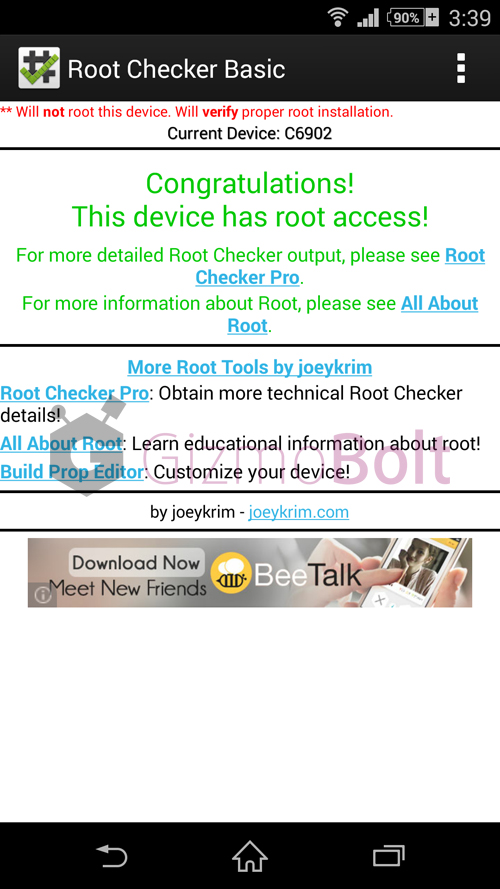 In case if you are getting error like SU binaries are not updating then download the latest version of SuperUser app. Extract the apk from below mentioned file and install the apk. Open the app and update the binaries.
Download UPDATE-SuperSU-v1.99r5.zip
For Xperia M2, M, SP, T, TX, Z, ZL
To root Xperia M2, M, SP, T, TX, Z, ZL download the Towelroot apk and install it. Open it, tap on "make it rain" option and wait for onscreen instrcutions to come, device reboots, root access is there, update SU app from above mentioned link.
Now you can root number of Xperia devices using Towelroot, try it guys and let us know if it works on your device or not. Drop your comments below if have any doubts.