Sony SBH50 stereo BlueTooth headset is not a new name for us, Sony launched it last year and within a week period we will be reviewing all Sony "SBH" Bluetooth headsets one by one; today we just grabbed Sony SBH50 Bluetooth headset. Sony SBH50 has handsfree connectivity via NFC and Bluetooth, allowing you to stream music, take calls handsfree, read your SMS, emails and tweets from an OLED screen present in headset.
Sony SBH50 is powered with Bluetooth 3.0 which allows you to pair it with number of smartphones, tablets, PC. Sony SBH50 comes with a dedicated android app at Google Play Store which allows you to pair it with your device and get its all operations working properly. You are given an option to download various Sony smart extensions which will allow you to read SMS and emails from the headset. If you are using Sony SBH50 headset with your device, kindly install Sony Smart connect app also as from here you will be able to configure the settings of  this headset.
[ REVIEW ] Sony SBH50 Stereo Bluetooth headset
MobileFun sent us Sony SBH50 headset as a review unit to get out hands on it, priced at $92.99 on their eCommerce store. Inside the box you get one Sony SBH50 headset, 1 pair of earphones ( Model MH755 ), 4 extra ear buds, 1 Sony charger EP800 and a connecting cable  ( Model EC300 ).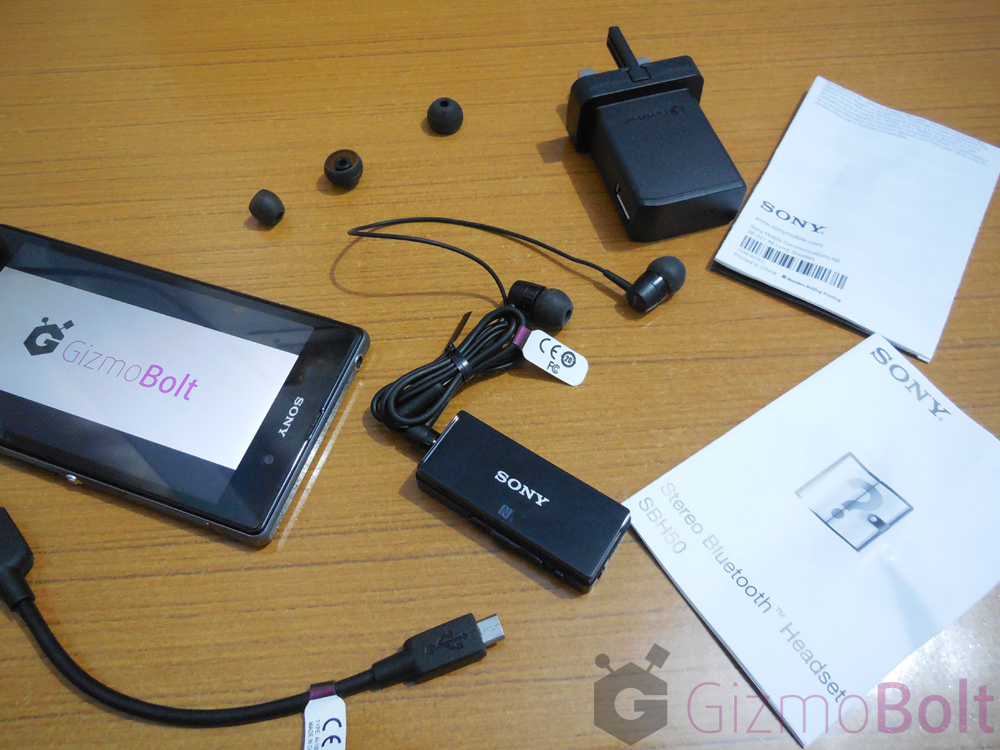 Let's have a closer look at Sony SBH50 Stereo Bluetooth headset, you will see a Sony branding at top and NFC powered icon.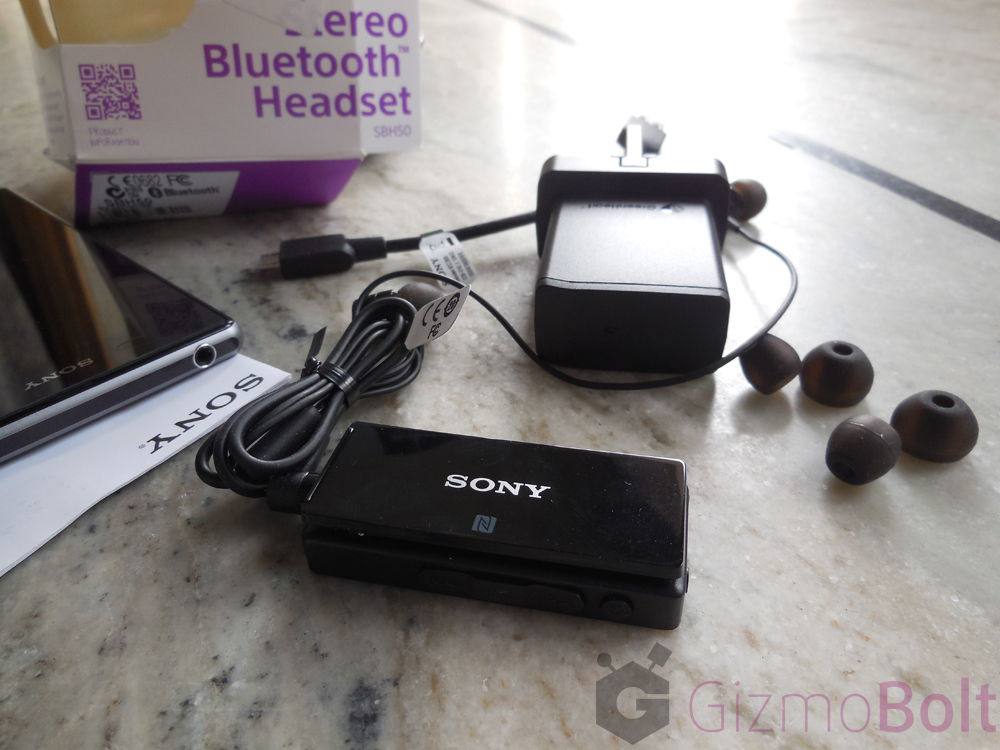 Sony SBH50 Headset – Hardware 
Let's have a close look at various buttons available on Sony SBH50 headset.
3.5mm headphone jack is provided at sides along with a dedicated microphone. Move upward the front plate on which Sony is written and you can clip it on your Shirt, T-Shirt etc.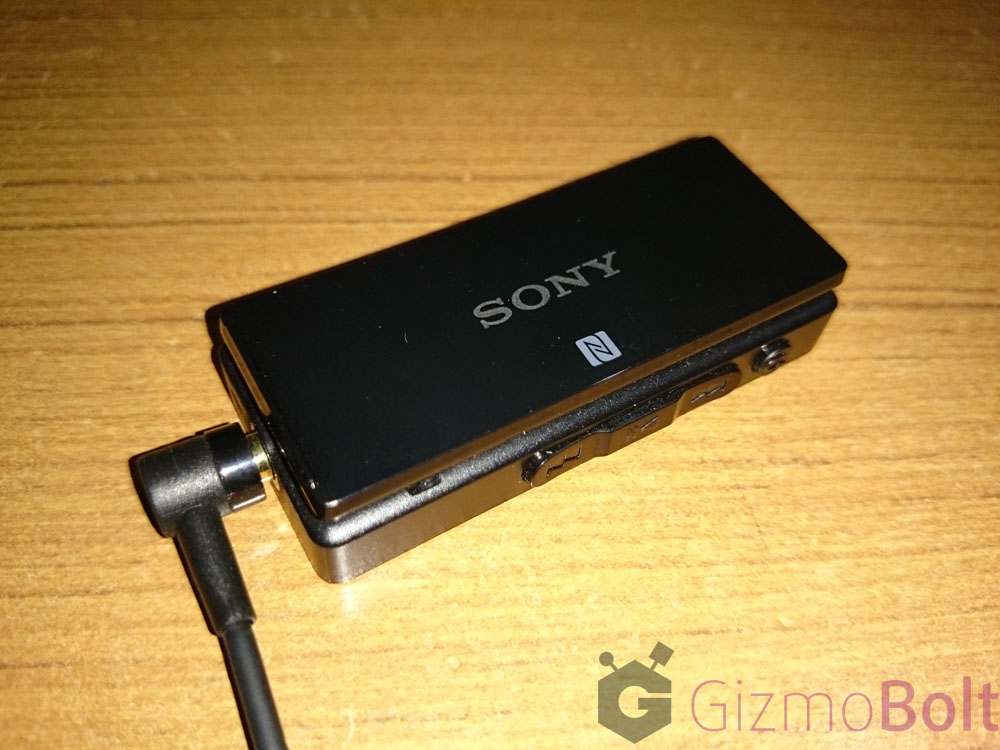 At the top side there is a small OLED screen display which displays text in white color only. You can read your SMS, Emails etc here by using menu option. Besides OLED screen you see a small circular button which is used to take and disconnect calls.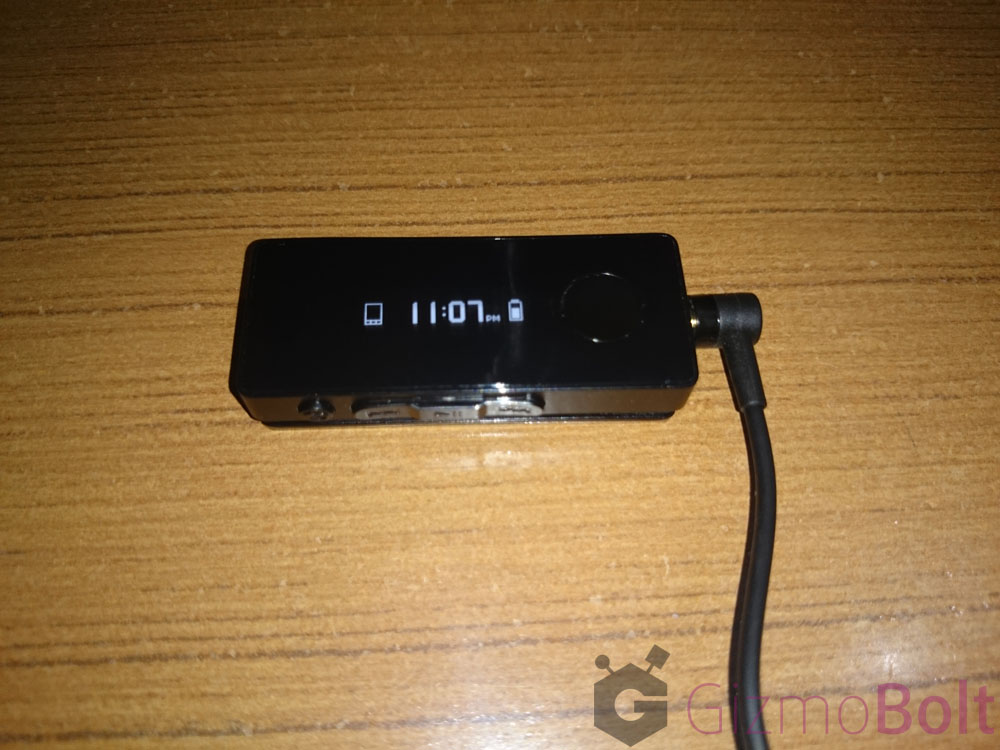 You see three buttons with arrow mark on it are used to play music track back and forward and to stop it. Circular button with back arrow mark is used to get to previous menu or main menu.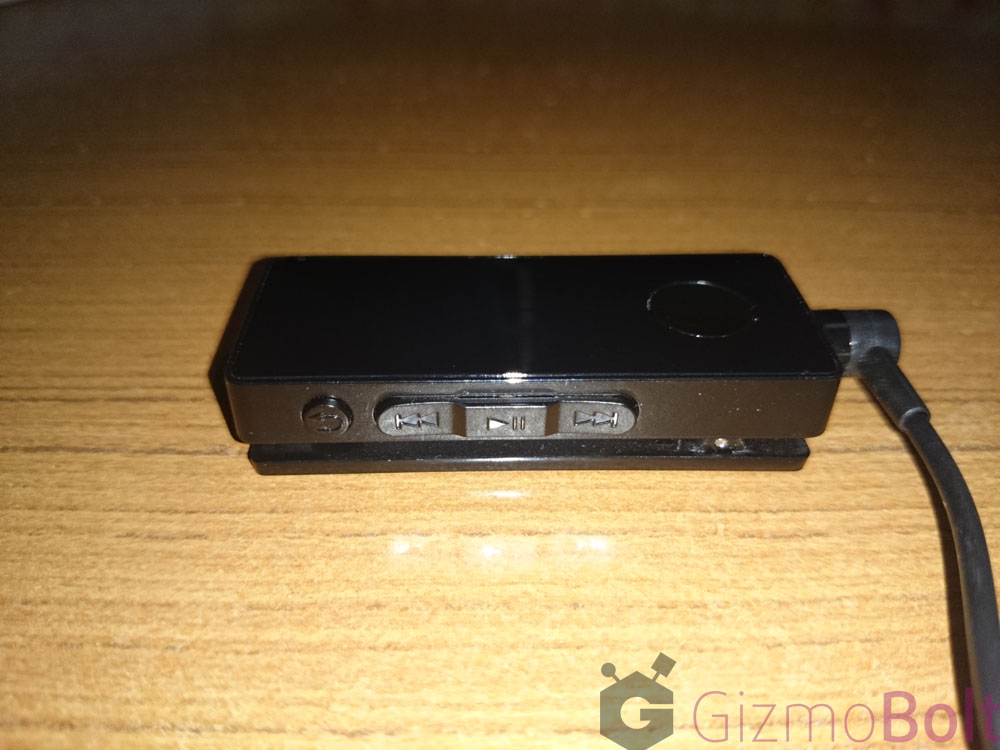 Micro USB connector is there to charge the Sony SBH50 headset using AC Adapter provided with the headset in the box. Power button is provided just besides Sony SBH50 headset.
Below you can see the main menu screen of Sony SBH50 headset. 5 options are provided to choose, from left to right; first one is settings option allowing you to pair and disconnect your headset from the paired device, second one is used to refresh the settings for reading SMS or emails, third one is used to select the music, fourth one is used to call on desired number and fifth one is used to play FM radio.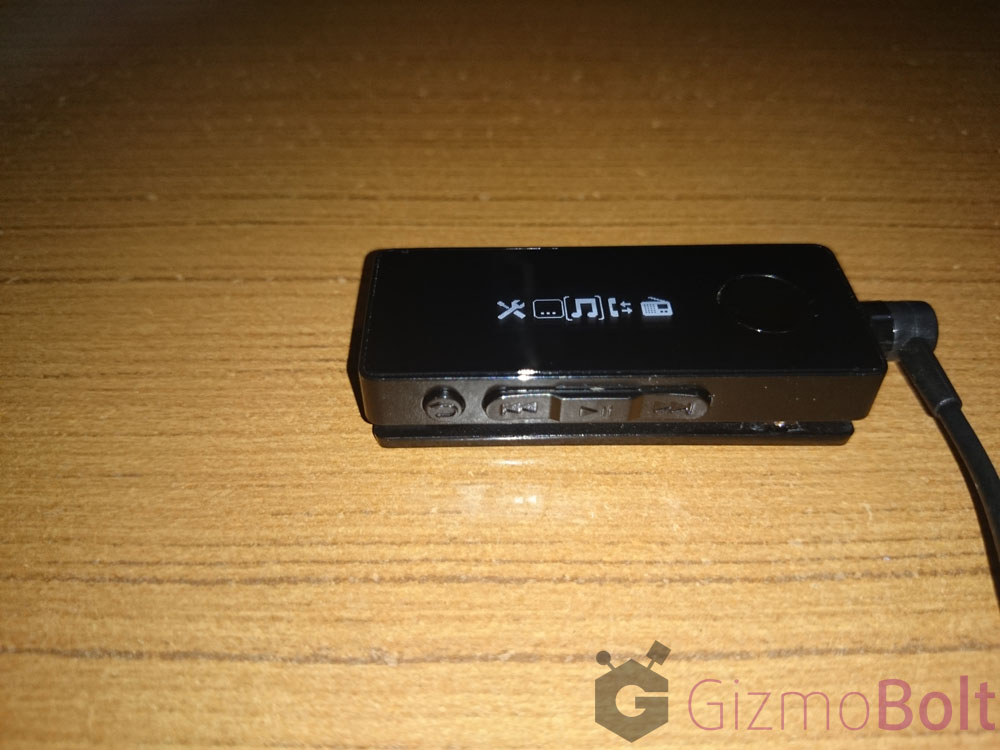 Sony SBH50 allows you to read your Emails and SMS through it. Just press the middle music play/stop button and whole message will be displayed on screen. As soon as the message comes you will hear a notification as a tone if earphones are put on and a speaking voice will read out the subject of the message.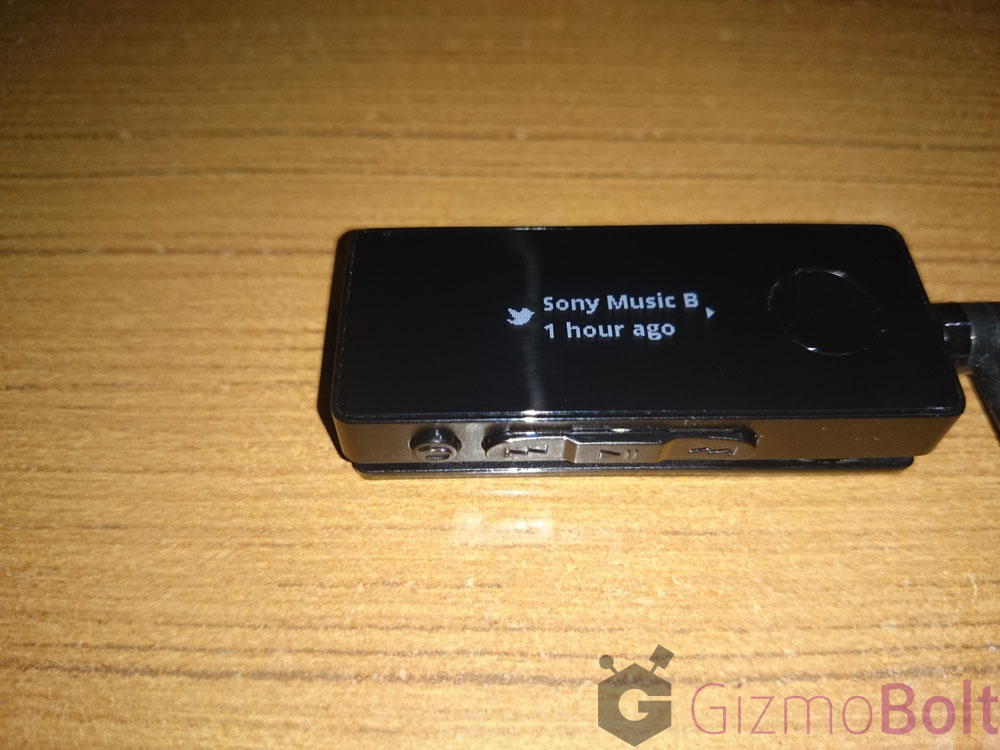 Connect to available radio frequency in your area.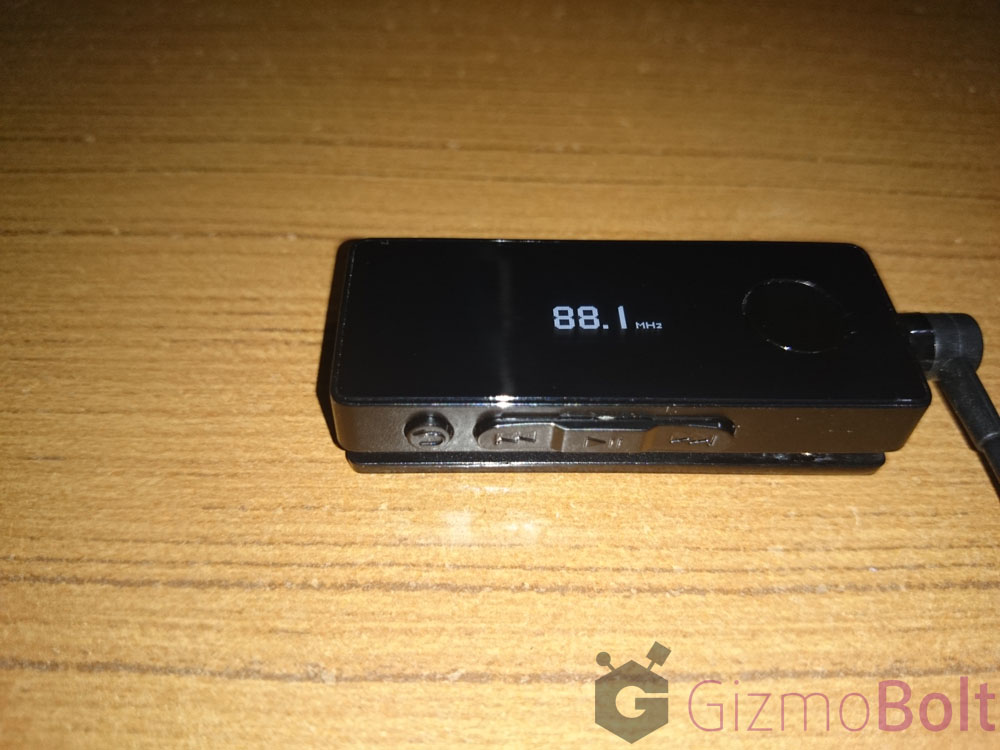 Browse whole music list of your paired device from your headset.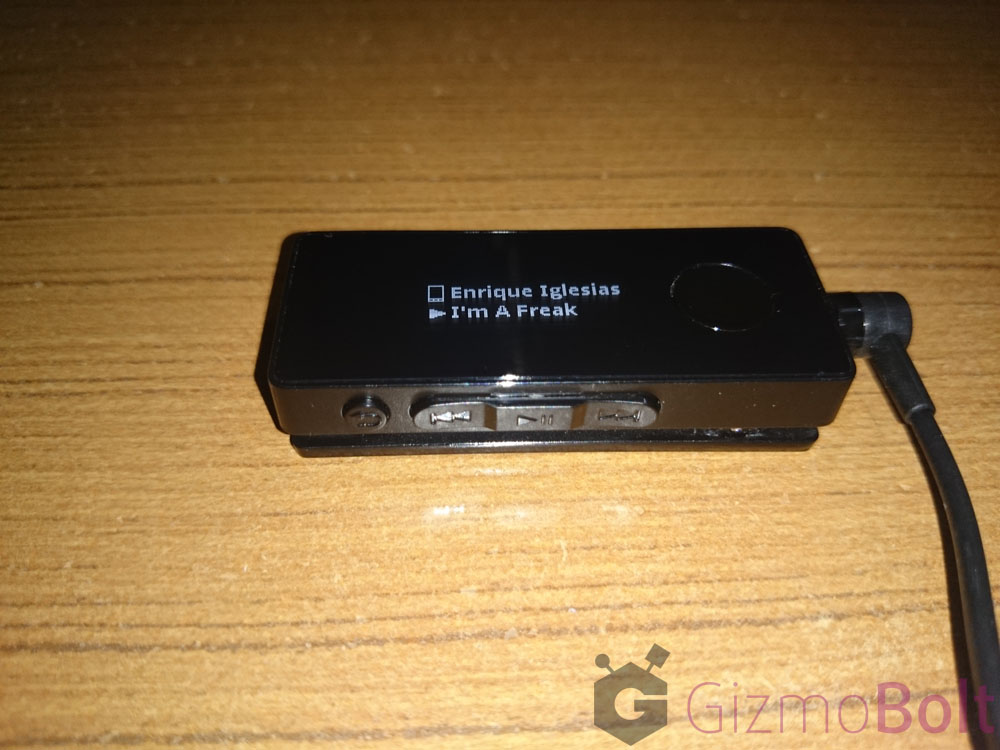 With the help of center button besides OLED screen you can make calls to any number which are in your recent call list.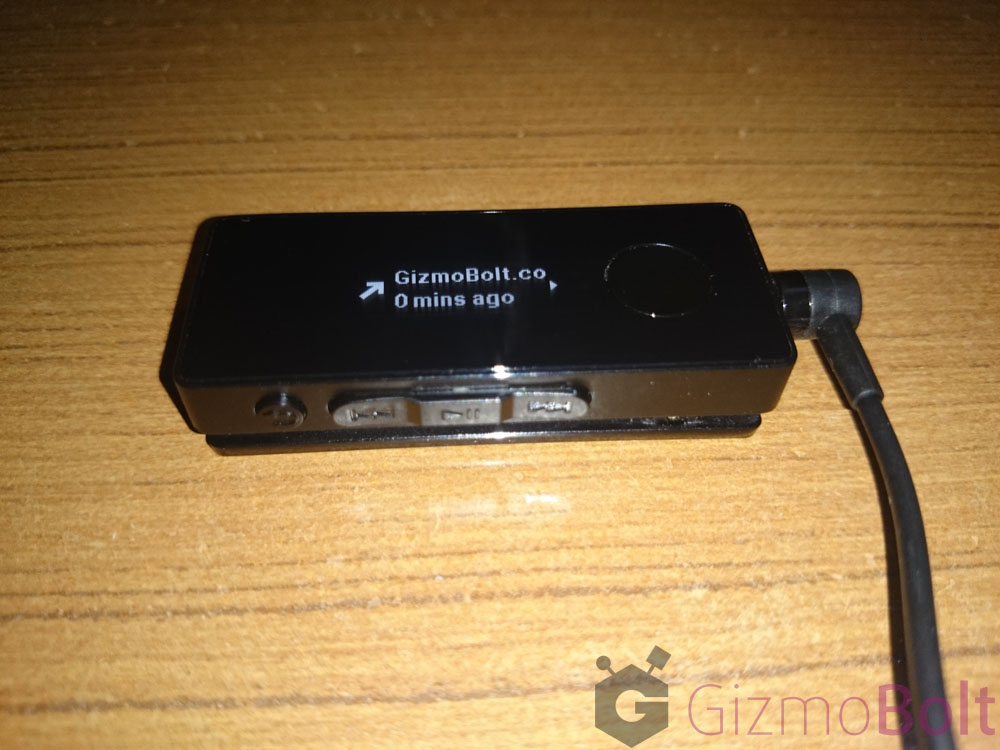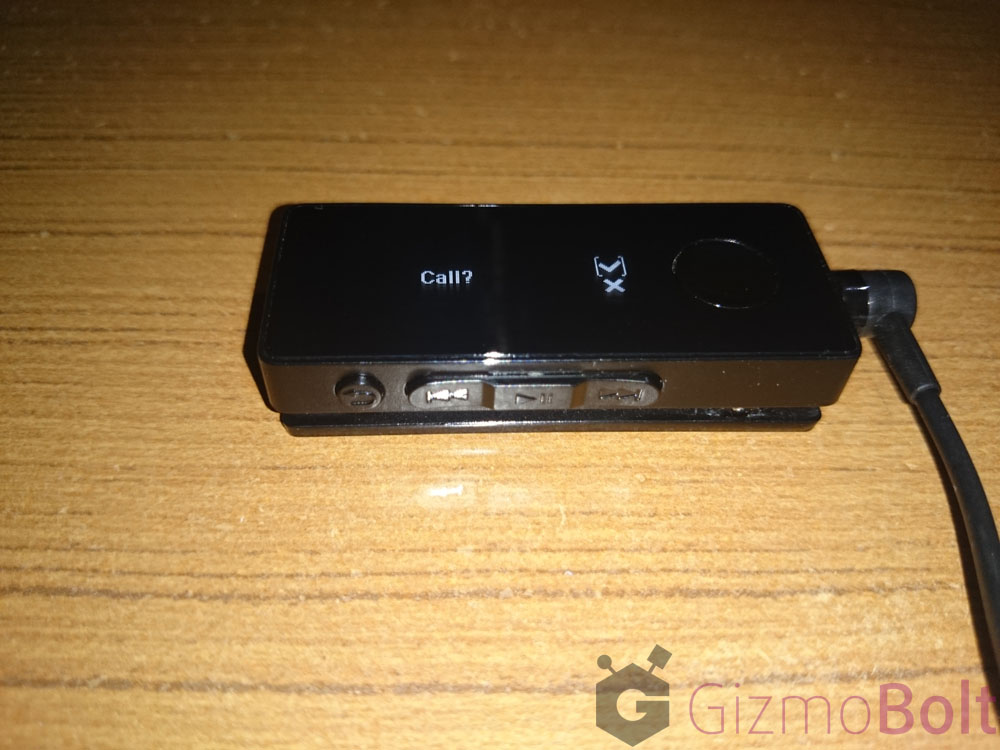 Sony SBH50 Headset – Software
As soon as you pair Sony SBH50 headset first time ( if purchased after Jan 2014 ) you will get a 1.3.A.0.2 firmware update notification as shown below.
How to update Sony SBH50 headset on 1.3.A.0.2 firmware ?
Connect your Sony SBH50 to AC Adapter and tap on install button. You will see a progress bar on display screen of Sony SBH50.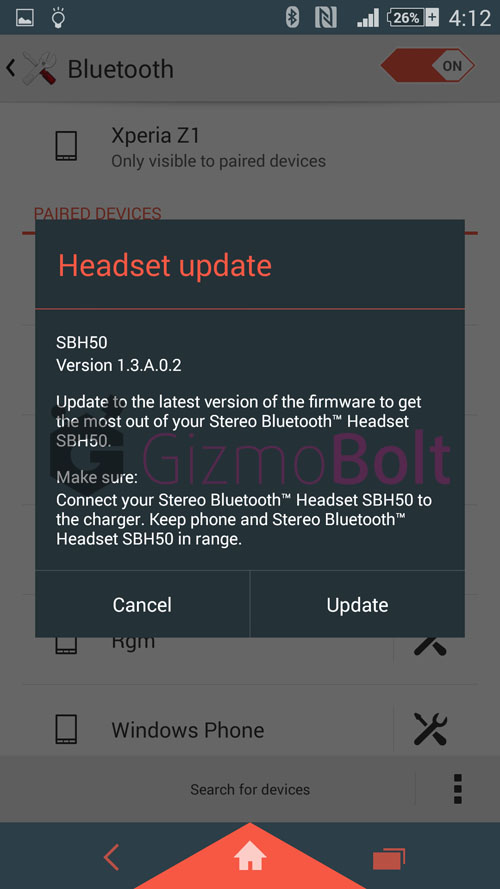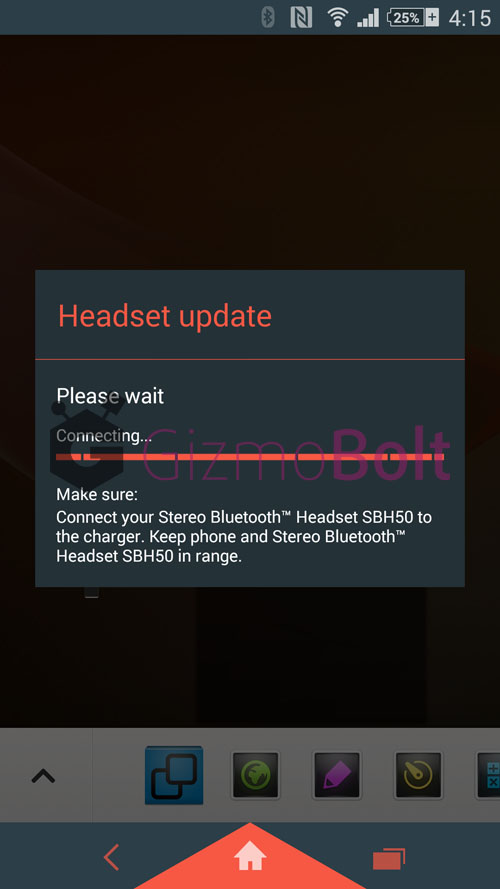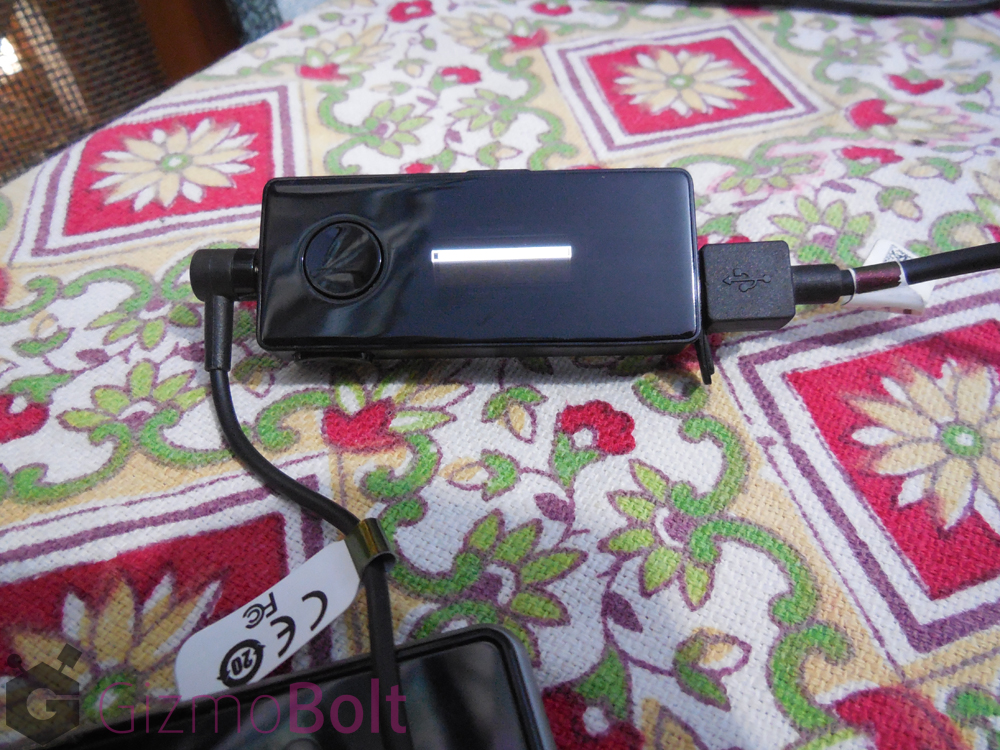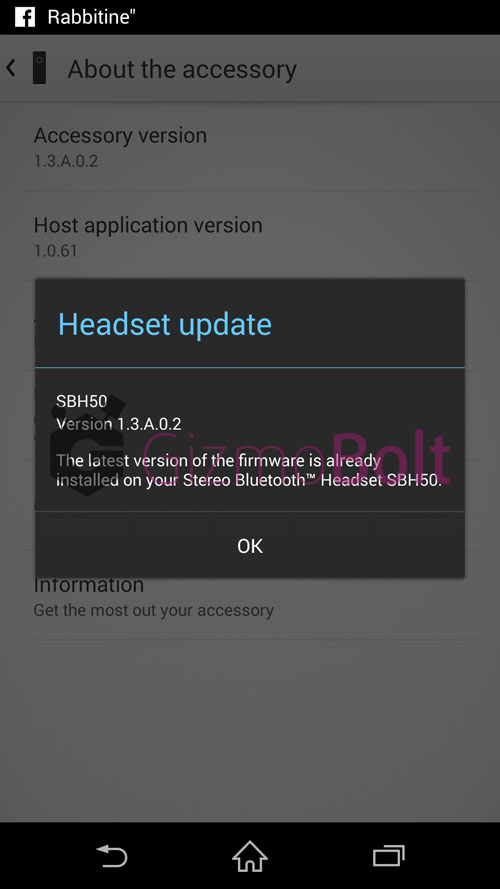 Pair your device with SBH50 headset and stream music.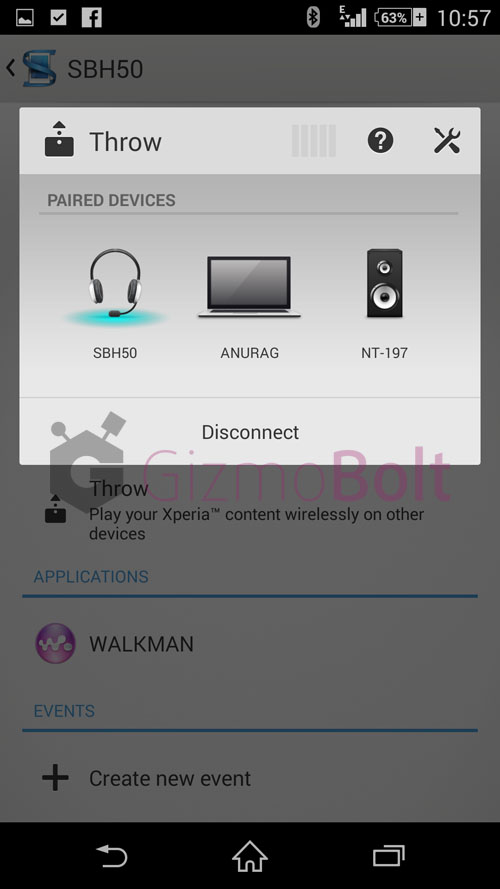 HD Voice integration is there for calling via Sony SBH50.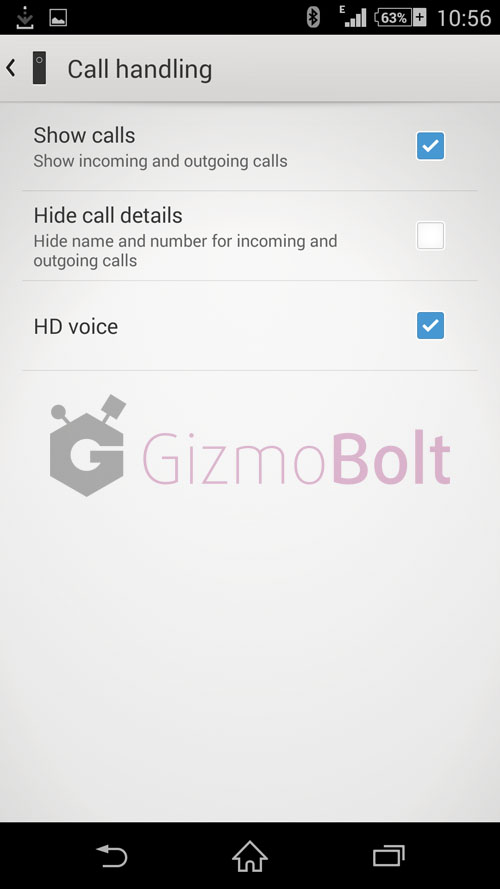 Download all compatible Sony smart extensions with Sony SBH50.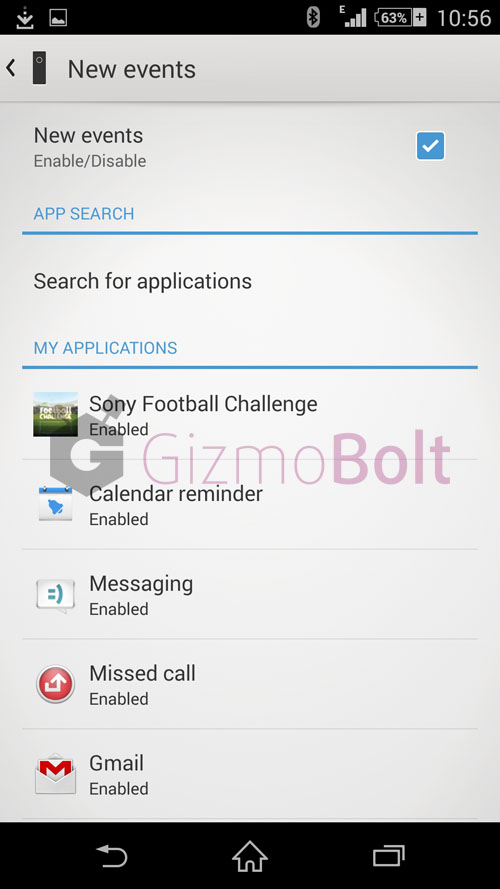 Sony SBH50 Technical Specifications
Dimensions – 58 x 24 x 8 mm
Weight – 15.8 grams.
OLED screen resolution -128 x 36 pixels
FM Radio with RDS.
Bluetooth 3.0 and NFC Connectivity.
Battery – 115 mAh
Charging SBH50 to its full potential it lasted around 6 hours of music playback.
Sony SBH50 Pros
OLED display.
Read SMS, Emails.
In built speaking announcement of incoming Emails and SMS.
Good Battery Life.
Built-in FM radio.
Calling facility.
Sony SBH50 Cons
Bluetooth range is an issue, can be a firmware related issue also.
Built material could have been better.
We have been using Sony SBH50 headset from a long time and this surely seems to fulfill the daily usage of handsfree functions.
Thanks MobileFun for sending this in. Check Sony SBH50 listing at MobileFun.
If you have used Sony SBH50 Bluetooth headset, let us know your experience with it. Which headset is your favorite among Sony "SBH" series. Drop your comments below.