A new firmware in form of 14.3.E.0.1 firmware is being certified at PTCRB for Xperia Z1 Compact D5503 which is a very different build firmware configuration as when compared to present android 4.4.2 14.3.A.0.757 firmware. As the firmware config. has changed it seems a specific firmware for some carriers rather than regular Xperia Z1 Compact global variants.
After Sony released android 4.4.2 KitKat update for Xperia Z1, Z Ultra and Z1 Compact, all users were complaining regarding the bugs in this major update brought though Sony rolled a bug fixing update also but it failed to address the issue. Currently users are facing issues like battery drain, heating issues and sound issues.
14.3.E.0.1 firmware
Below you can see the 14.3.E.0.1 firmware certification at PTCRB.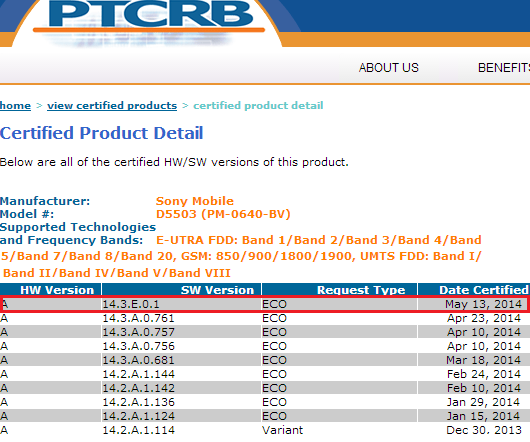 Do let us know what bugs you are facing on current KitKat firmware on Xperia Z1 Compact.
We will keep you updated as soon as we get more info on 14.3.E.0.1 firmware. Drop your comments below.