A few days back we saw 10.5.A.0.230 firmware getting certified for Xperia Z, ZL and Tablet Z and now the same android 4.4.2 KitKat build has been certified for Xperia ZR also on PTCRB. A previous build 10.5.A.0.227 firmware was certified a bit ago and an updated build has now arrived which was recently seen rolling on some developer Xperia Z handsets.
10.5.A.0.230 firmware is certified for Xperia ZR C5503 and C5502 both variants and should hit the device in upcoming weeks. As per Sony's statement KitKat for Xperia Z, ZL, ZR and Tablet Z, is scheduled in mid Q2 2014, exact date is still unknown. Below you can see the firmware certification on PTCRB.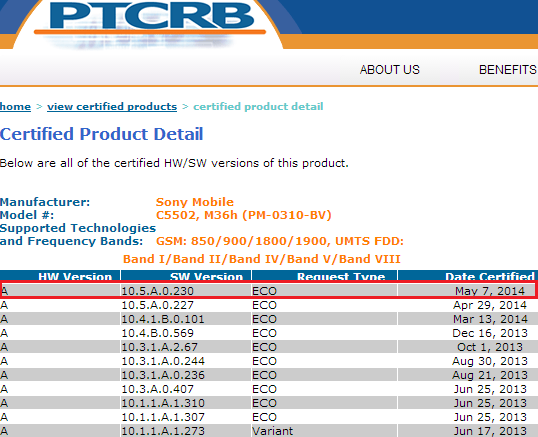 We will keep you updated as we get more info on rollout of Xperia ZR 10.5.A.0.230 firmware.
Do you feel it has been too late now for KitKat update, Sony should have rolled it out earlier. Let us know. Drop your comments below.