Sony has become the 2nd largest smartphone brand in India, replacing Apple from the 2nd spot in terms of smartphone sales share in India; as per the data released by IDC for October – December quarter 2013. Recently Sony has focused on sales of its Xperia smartphones in range of Rs 10000 to Rs 20000 backed up by Rs 300 crore marketing spend. Samsung managed to retain its first spot as smartphone brand in India with dominating 43% market share value while Sony went ahead with 9.1% market share value as compared to Apple's  7% market share value.
The main reason behind Apple's decline in India was company's decision to remove Apple iPhone 4 from the market, which was Apple's most selling smartphone in India, with price tag under Rs 20000. Apple relaunched iPhone 4 in India but it didn't get enough response from Indian users the then.
IDC India senior market analyst Manasi Yadav says…
"Some of the top selling models for Sony are Xperia M Dual and Xperia C priced in this bracket ( Rs 10000 – Rs 20000 ), which is one of the fastest growing segments in the Indian smartphone market".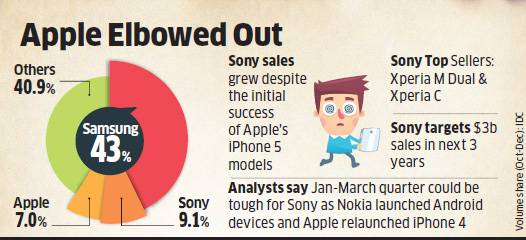 As in conversation with Economics Times, Kenichiro Hibi, managing director at Sony India told them…
"The smartphone business doubled in last one year which led to 20% growth in overall sales in 2013-14. We expect to grow at a similar pace this fiscal as well to touch Rs 12,000 crore sales".

"However, smartphone business will overtake television business in sales this fiscal year," Hibi told ET. "For us, both television and smartphone will be the main pillars to continue the pace of growth in India".

"Sony's smartphone business has attained similar revenues as its flagship television business in the fiscal ended March 31. The two businesses contributed around 70% to the company's turnover of about Rs 10,000 crore during the year."
As per IDC, Sony may see some value share decrease in January – March 2014  quarter, due to Nokia coming into android market with budget phones in much lower price range and Micromax launching a new lineup of Canvas smartphones.
Sony has launched Xperia E1 and Xperia E1 Dual in India market and Xperia T2 Ultra Dual which are in the mid price range ( Xperia T2 Ultra priced a bit high at Rs 24K ). We hope Sony will soon launch Xperia M2 in India to capture the mid range android smartphone market in India.
Sony is yet to launch its H1 flagship device Xperia Z2 in India which is a huge competition for Galaxy S5 in India. We hope some better market share value for Sony India in future.
Source – Economic Times India