Sony Mobile Singapore has officially confirmed the availability of Xperia Z2 in Singapore from 5 April 2014 via local carriers SingTel, M1 and Starhub. Sony has started a promotional campaign for Xperia Z2 in Singapore where you will be getting a black Sony SmartBand SW10 free ( worth $138 ) if you Pre order Xperia Z2 in Singapore from Sony Xperia stores.
Now you can Pre order Xperia Z2 in Singapore for SRP $998, it will be available in black, while and purple color. This promotional offer is valid from 26 March 2014 to 13 April 2014 exclusively. It seems a good deal as Sony is giving away some accessory in every regions across Europe where the pre-orders started in early March.
Below you can see the promotional banner from Sony for Xperia Z2 pre order.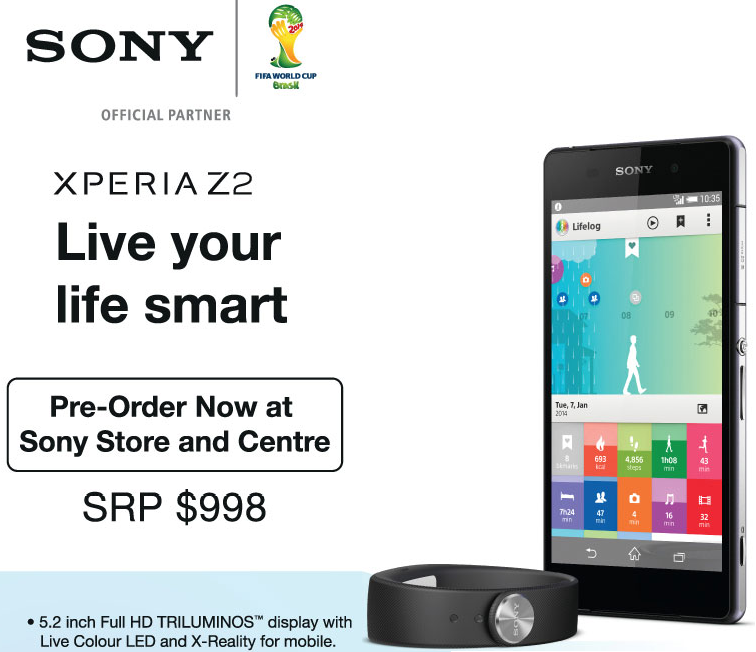 Sony has not started shipping of Xperia Z2 units in Europe for the early pre orders taken by them, we hope to see Xperia Z2 soon in global market.
What say guys are you looking to buy Xperia Z2 in Singapore ? Let us know, drop your comments below.