Sony Mobile listed Xperia Z2 for pre-orders across its European online stores and then removed the pre-orders while launch of Xperia Z2 is still awaited in other regions of world while good news has come up for Xperia users in China. Sony Mobile is holding a "Spring Press Conference in Beijing on 27 March 2014" where they will be launching Xperia Z2, Xperia M2 along with couple of new accessories spotted at MWC 2014.
Sony Mobile is sending press invites for the same event on 27 March, begins at 10 AM in Beijing. It is believed that Xperia Z2 will be priced at 4999 Yuan i.e. $803 in China along with new Xperia Z2 Deluxe Edition which will come with a pack of accessories including Sony Magnetic Charging Dock DK36, STM10 stereo microphone, MDR-NC31EM digital noise cancelling headphones along with SCR10 stand and case. Xperia Z2 Deluxe Edition is expected to priced at 5499 Yuan i.e $884 and only 1000 handsets will be sold with this offer.
Below you can see Sony's press invite for 2014 Spring Conference at Beijing.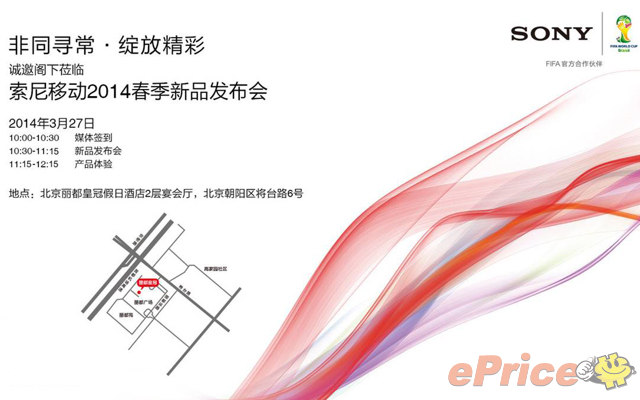 If you see logically Xperia Z2 Deluxe Edition price is great as compared to price of all accessories coming with it. Xperia Z2 is expected to be shipped in mid-April in China while pre-order will start after launch.
Excited about Xperia Z2 Deluxe Edition, let us know. Drop your comments below.
[ Source –
Eprice, Hi-Tech
]