A few days back Sony confirmed that Garmin Xperia Edition will be coming to SmartWatch 2 which will offer a new innovative way of navigation which includes onboard maps, lane guidance, speed warnings, traffic, social media integration etc. Just now Sony Mobile has confirmed with a blog post that they Sony is bringing world's first wearable boarding pass with Vueling on Sony SmartWatch2.
Now forget your boarding card, just wear SmartWatch 2 and all information regarding flight and boarding pass will be carried on your wrist without any hustle, it's just simple. A 2D bar code figure will be used to carry the desired boarding information. Sony has hinted that a new app from Sony and Vueling will come to Google Play Store at the end of March which will be used to get the boarding pass info on your SmartWatch 2.
Concept of wearable boarding pass is cool; if someone looses his boarding card all info is carried on his wrist with an extra level of security. Below you can see a snapshot of how Sony and Vueling app will look like.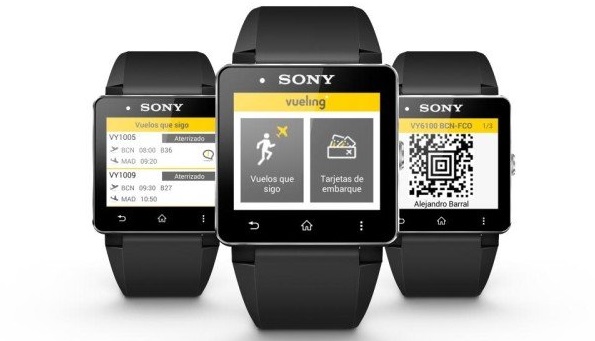 What do you think guys, after Garmin Xperia Edition Sony has brought wearable boarding pass on SmartWatch 2; SmartWatch 2 users must be happy now. Let us know drop your comments below.
[ Via –
Sony
]