We have recently seen Xperia E1 Dual D2104 and D2105 getting a new 20.0.B.0.74 firmware certification on PTCRB and Xperia E1 D2004 getting 20.0.A.1.12 firmware certified on PTCRB and just 2 days after dated yesterday new firmwares again are certified for Xperia E1 Dual D2114 and Xperia E1 D2004 and D2005 on PTCRB; both new firmwares are android 4.3.
Xperia E1 has been priced officially in European regions by Sony and is under coming soon tag on Sony online stores, it will soon be available at price tag of €139 in France, £159 in UK, 2 395 kr in Sweden, €199 in Spain, 599 zł in Poland, €149 in Netherlands, € 119 in Italy, €117 in Germany. A few days back Sony launched officially both Xperia E1 and Xperia E1 Dual in India and both handsets are available at Rs 9490 and Rs 10490 respectively from online retailers. ( Xperia E1 Dual is available at Rs 9990 from online retailer Infibeam ).
Check below the listing of Xperia E1 Dual D2114 20.0.B.0.75 firmware on PTCRB.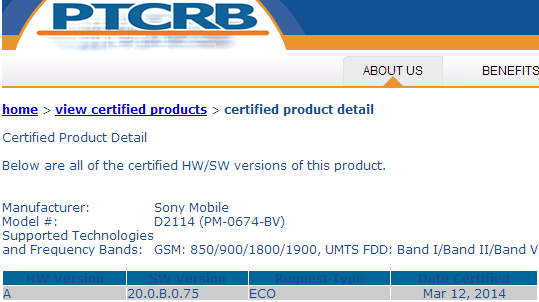 Check below the listing of Xperia E1 D2004, D2005 20.0.A.1.16 firmware on PTCRB.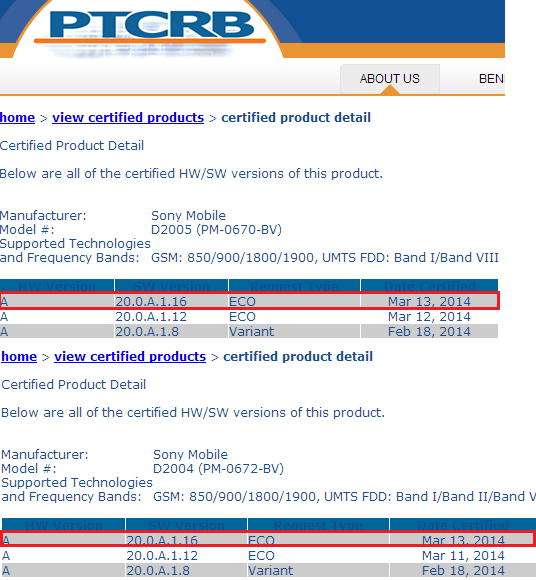 It is clearly visible that Sony is now preparing firmware better day by day for the global official launch and the regions where Xperia E1 and Xperia E1 Dual have already been launched should be getting new firmware updates very soon.