Sony launched Xperia E1 and Xperia E1 Dual back in mid January 2014 after CES event. Xperia E1 and Xperia E1 Dual is low end Xperia smartphones tagged as Walkman phone by Sony. It's now official that Sony Xperia E1 Dual is heading towards India. Sony has listed the Xperia E1 Dual on Sony India site under coming soon tag for the time being.
As seen from Sony India's press release of the product, Xperia E1 Dual release date will be 10 March 2014 in India at a base price of Rs 10490 i.e $172 and will be available in white, black and purple color variants. Xperia E1 will also be coming to India at base price of Rs 9490 i.e. $155 and Xperia E1 release date will be 25 March 2014.
[
UPDATE – 8 March
] 
Xperia E1 Dual available in India at Rs 9999 from Infibeam
– 5% Discount on Official price Rs 10490
Check below the listing of Xperia E1 Dual on Sony India website.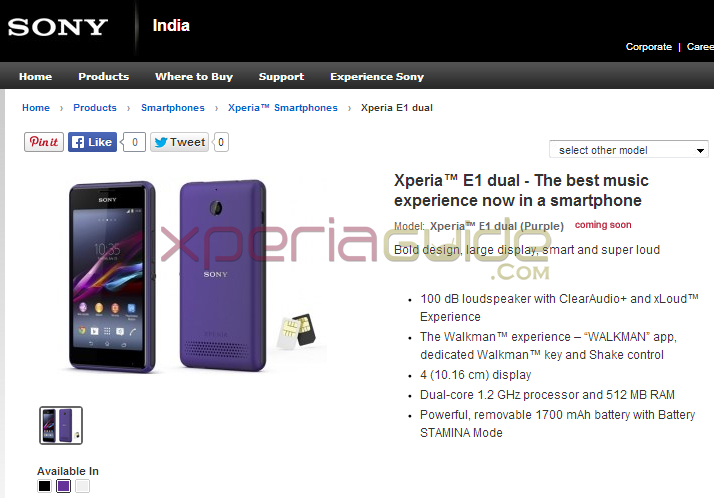 Xperia E1 and Xperia E1 Dual features S200 SoC 1.2 GHz dual core processor, Adreno 302 GPU, 3 MP rear cam, 512 MB RAM, 4 GB internal storage and android 4.3 out of the box.
Xperia E1 and Xperia E1 Dual will be the first Sony low end devices featuring android 4.3 firmware, which is still not available on Xperia E, M, L, C etc.
What do you think guys, planning to buy Xperia E1 Dual in India. Let us know. Drop your comments below.