Sony has launched a new mid range device Xperia M2 at MWC 2014 along with flagships Xperia Z2 and Xperia Z2 Tablet. Xperia M2 features 4.8″ qHD Display, Snapdragon 400 SoC 1.2 GHz quad core processor ( MSM8926 / MSM8226 ) with Adreno 305 GPU. Xperia M2 weighs 148 grams and 8.6mm thick. We were expecting Xperia M2 to be priced somewhere between $350-$400 and here it comes.
Xperia M2 is available for pre-order in Germany at a base price of €279 / $343 / £230 from Amazon.de. Xperia M2 is not listed on Sony's official online shopping stores in Europe yet, though it is priced a bit expensive but Sony has also priced Xperia Z2 and Xperia Z2 Tablet a bit expensive in starting for pre-orders. As per Sony we may see Xperia M2 launch in markets in April 2014.
Check the listing of Xperia M2 on Amazon.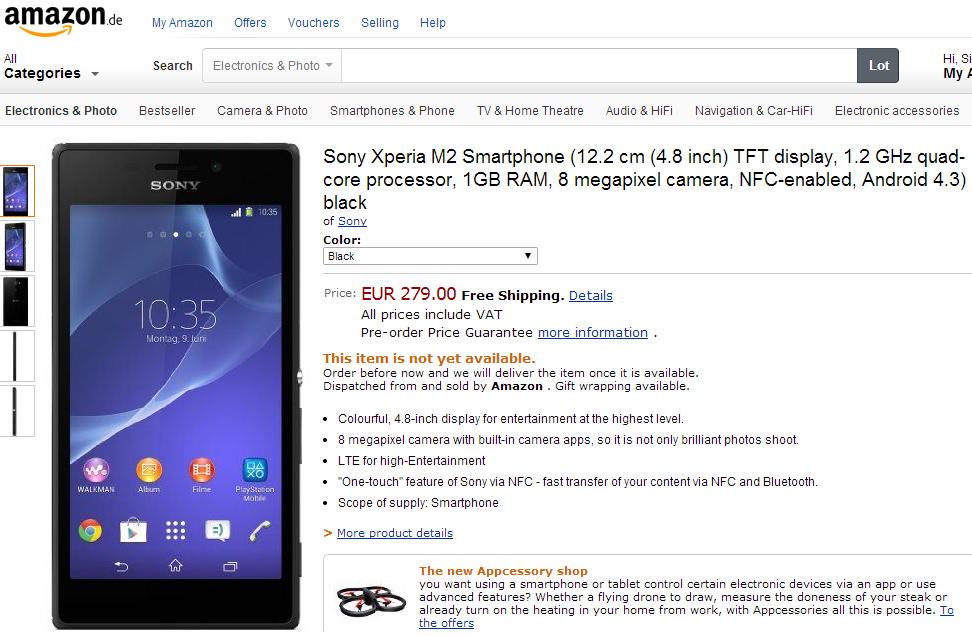 If you want to pre-order Xperia M2, you can now in all three colors but the product is not available right now for shipping. We hope Sony will launch Xperia M2 globally as it is a good mid range device with descent specifications. If it comes to India, Xperia M2 Price in India is expected around 20K INR – 23K INR.
What do you think guys, is Xperia M2 really overpriced. Let us know. Drop your comments below.