Remember Sony D5103 which we saw earlier at GFX Benchmark database featuring Snapdragon 400 SoC, Adreno 305 and running Android 4.4.1 KitKat, well some more Sony D5103 Specifications have been leaked from the same benchmark database. From specifications it seems Sony D5103 is Xperia G which we saw in leaked pics some days ago, though no confirmation is there on this naming.
Freshly leaked Sony D5103 Specifications says it features 5.2″ 720p HD screen with 1 GB RAM, 8 GB internal storage, 8 MP rear cam, 1.3 MP front cam. If you remember in leaked pics of Xperia G we saw a bit smaller frame than Xperia Z1 so screen size still seems doubtful.
Below you can see the Sony D5103 specifications spotted on GFX Benchmark Database again for the second time with "system" tag getting changed to "info".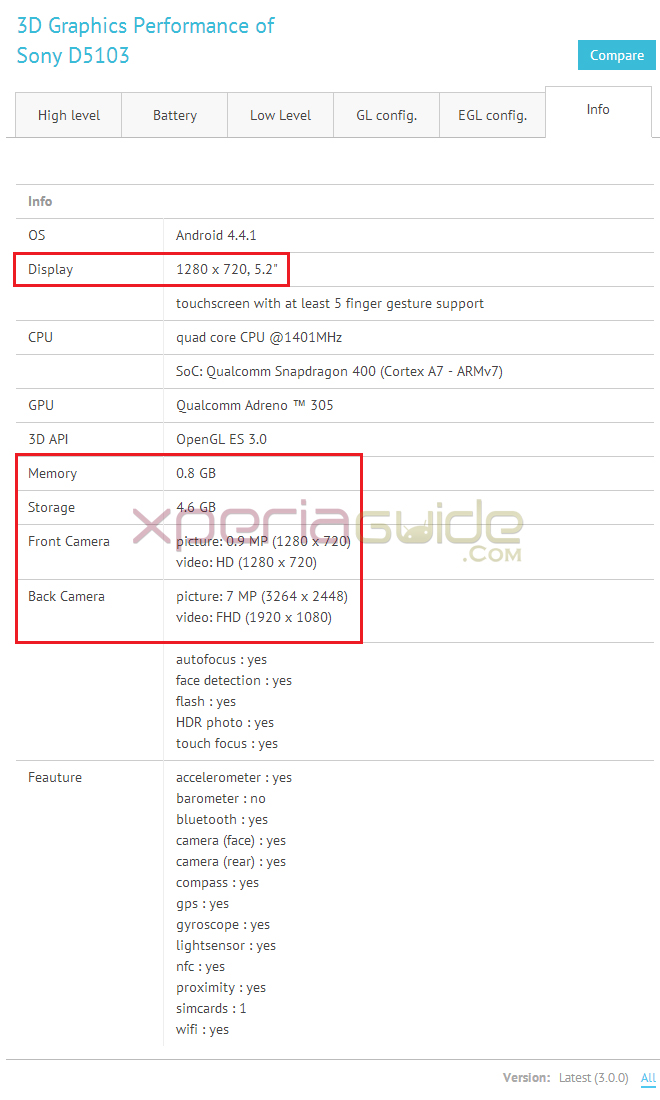 Sony D5103 Specifications Leaked 
We are posting till now all gathered specifications of Sony D5103.
Android – 4.4.1 KitKat version running.
Processor – Snapdragon 400 SoC, 1.4 GHZ quad core
Screen Size – 5.2″, 1280x720p screen resolution with atleast 5 fingers multi-touch
GPU – Adreno 305
Internal Storage – 8 GB ( 4.6 GB can be used, hopefully it will be 5.6 GB ).
RAM – 1 GB ( 0.8 GB can be used ).
Front Cam – 8 MP, Superior Auto mode – 7 MP ( 3264 x 2448 resolution ) and FHD video ( 1920 x 1080 resolution).
Rear Cam – 1.3 MP, HRD mode – 0.9 MP ( 1280 x 720 resolution ) and HD video ( 1280 x 720 resolution )
What do you think guys, can it be Sony Xperia G which we may see at MWC 2014 getting launched though chances are very less but still we can hope or Sony D5103 is all new device; it is definitely another mid range device from Sony. Liked the specifications, let us know. Drop your comments below.
Thanks Ben 🙂