A new 10.4.C.0.797 firmware build has been certified for Xperia Z C6606 and C6616 variants on PTCRB following the previous certification of 10.4.C.0.793 firmware which was not rolled. 10.4.C.0.797 firmware seems to be a particular carrier specific firmware update for T-Mobile Xperia Z or any other Xperia Z carrier variant model. 10.4.1.B.0.101 firmware released for Xperia Z C6602/C6606 still has not appeared on PTCRB.
Previous firmware which marked appearance of Xperia Z T-Mobile was 10.4.B.0.569 build and this new 10.4.C.0.797 firmware  may or may not come seeing the frequent change in build within 10 days of certification of last firmware.
Check below the 10.4.C.0.797 firmware certification on PTCRB page.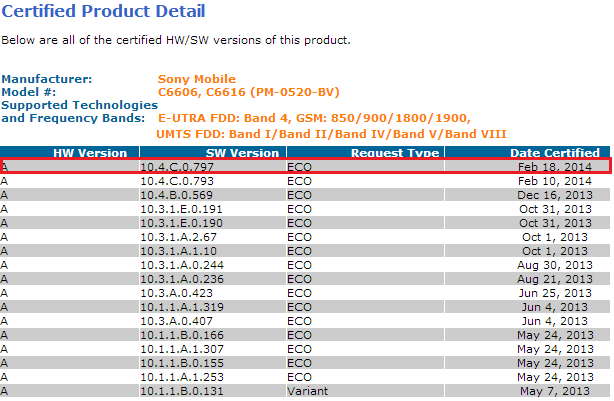 At present we don't have info regarding KitKat firmware update for Xperia Z but for Xperia Z1, Z Ultra and Z1 Compact, testing of KitKat 14.3.A.x.xxx firmware has already started. It seems other members of Xperia Z family will get KitKat update later after flagship models are updated.
No ETA is there for 10.4.C.0.797 firmware rollout yet, we will let you know if this 10.4.C.0.797 firmware rolls out on Xperia Z. It will not come to global versions of Xperia Z.
Thanks Matt 🙂