Sony D5103, a new mid range Xperia smartphone has been spotted on GFX Benchmark database. We have already seen the alleged existence of two high end device Sony D6503 and Sony D6603 along with a new tablet Sony SGP521 aka Sony Castor. Sony D5103 is seen with 720p HD display ( 1280×720 resolution )  powered by 1.4 GHz quad core processor MSM8226 Snapdragon 400 and Adreno 305 GPU.
Sony D5103 is spotted running android 4.4.1 KitKat 18.1.A.0.11 firmware and build fingerprint reads as "Sony/D5103/D5103: 4.4.1/18.1.A.0.11/eng.user.20140127.153512: userdebug / release-keys". Sony has already released a mid range device Xperia T2 Ultra / Ultra Dual in early Jan this year.
[
UPDATE – 22 FEB
]
Sony D5103 Full Specifications Leaked – 5.2″ 720p screen, 1 GB RAM – Sony Xperia D5103 specs
[
UPDATE – 14 Feb
]
Xperia G Live Pic Leaked beneath Xperia Z1 – Is it Sony D5103 ?
Sony D5103 specifications as per GFX Benchmark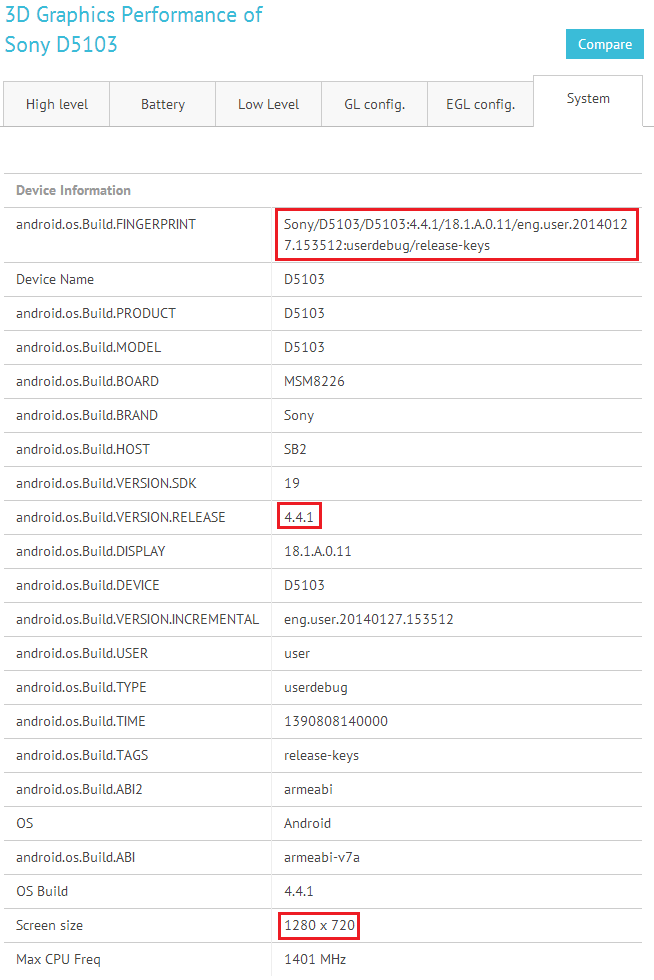 It is speculated that Sony D6503 and Sony SGP521 tablet will make an appearance at MWC 2014 Sony's event on 24 Feb but will Sony also reveal this mysterious Sony D5103 and Sony D23XX handset there, is a matter of suspense now for a few days.
It seems Sony is also hitting now mid range android phone market which is a very good idea from sales point of view, if Sony D5103 ever came to existence with a descent price tag then it will be a hit among Xperia device line. What do you think guys, drop your comments below.
[ via – GFX Benchmark, BlogofMobile ]