Well I am very much impressed by Sony launching a pen drive which can work both in computer and phone, sound cool huh. I decided to order a Sony USM-OTG-SA1 16 GB USB 2.0 Utility Pendrive from Flipkart. I ordered it on 8 Jan 2014 paying Rs 965 ( $15.68 ). At that time of Flipkart, Sony USM-OTG-SA1 16 GB USB 2.0 Utility Pendrive was available with 5 concerned sellers and I placed the order with the seller "Raga Mobile Sales and Service".
So, what happened next ? I received a package from Flipkart on 13 Jan 2014, what I found it Flipkart sent me a 8 GB Pen Drive edition instead of mine 16 GB one and with a bill named to some other person. WTF is that.! I called Flipkart support regarding this they told me that they will arrange a pick up for the item and I will be getting a refund, is it so easy huh ? I declined to accept the refund from Flipkart. I decided to call the seller directly and he said he don't have the stock of that pen drive anymore so he can't accept a replacement Lol 😛
What Actually happened ? Let's go in detail…
I ordered Sony USM-OTG-SA1 16 GB USB 2.0 Utility Pendrive with this seller "Raga Mobile Sales and Service" as his listing was available at that time on Flipkart.
My Order Receipt :-
Order Id on Flipkart – OD40108053519
Below you can have a look at the screenshot of order id. [ Click to ZOOM it ]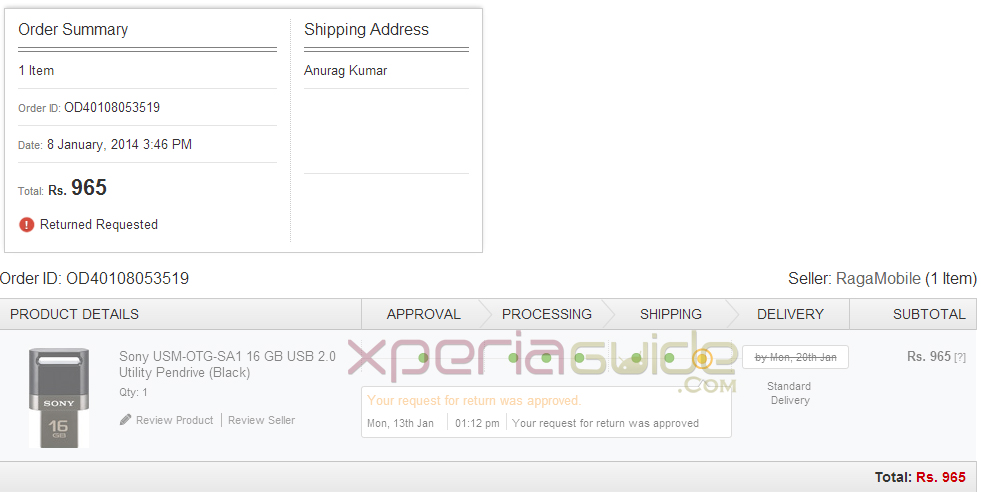 "Raga Mobile Sales and Service" Seller of Flipkart Details :-
Seller name – "Raga Mobile Sales and Service"
Seller Address :- Shop No 8. Lancelot Bidg. S. V. Road, Next to Sahara Sagar Restaurant, Borivali ( West ), Mumabi : 400092, Email id :- [email protected]
Phone Number :- 32483377, Cell Phone "- +919867087193
Above seller shipped me 8 GB Pen Drive instead of 16 GB one and with the bill named to some other person. Check the Bill which was packed inside the package sent to me.
The Bill was named to some other person "Rahul Menon" from Andheri Mumbai, invoice date 8 Jan 2014.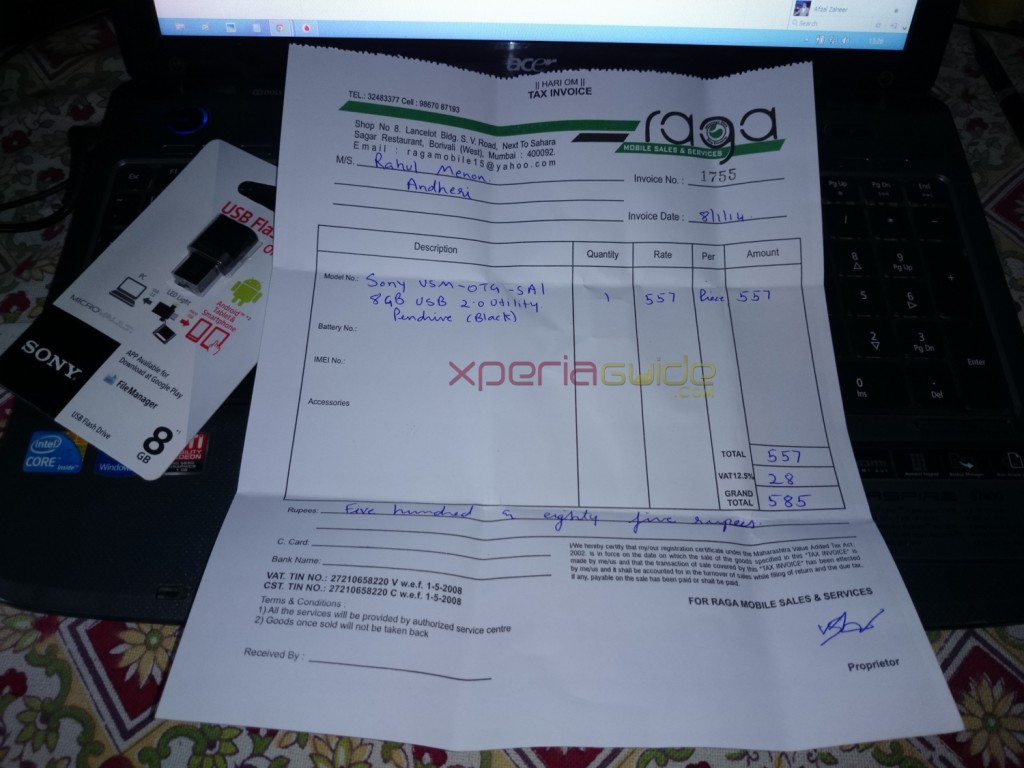 What went wrong ?
On 13 Jan 2014 I called Flipkart to arrange a replacement of the product instead of giving me a refund, why should I accept the refund when it is Flipkart's mistake or seller's mistake or courier companies fault that they have sent me a wrong package i.e. they have sent me some Rahul Menon's 8 GB pen drive and we can assume that mine was sent to him.
What I wanted now ?
I simply asked Flipkart now to send me a replacement product instead of giving me a refund in Flipkart's wallet, Why should I accept that ? Why should I suffer it, Flipkart Sent me wrong product and now want me to compromise over it.
Dispute Raised with Flipkart
I am not settling on refund, I need my 16 GB Pen Drive back. I have told this stuff to Flipkart Team 10 times during 13-20 Jan 2014. Flipkart made be suffer and now I want them to suffer like hell. NO RESOLUTION FROM FLIPKART TILL NOW
I registered two complaints with Flipkart regarding this, one complaint number is "140115-0225322"
I called on Flipkart's toll free number "18001023547" and have called more than 10 times between 13-20 Jan 2014. Flipkart support members told me that I will be getting call from Flipkart's support team regarding this but they never called me back. Last call back from Flipkart team to me was on 16 Jan 2014 and they promised me 3 times after that regarding a call back but never called to me.
Don't Trust Flipkart, it SUCKS
Flipkart is listing poor seller's on its' website and sending wrong items to the customers with wrong bill and not accepting its fault also.
After wasting my 7 days and after telling Flipkart support team that I am not settling on refund, Flipkart wants me to settle on refund and asking me to compromise that I should accept the offer as the product is no longer
Why should I ? Was it my fault that they sent me someone's else item ? It is out of stock so What do I care ? I paid and now I need my item, Why should I pay more after getting refund for the same item when it is Flipkart's fault.
I will not settle on getting refund from flipkart and will file a complaint in consumer court against Flipkart positively tomorrow morning.
In past I have ordered so many things from Flipkart but now I will not buy anymore.
Do not buy from this FRAUD seller "Raga Mobile Sales and Service"  from his listing on Flipkart
"Raga Mobile Sales and Service" is a big time fraud seller, poor service from his side. Ignore all listing from this seller, this seller simply eats customer's money and send them wrong products and even don't accept his fault. He simply SUCKS. AVOID buying from this seller.
Flipkart Removes Negative Reviews, YES they do.
As you all know if you make any negative review on Flipkart then they will simply remove your review from the product. So I decided to review their customer support as worst on my blog by myself. I have also rated negative to the seller, let's see how ling will Flipkart keep that review on their site.
Below you can find my negative rating for the "Raga Mobile Sales and Service" seller on Flipkart.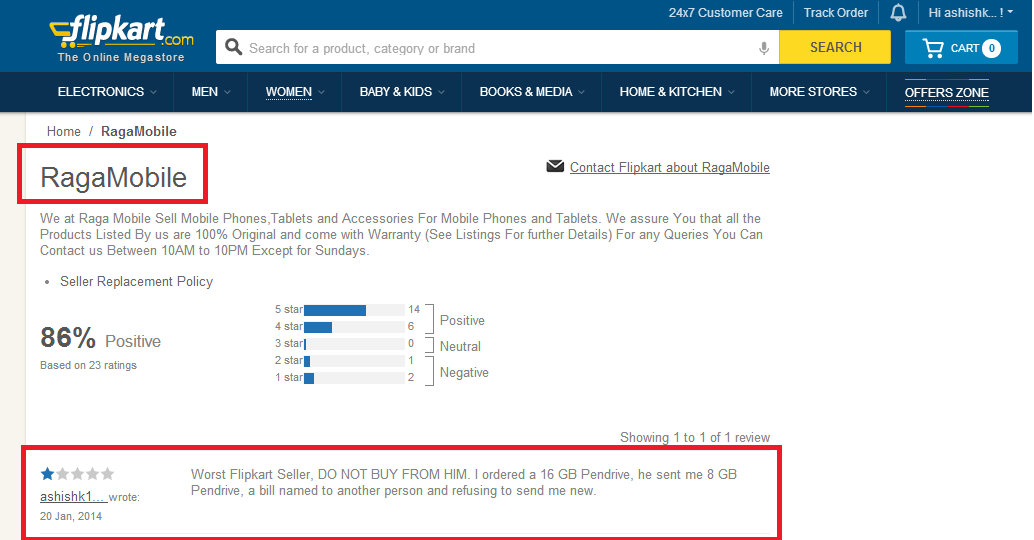 I will not settle on getting refund anymore unless Flipkart ends up paying for that, wasting my 8 days, delaying to solve me dispute and not coming up with a resolution.
Moral of the Story :- Don't trust Flipkart blindly, they will make you fool and ends up eating your time and money.
[
UPDATE – 21 Jan
]
My issue is still not solved and I was told I will get a call from Flipkart on Monday 20 Jan regarding this but no call made to me, Flipkart promised that we will call you on Tuesday but no call made to me on Tuesday 21 Jan also, Clearly FLIPKART IS A LIAR, DON'T TRUST THEIR WORDS.
I also tweeted regarding saying #FlipkartSUCKS to Flipkart official Twitter Support and no response from Flipkart Side yet.
@XperiaGuide Sorry about this. We'll keep you posted shortly…. please give us a bit.

— flipkartsupport (@flipkartsupport) January 20, 2014
Flipkart is simply ignoring all my mails and tags and asking me to settle on refund which I will not. I posted on my Facebook account asking my all fellow bloggers friends whether Flipkart service is good or not and guess what all said Flipkart Sucks.

If you have ever come across any situation like this where Flipkart has cheated you do let us know, we would like to hear on this issue from your side. Flipkart customer service is getting worst day by day, it simply sucks.