As December comes closer, release of android 4.3 update for Xperia handsets comes nearer and in the mean time T-Mobile has updated Xperia Z C6606/C6616 for the very first time to android 4.2.2 10.3.1.E.0.191 firmware from android 4.1.2 10.1.1.B.0.166 firmware update. It was certified by PTCRB back in early November Well it is quite late for the T-Mobile to update Xperia Z on android 4.2.2 when the world is talking about android 4.3 and android 4.4 while android 4.2.2 was rolled on global version of Xperia Z back in June.
10.3.1.E.0.191 firmware brings android 4.2.2 jelly bean to T-Mobile USA ( United States ) Xperia Z both models C6606/C6616 and is available over OTA as well as via PC Companion / SUS. If you updating 10.3.1.E.0.191 firmware via OTA, file size of is about 185 MB in size ( must have free 200 MB internal memory ).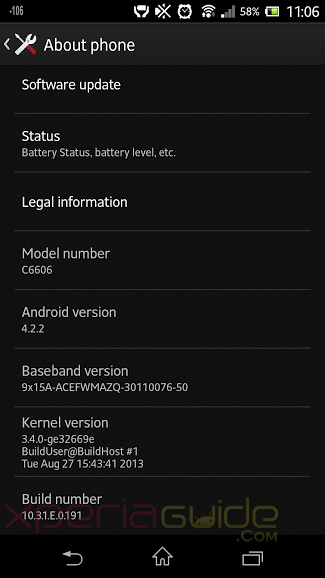 Android Version – 4.2.2
Phone Model – C6606/C6616
Kernel Version – 3.4.0
Baseband version – 9x15A-ACEFWMAZQ-30110076-50
Build Number – 10.3.1.E.0.191
Check the 10.3.1.E.0.191 software info below.
Phone Software version – 1269-5309_10.3.1.E.0.191
File System Version – TMOUS-LTE_10.3.1.E.0.191
Customization version – 1272-8668_R10B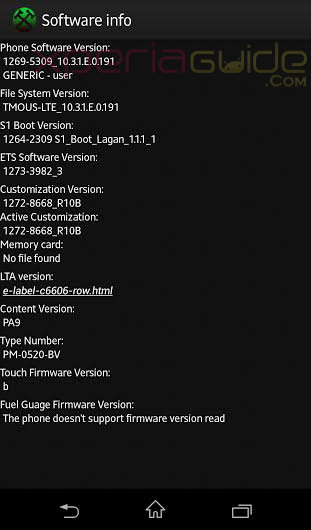 10.3.1.E.0.191 firmware Changelog
Adds camera access from lockscreen.
Software enhancement.
Improves handset rebooting when dialing a call.
Rest other features include all basics android 4.2.2 features which global version of Xperia Z got.
If you have updated your T-Mobile Xperia Z on 10.3.1.E.0.191 firmware, let us know what it has brought for you under the hood, drop your comments below.
Thanks Jeffrey Moore 🙂