Sony has given the taste of firmware updates to two Xperia handsets today, earlier in the morning we saw Xperia M Dual being updated to android 4.2.2 15.2.A.2.5 firmware and just now another update has hit Xperia M. Android 4.1.2 15.1.C.2.8 firmware ( moving from previous 15.1.C.1.17  firmware ) update has just hit Xperia M sadly keeping it still on android 4.1.2 as android 4.2.2 was expected seeing it already running on Xperia M Dual versions.
15.1.C.2.8 firmware update confirmed on both C1904/C1905 in Vietnam so far. 15.1.C.2.8 firmware update available as usual via PC Companion and SUS and on Bridge for Mac users.
Connect your Xperia M to PC Companion and look for a notification just like shown below for 15.1.C.2.8 firmware update and proceed as per on screen instructions.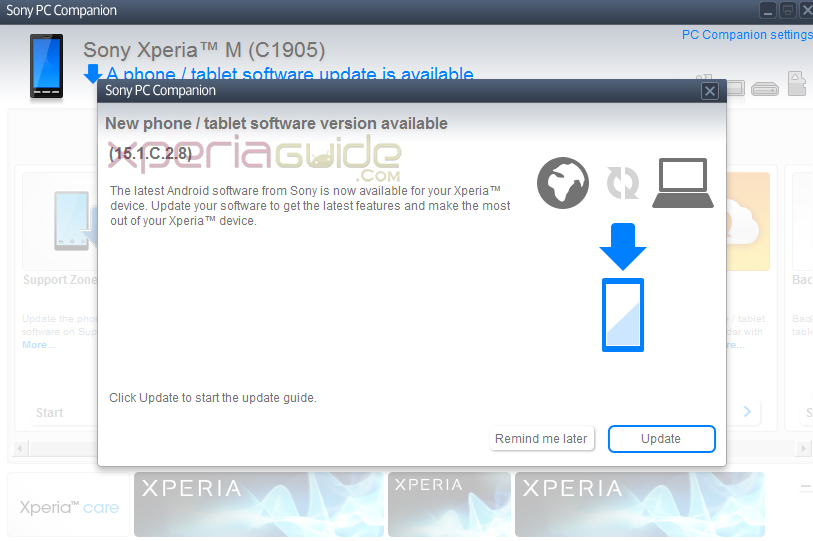 Though Sony still has not updated the new 15.1.C.2.8 firmware on their website but the users who have already got it are saying that it improved "camera" ( atleast better than previous version ).
Download Xperia M 15.1.C.2.8 firmware ftf
Download C1905_Moneylatentoi__15.1.C.2.8_world.ftf | 593 MB
We think rest all the features are under the hood in this 15.1.C.2.8 firmware update for Xperia M, rest you tell us what it has brought for you in actual…