Since Xperia Z1 launched officially and Xperia Z1F ( aka mini version of Xperia Z1 in Japan ), there has been rumors buzzing about launch of global version of Xperia Z1 Mini as Xperia Z1S. But till now we saw only rumors. Even recently an alleged image of Xperia Z1S surfaced from the Evleaks firing the rumors again. This time something official has been put on the existence of Xperia Z1S from Sony Mobile.
Xperia Z1S  spotted on Sony Mobile Global Site, a moment ago and hyperlinked to Xperia Z1 page but the weird thing is that Sony Mobile took down the listing of Xperia Z1S within an hour of putting it live.
Xperia Z1S ( "S" being used in superscript to Xperia Z1 ) on the listing page.
[ UPDATE ] Xperia Z1S listing from Sony Mobile Global Site has been taken down now.
First let us show you the screenshot of Xperia Z1S listed on Sony Mobile Global Site.
*Click on the image to Zoom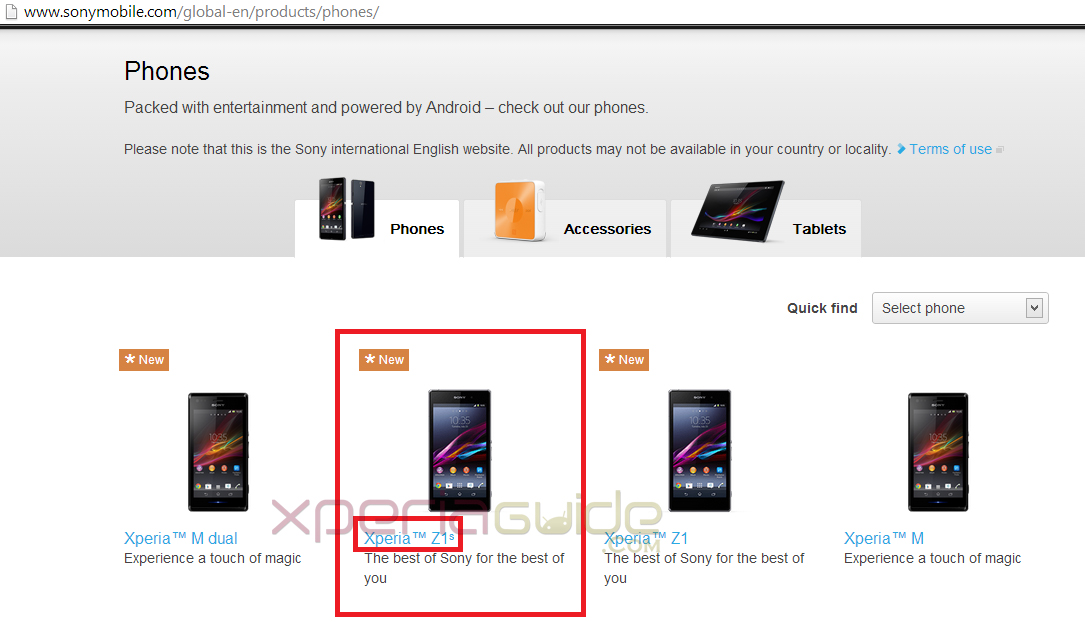 Note :- For all haters who think that the above image may be edited, they can also check the below image which is the full screenshot of the page taken by us. *Click on the image to Zoom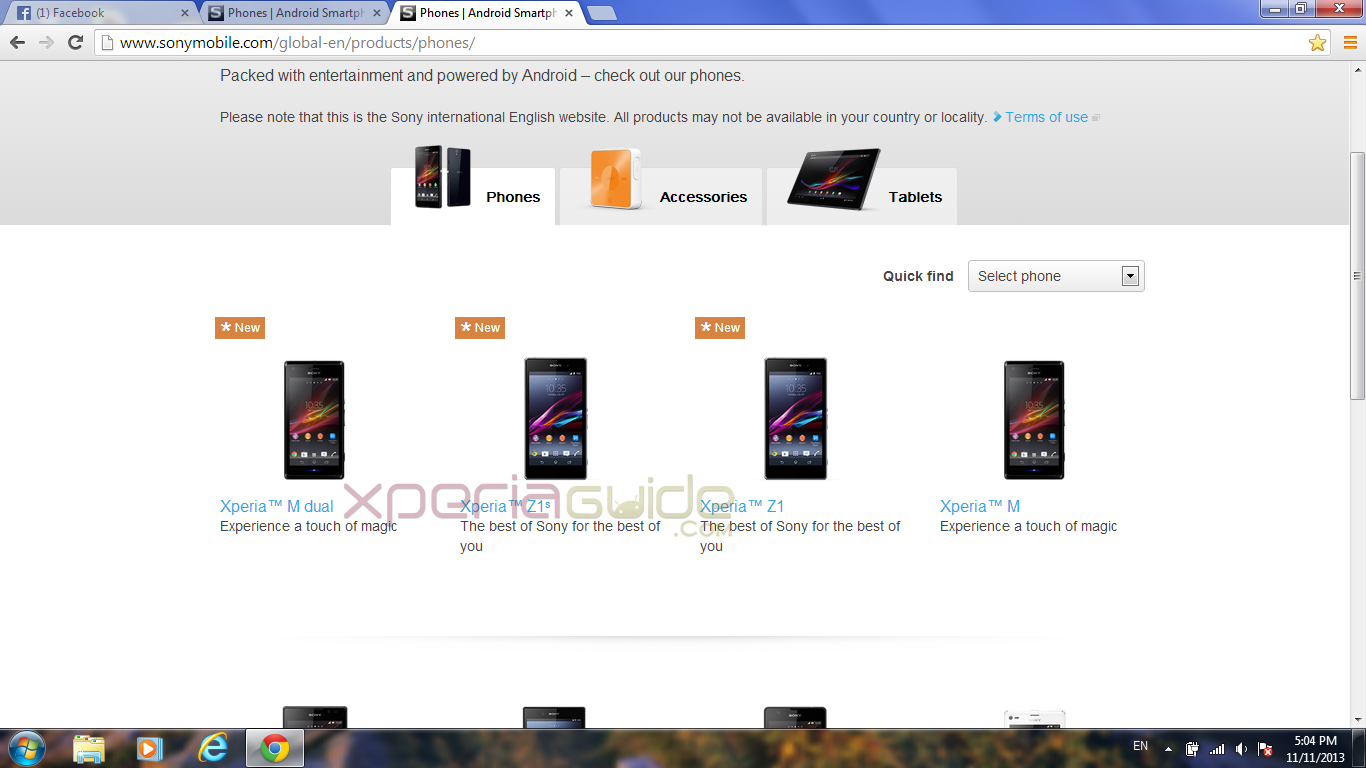 What does it signify ? Is Xperia Z1S coming soon ? Is Xperia Z1S Global launch is near ?
Well we heard an interesting rumor sometime back that Sony is about to launch Xperia Z1S and another device codenamed as Xperia Taichi to be unveiled on November 12 at Shanghai Press Event. Well there is no official source for this rumor but it may be the case that after seeing the listing of Xperia Z1S on Sony Mobile site and taking it down then, has given hope that the above rumor may come true soon…
Rumored specs of Xperia Taichi
According to a widespread rumor Xperia Taichi is a mid ranged 6″ Phablet featuring MediaTek SoC true octa-core processor and 720p HD display with 1280×720 screen resolution.
Xperia Z1S may come up with below specs :- 
Android – 4.2.2 Jelly Bean
Dimensions – 127mm x 64.9mm x 9.4mm ( exactly like Xperia Z1F ).
Display –  Triluminos, X-Reality for Mobile.
Screen Size – 4.3″ HD 1280×720 resolution.
Battery – 2300 mAh.
Processor – Snapdragon 800 clocked at 2.2 GHz
Memory – 2GB RAM and 16 GB internal memory.
Connectivity – BlueTooth 4.0, LTE enabled.
Camera resolution – 20.7 MP rear cam and 2.2 MP front cam.
IP 55 / IP 58 dust and water resistance.
Above listing of Xperia Z1S has certainly sparked its existence rumors now, hopefully we will see it soon. What do you think guys on this…
Thanks Ben for detailed screenshot 🙂
[ Source –
Sony Mobile
, Listing removed now ]