Sony Mobile Xperia fans from USA were repeatedly asking when they will officially see Sony Xperia Z1 in USA. As well all know Xperia Z landed on T-Mobile in USA very late after its global launch and the same was expected this time also. But just now a press pic of Xperia Z1 on T-Mobile USA has been leaked by @Evleaks.
Twitter handle of EvLeaks is famous for revealing the various models of phones before their official launch and just now they have leaked the full picture of Sony Xperia Z1 for T-Mobile USA.
Let's have a look at the leaked pic of Sony Xperia Z1 for T-Mobile USA. Below pic is courtesy of EvLeaks. In the Pic, back panel shows a secondary microphone just like Xperia Z has and 3.5 mm headphone jack is somewhat shifted to center.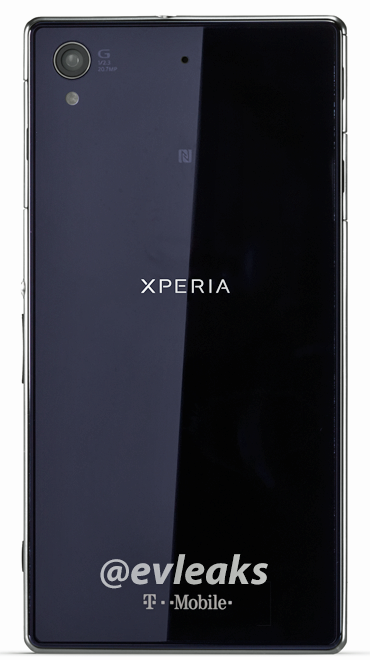 Above pic somewhat confirms that we may not see unlocked version of Xperia Z1 LTE in USA and if unlocked version comes at any stage it will be HSPA+ only.
It is now expected that soon we will see Sony Xperia Z1 for T-Mobile USA coming up with all LTE bands just like Xperia Z.  Stay tuned as soon as we get more info on the real existence of Sony Xperia Z1 for T-Mobile USA, we will let you know.
So Xperia fans in USA, are you excited ? Drop your comments…
[ Source – [email protected] ]