Till now if you are not aware of "Yellow Hue Tint" issue on Xperia Z1 then let us tell you. Sony Xperia Z1 is suffering from "Yellow Hue Tint" on the display screen because of that screen of Xperia Z1 appears a bit yellowish rather than pure white. For a few people this is only a calibration issue on the display but for some like me and others, Xperia Z1's whole left side of display is a yellowish. Do you know what is funny ?
Folks at Sony Service Center are not even taking this issue seriously.
In our previous post we have clearly mentioned what is Xperia Z1 Yellow Hue Tint Issue on Display Screen is all about with all the pictures and a temporary solution to the issue. Please check the below link.
POOR Sony Service Center support
Being an author of Sony Xperia Smartphone dedicated website, I love Xperia phones but I must say Sony Service Center Support is the WORST I have ever experienced. I have got yellow hue tint on my Xperia Z1 screen and Sony Service Center is treating my like crap.
Check one yellow hue image on Xperia Z1 yourself.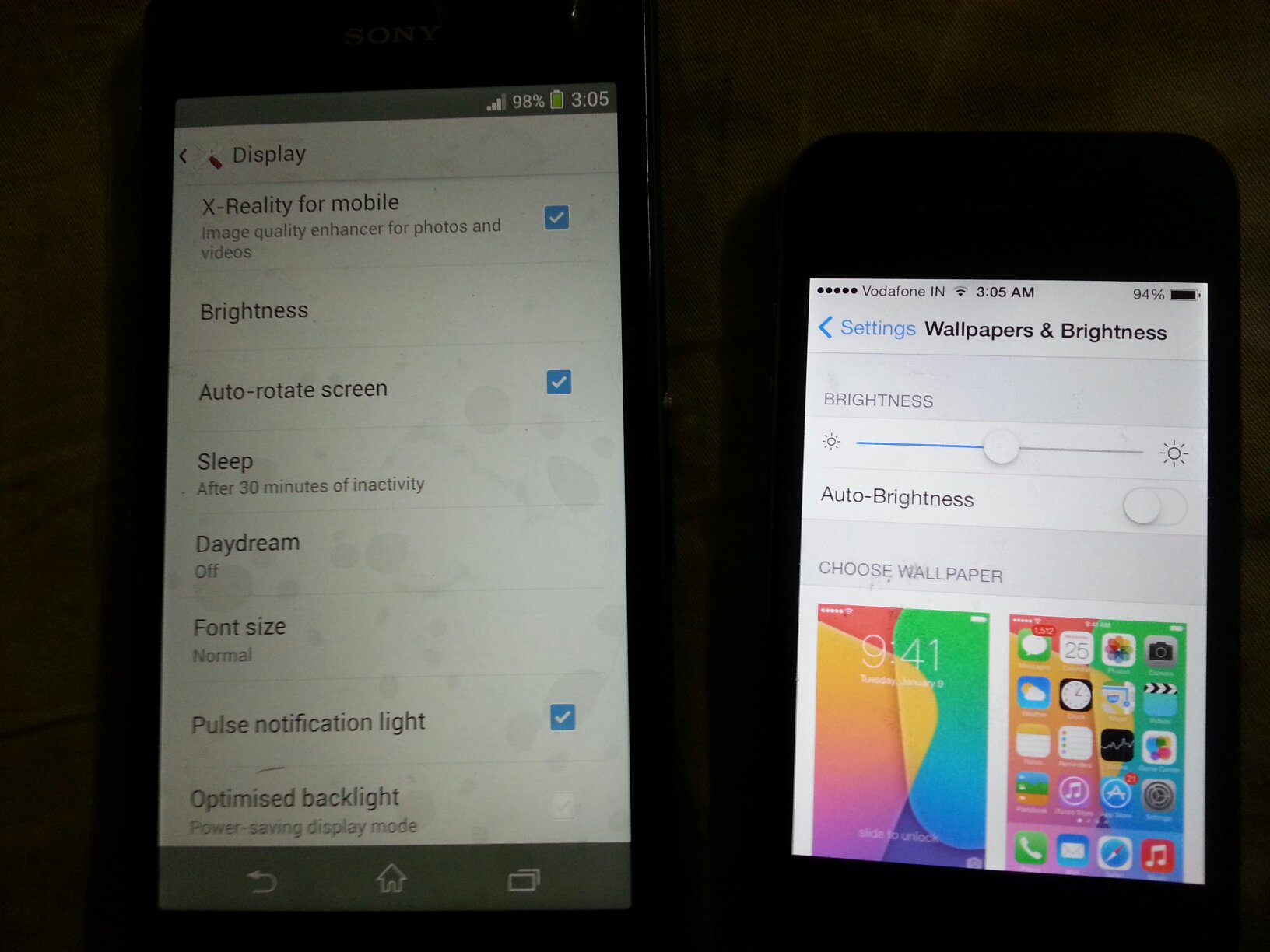 Check the screen color of both Xperia Z1's, both are at same brightness level, X-Reality of and Optimized backlight on.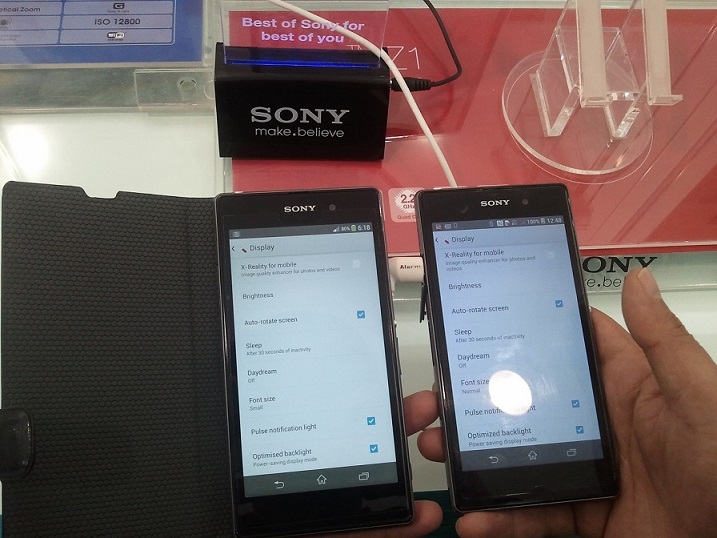 Let me tell you the whole story.
28 Sept 2013 – Bought Sony Xperia Z1.
29 Sept 2013 – Registered Xperia Z1 Yellow Hue Tint Issue on Display Screen after contacting Sony Customer Care on phone number 1800-3000-2800 INDIA and got a ticket id #13092900045. Submitted my phone for the check on the next day.
1 Oct 2013 – Sony Customer care told me that your phone is ready and I must go to Service Center and collect it. When I reached there, Sony Service Center told me that nothing has been done and they have just installed the software again and issue is still there.
What, I said ? When nothing was done why did you tell me.
Sony Service Center FRAUDULENTLY CLOSED Ticket Id No # 13092900045. YELLOW HUE TINT ISSUE ON Xperia Z1 ( PURCHASED ON 28 Sept ) is still there.
On 1st October Sony Service Center gave me a new ticket id #13100101659 for the same issue and took some photos of my Xperia Z1 faulty display and sent them to their seniors for approval of replacement of handset.
POOR response from Senior Executive Hitesh and Ankit of Customer Care 
They gave my new ticket id 13100101659 and asked my to wait till 4 October then they will be telling if any such issue is there or not. Suppose if I get approval for replacement for my handset then I will be getting it around 7-10 days later that is around Mid October, Wow great, I bought Xperia Z1 on 28 Sept and I will be getting is back from Sony Service Center after 15 days.
Workers at Service Center are illiterate ones
When I told them about Xperia Z1 Yellow Hue Tint Issue on Display Screen, they said they never heard of it. Sony acknowledged the same issue on Xperia S and replaced all faulty handsets and they don't even know of it. Poor illiterate people Sony have put in Service Centers that's why we customers are getting so much trouble.
Sony Disregarding the issues on Email with no response.
I mailed Sony, regarding this issue on 30 Sept on email id [email protected] explaining my whole issue from which I received below mail.
Dear Mr. Anurag Kumar,
Greetings from Sony India.
Thank you for patronizing Sony products.
This is in response to your e-mail to our Head of Service.
Thank you for writing to us and for bringing the matter to our notice. We note the contents of your mail with due attention and concern. We are asking our regional office to immediately look into the matter and expedite resolution at the earliest.
We sincerely regret the inconvenience caused to you and assure you of our best support and attention always.
Best Regards
For Sony India Pvt Ltd.
Meena Bose
Customer Relations – Corporate Office
New Delhi
Soon after this mail they asked for my alternate contact details and I have provided to them but again and again I am getting mails from them asking for the same.
It's clear they don't care about it at all.
When Sony is treating the Xperia Z1 Customers likes this, how bad they will treat other customers; think yourself.
We have also tweeted about this issue to Sony Xperia India Twitter account and their replay is also very cold.
@SonyXperiaIndia Sony Center Fraudulently closed Ticket 13092900045.New Ticket 13100101659 YELLOW HUE TINT on Z1. Reported to Consumer Court

— Anurag Kumar (@ImTemptation) October 1, 2013
Complaint filed against Sony Mobile in CONSUMER COURT INDIA
For very bad customer support from Sony and fraudulently closing the case without resolving it and not replacing and identifying the problem is user's handset Xperia Z1 in warranty we have filed two complaints against Sony Mobiles India in Consumer Court, with complaint numbers No-64208.2.2013 and No-64209.2.2013.
We have talked to Sony Service Center in Rohtak, Haryana India.
Name of Person talked to – Mayur.
Sony Service Center Details :- Kamla Marketing.
Ph. no – 01262246599
Email id – [email protected]
[ Update  3 October 2013 ]
After talking to one of the Sony manager, I managed to get DOA for my Xperia Z1 Yellow Hue Tint Issue and now I will get a new one 🙂
coming till Monday…
If your handset is only 7 days old, get a DOA guys ASAP.
Do comment with the week in which your device was manufactured ? Mine was of 37th Week means 9 Sept to 15 Sept. Look inside your SIM slot there is one plate inside it pull it out and check the week of manufacturer ?
[ Update  7 October 2013 ]
I have got my new Xperia Z1 being replaced under terms of DAO filed and this new one has no yellow hut tint issue and serial number starts with BH906******. I am happy now that finally got a full functional Xperia Z1.
Xperia Z1 Serial Numbers having Yellow Hue Issue
[ 
UPDATE
 ] Xperia Z1 Yellow Hue Issue is not related to Serial Numbers.
Let me clear up the Xperia Z1 Yellow Hue problem ( From MTV ( India ) VJ hoezay )
I'm not an expert, my conclusion is based on my time spent with my old Z1 ( defective screen, Sony service center agreed as well ) and my new Z1.
So here it goes:
I bought a Sony Xperia Z1 C6902 around the end of last month. After coming home I almost immediately felt like there was something wrong with the screen.The display light seemed to be coming from the sides ( like underwater divers with lights).I had this yellow hue and slight tilts would produce drastic washing out + more of this mysterious "yellow hue" everyone's been talking about.The display just didn't seem uniform. Videos and pictures however seemed to display perfectly. A completely white screen would appear patchy.
After a lot of running around, going nuts and tweeting, I finally got my replacement Z1 today.
Now : Slight tilts DO NOT produce drastic washing out anymore.The screen displays uniformly now .The sharpness of viewing angles still sucks, and there is slight washing out, but only after you're holding it at an awkward angle.
HOW TO CHECK IF YOUR Z1 displays whites correctly. ?
Do this : Go to your service menu. In your device, open the dialer and enter *#*#7378423#*#* to access the service menu.
Hit Service Tests —> Display
You will notice the 1st and 2nd screens match the yellow/off whitish tone of the settings menus. ( On a bad screen it will be patchy, on a good screen it will be uniform )
Now tap the screen 8 times
THIS screen will show you if your device displays whites correctly.
Attached pics of my replaced Z1's display test from the service menu.
Conclusion.
There are 2 things going on here.The yellow hue and and bad Z1 screens are two different issues, but not completely separate.
The yellow hue /off whitish color seems to be Sony's color config for the Z1.( check the screen i've mentioned above to know if your device shows whites correctly )
The bad screens are the ones that don't display uniformly and seem patchy ,have drastic washing out on slight tilting ( which in turn, seems to make the "yellow hue" seem worse, making people think they're connected.)
So,
Bad Screen : Patchy when displaying a full white screen, drastically bad viewing angles, not uniform, display distortion on even a slight tilt.
Good Screen : Decent viewing angles, NOT patchy when displaying a full white screen, uniform display.
ALL screens seem "yellow".
Sony's customer service here was SO SLOW and It should have happened sooner but after almost a month, I'm finally using the device I paid for.
Trust your eyes. Don't blindly accept that all Z1 screens are bad. The Z1 has a lovely display.Know the difference between the "yellow hue" and a defective screen.
Best of luck !
Support from Sony Service center is very bad not at all cooperative. We will highlight this matter as much we can and will make it an issue. Sony Service Centers are dis-regarding this issue and customers of Xperia Z1.
If you also have Xperia Z1 Yellow Hue Tint Issue on Display Screen, let us know in comments and problems you are facing in getting it resolved.