A series of firmware updates 14.1.G.1.526 , 14.1.G.1.531 and 14.1.G.1.534 have hit Xperia Z1 recently and yet another 14.1.G.2.213 firmware is soon expected to be rolling on Xperia Z1. Just now an about phone screenshot from Xperia Z1 C6902 HSPA+ is seen in wild which states build number as 14.1.G.2.213 firmware.
14.1.G.2.213 firmware changes the present 14.1.G.X.XXX firmware formation and is expected as a major update to bring out some noticeable changes in the Xperia Z1. Xperia Z1 users are complaining of many issues in present firmware.
Xperia Z1 14.1.G.2.213 firmware caught in wild
At present users are facing some serious issues in Xperia Z1 like yellow hue / tint in screen display, noise appearing in camera pics and fake sleep of death issue due to improper functioning of optimized backlight option.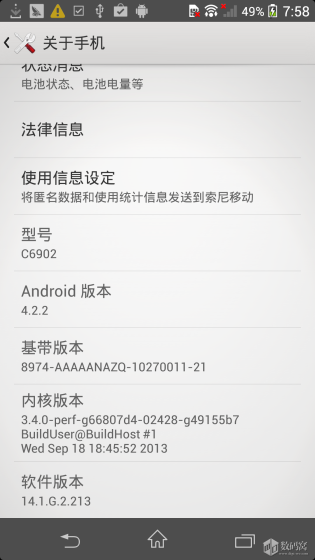 Tipster confirms that 14.1.G.2.213 firmware will bring some performance enhancement and efficient power consumption on Xperia Z1 keeping it on Android 4.2.2 and kernel 3.4.0.
14.1.G.2.213 firmware update has not been rolled yet, it is to come soon, if you have got the 14.1.G.2.213 firmware  update than let us know in comments.
[ via –
XDA
]