A few days back at IFA 2013 Berlin event we saw Sony launching detachable QX 10 and QX 100 lenses for more advanced photography. Going through other similar accessories for Xperia smartphone we saw "Sony Xperia Z 12x Zoom Telescope with Tripod Stand", it's not an alternative to above mentioned two lenses but it's a different type 12x Zoom Telescope lens to take some far distant shots via your Sony Xperia Z. Brando.com has this Sony Xperia Z 12x Zoom Telescope with Tripod Stand, an amazing product listed at price tag $36.50, shipping world wide free of cost. We had this sample from them for hands on review.
If you love to shoot photos from your Xperia Z 13 MP Sony Exmor RS sensor and this accessory can help you to take some better shots. Let's have a look at what it can do for you…
[ Review ] Sony Xperia Z 12x Zoom Telescope with Tripod Stand
Sony Xperia Z 12x Zoom Telescope with Tripod Stand will be shipped from Hong Kong and took around 5 days to reach here in India via registered air mail, number of days for shipping may vary depending your location. Instrument came in a tough package.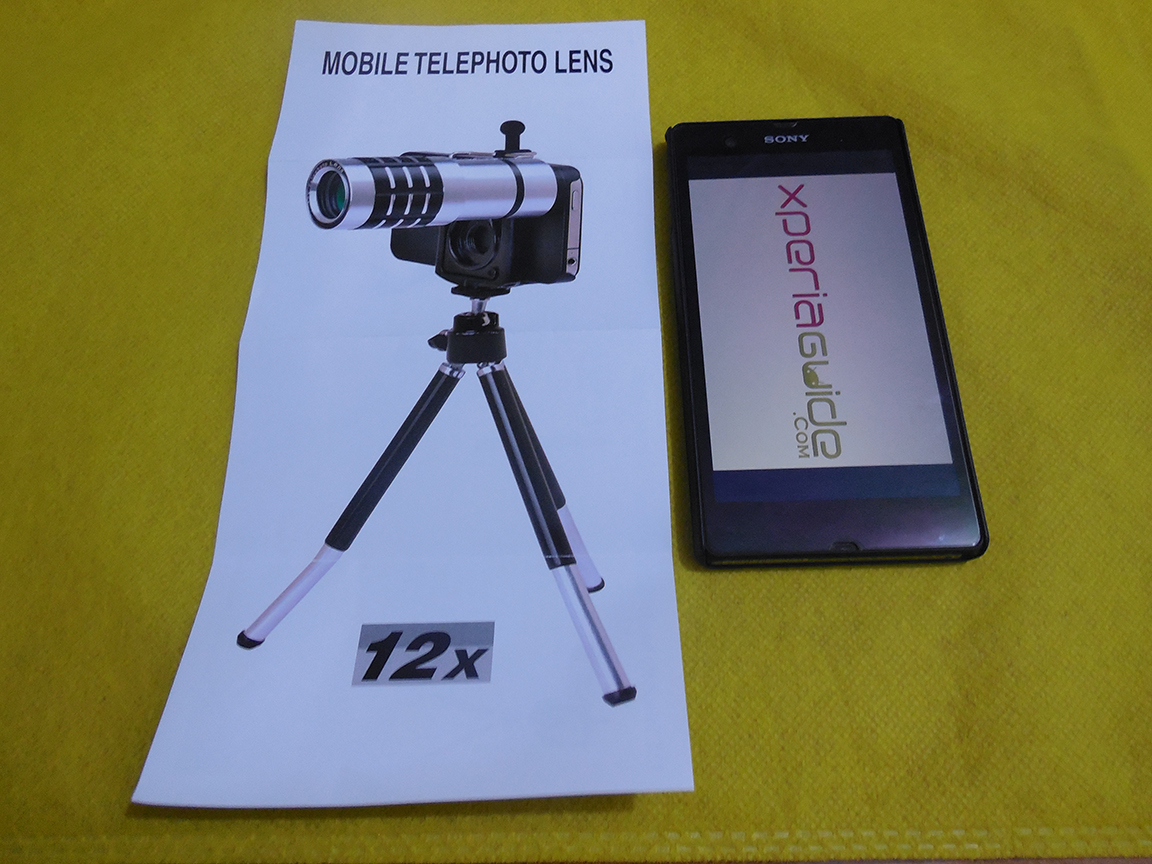 Take a look at the outer covering of Sony Xperia Z 12x Zoom Telescope with Tripod Stand box.
On the back of box, what is included in box, some specifications and Tripod user guide is written.
What is included in Box ?
12x Zoom Lens.
1 piece of cleaning cloth.
Tripod Stand.
Xperia Z Protecting case.
A small black bag having tightening screw in it.
Note :- Universal holder is not included in the box. What damage of not including it can happen we will let you know.
Technical Specifications
Telescope – 12x Zoom Lens.
Focus distance – 3M Min.
Filed View – 246M
Lens dimension – 33×94 mm.
Angle of view – 70 Degrees.
How to Adjust Xperia Z on tripod ?
You can use the 12x Zoom telescope photolens in two ways either put it up directly on your Xperia Z. A bit risky it would be but we tried, though not recommended at all, as the weight of lens may take down your Xperia Z and it's cam may be damaged.
Put your Xperia Z in the case which came inside box.
Now take 12x Zoom photolens and tighten it in the screw hole opening given in the case and use the phone to take photos.
Note :- Switch flash off while taking photos like this. Hold your phone gently and the 12x Zoom photo lens even more tightly.
Now let's see how to put your Xperia Z on Tripod.
Adjust the tripod first on its legs. Spread them a bit.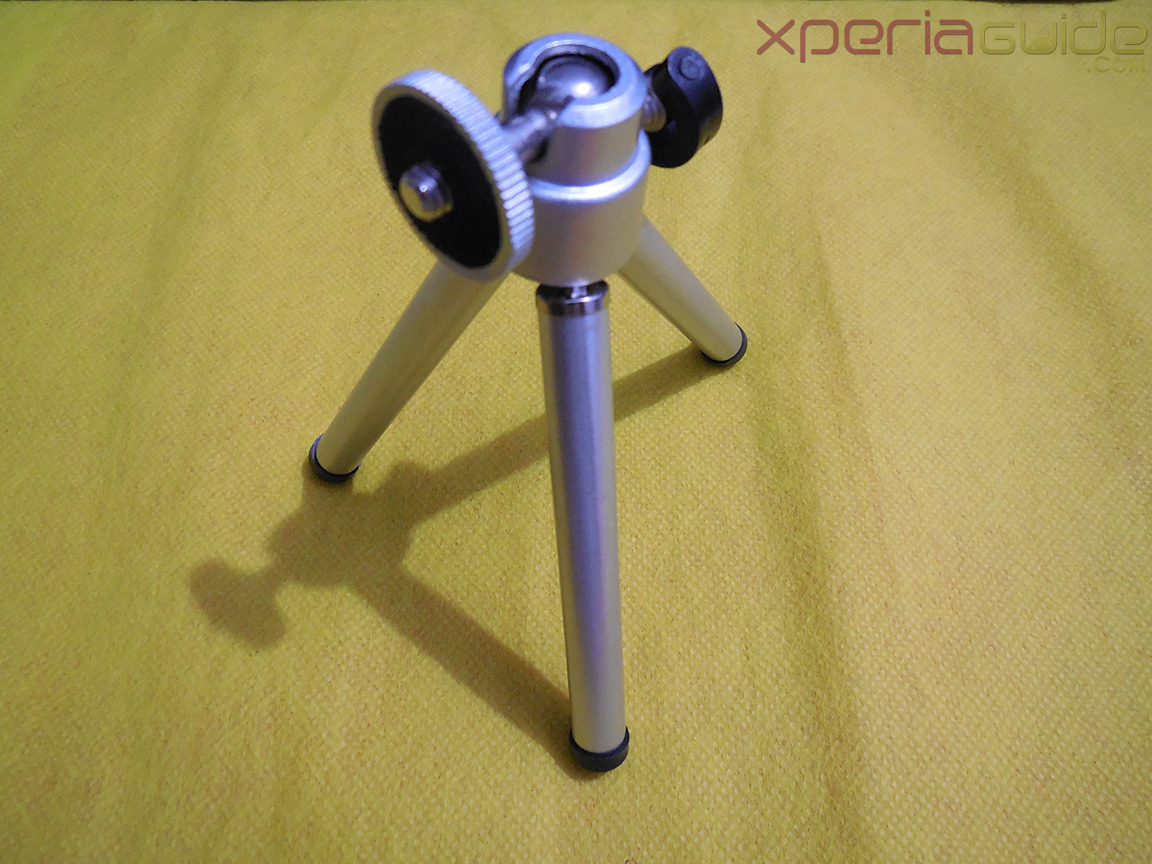 Take the "Lens holder ring adjustment screw"  and put the photo lens inside it.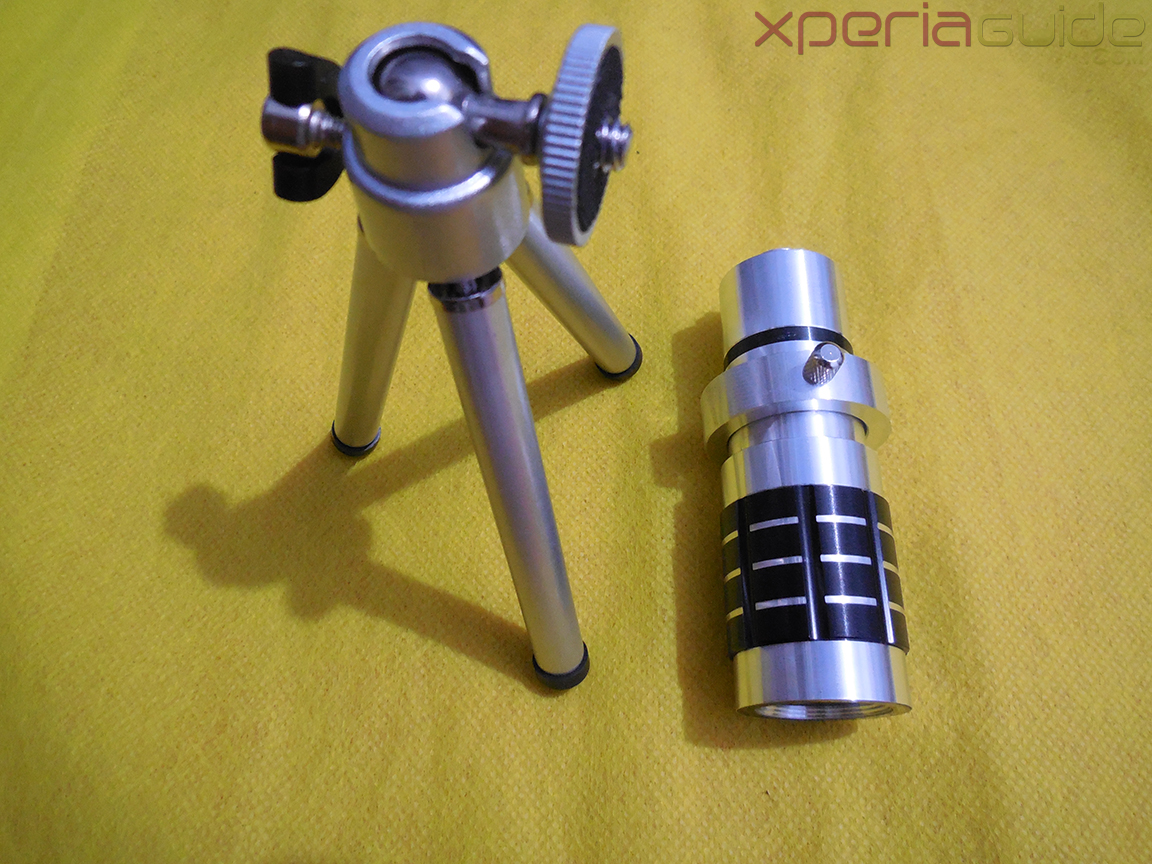 Now tighten the lens holder ring adjustment screw on top of tripod and tighten with the help of black screw given at the side of tripod. Once the tripod is set up, attach your Xperia Z on the tripod lens.
Note :- In the absence of "Universal Holder" as mentioned above phone keeps on losing the grip on tripod stand and there is a chance of occurring any accidental damage to your Xperia Z.
So we won't recommend it unless you have the universal holder with you to have a batter arrangement while taking photographs and reducing the chance of any damage to your phone.
Photo Results
We didn't find any better photograph taken with the help of this 12x Zoom photolens as compared to normal digital zoom of our Xperia Z. Photos taken appeared blurred, not at all satisfied with the photo results as what product description suggests.
Pros
Can act as a substitute lens for taking some photos of distant objects.
Keeping a good focal length, nice snaps appears.
Cons
Not suitable for every user. Tricky arrangement may cause accidental damage.
Blurred images not clear if focal length is not adjusted properly.
Regular digital zoom of Xperia Z provided better pics.
Thanks Brando.com for providing us Sony Xperia Z 12x Zoom Telescope with Tripod Stand for review 🙂
We may not use this product without universal holder as it may cause damage to our phone, if you need an additional zoom lens for your phone you can try otherwise we don't think that Xperia Z need any additional lens to take photos from a normal user's eye.
Let us know you review on above product if you have used this or similar to state above…