Sony Xperia Z1 which was officially unveiled at IFA 2013 Berlin now is coming to India on 18 September, its confirmed now. Sony has been sending press invites for the upcoming event of Sony Xperia Z1 launch. Xperia Z1 event will be held on Wednesday 18 Sept in New Delhi, India confirmed by folks at FoneArena.
Sony is also sending emails to those people in India who registered about getting infoo on Xperia Z1.
Kenichiro Hibi ( MD Sony India ) is expected to unveil the Xperia Z1 in India and Bollywood actress "Katrina Kaif" is expected to be the official brand ambassador.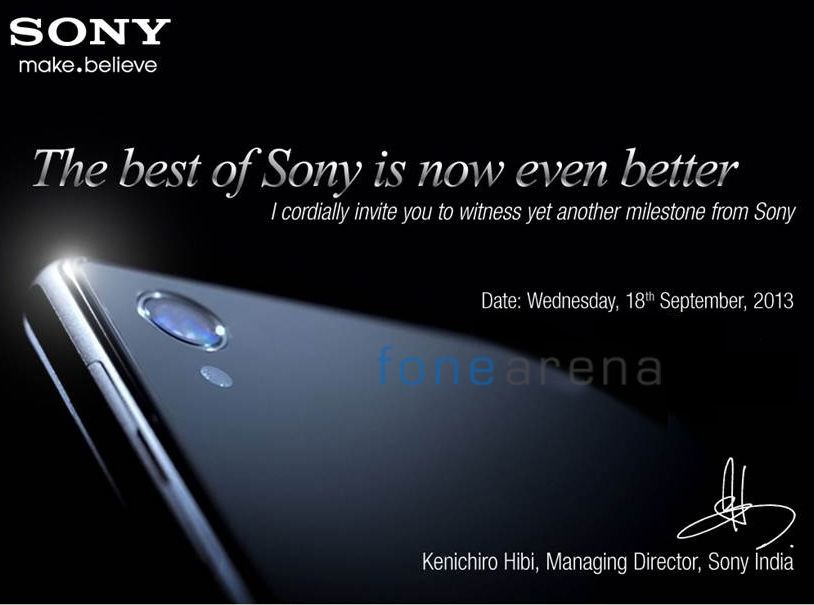 Xperia Z1 Launch in India – Live video Streaming
Just like Xperia Z1 launch at IFA 2013 was officially shown live, so the launch in India will also be. Bookmark this page, on 18 Sept. we will bring the live launch of Xperia Z1 in India.
Sony Xperia Z1 is highly priced, in UK Xperia Z1 price is £599 and in Germany it is €649, direct conversion rate of that price in INR is very high so we need to see at which price range Sony will launch Xperia Z1.
Competitors like Galaxy Note 3 and LG G2 are also launching in India at the same time so Xperia Z1 will face a tough competition in India from those two mighty handsets.
Legendary XDA developer "DooMLoRD", who first quoted that Xperia Honami will be named as Xperia Z1 has commented on the price of Xperia Z1 and according to him it will be around Rs 44K  i.e. INR 44,000/- and Sony will also be giving some goodies with it on pre-orders and will be soon available after the launch.
4 days to go now for the official listing of Xperia Z1 in India, what do you think it's price range will be. Drop your comments.
[ via – FoneArena ]