Xperia M was launched recently in some parts of world, but it's arrival is still waited in many countries. Just now we have spotted Xperia M online available for purchase in India now 🙂 Xperia M features Android 4.1.2 Jelly Bean, 1 Ghz dual core processor, 1 GB RAM with a 4″ screen and 5 MP cam, it also sports NFC.
Xperia M available for sale in India
Xperia M has been listed at Saholic, product available for purchase. While at Infibeam, Xperia M shipping will start from August 18 exclusively, color available is Black.
Xperia M price in India is Rs 12990 which is almost equal to $216.5.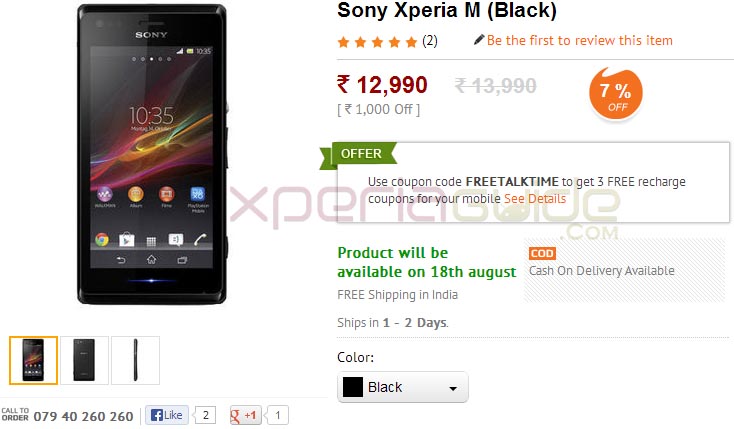 Buy Xperia M from Infibeam at Rs 12990, use coupon "FREETALKTIME and get 3 free recharge coupons instantly. To buy you can also use the Xperia M listing below.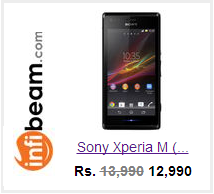 Xperia M Dual Sim is also spotted on Saholic under coming soon label, we can expect it be available for Sale soon. At Flipkart Xperia M is still under coming soon label.
Recently Xperia M C1904/C1905 Android 4.1.2 15.1.A.1.9 firmware update Rolled out, if you have already bought the phone or will be buying it, you can update your phone. Check out the link below.
Xperia M C1904/C1905 Android 4.1.2 15.1.A.1.9 firmware update Rolled Out
Xperia M price makes it a decent phone and a good competitor for Xperia J and Xperia E. What do you think…