As you all know now days apps from Xperia Honami i1 are being leaked by developers daily though Xperia Z Ultra has been launched officially and we haven't see a single leak from it yet and the leaks are coming from very much rumored device Xperia Honami i1.
Previously we posted some of the apps from Xperia Honami and Z Ultra as mentioned below, you can install them if you haven't yet.
Install Xperia Honami i1 ,Xperia ZU Home Launcher and Widgets on Xperia S,SL,Z,ZL

Download Xperia Z Ultra ZU, Xperia Honami Android 4.2.2 Official Themes and wallpapers
Now we have brought more fun for you 🙂
Install Honami i1 / Xperia Z Ultra Messaging, Calendar, Clock, Album App
SemcConversations, SemcClock, SemcCalendar and Album app has been successfully ported on Xperia S LT26i and Xperia SL LT26ii Jelly Bean firmware. Sony has used a new UI for Xperia Honami i1 this time with a white themed background User Interface.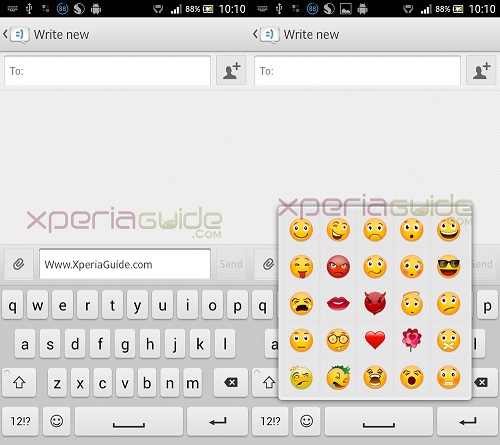 Device Supported
Requirements
Jelly Bean running on your device. For Xperia S and SL users, you should be on Jelly Bean 6.2.B.0.211 firmware. If you are not try installing it from given below link.
How to Flash Xperia S, SL Jelly Bean 6.2.B.0.211 World-India ftf file ?
Rooted Phone is needed. To Root your Xperia S, SL or any other above mentioned Xperia Device, please use DooMLoRD Easy Rooting Toolkit v15.
How to Root Xperia S, Z, SP, ZL, P, Go, Acro S, Ion Jelly Bean by DooMLoRD Easy Rooting Toolkit v15
DeOdex ROM needed, for some users "Conversations" apk didn't work on Odex, so you can always try DeOdex ROM, otherwise for us they worked on both.
How to Deodex Xperia S, SL 6.2.B.0.211 Jelly Bean Odex stock ROM ?

How to Install CWM Recovery v6.0.3.0 on Xperia S, SL, Acro S,Xperia Z, ZL Jelly Bean on LOCKED bootloader – Supports other Xperia Devices also.
How to Install ?
Do make a backup of Conversations, SemcClock, SemcCalendar and SemcAlbum apk of your current ROM in case the below apps do not work you can get them back.
Download the Xperia Honami apks from below.
Download Conversations.apk
Download SemcClock.apk
Download SemcCalendar.apk
Download SemcAlbum.apk
First try all above apks installing just like normal apk over the existing ones. If it shows error in this method then try step 2.
Push all above apks to system/app and set permissions as rw-r-r.
After installing them clear the data of the particular app by going to settings > apps > all > Clear Data of that app. Mandatory step or you will get Force Close error ( FC ).
P.S. Conversations and Alarm apk works perfect installing over the existing one. Push Album and Clock apk to system/app.
Do let us know in case you face any difficulty in installing above apps. If successfully installed, please leave a comment with screenshot 🙂