Xperia Guide, the new venture from Anurag and Ashish after sucessfully creating "Android Gyan" back in July 2011. The last giveaway we organised was of Xperia J on our previous blog Android Gyan, now we have come up with something more grand and exciting. Blog posting on Xperia Guide has been recently started in the month of  May only and has got a great response till now from Xperia fans. To spread out our goodwill, we are giving a brand new Sony Xperia SP in a giveaway, with many more prizes in total a worth of whooping $650 to be won as free.
Xperia SP C5302 Giveaway – Win Prizes worth $650 Free.
Xperia SP is another latest launch by Sony in the international market, powered by 1.7 GHz dual core Snapdragon 4 Pro processor, Android 4.1.2 Jelly Bean, 4.6″ HD Screen with Corning Gorilla Glass, 8 MP cam, 2370 mAh battery, costing around $450 or Rs 24K in Indian market. This giant Xperia SP is our Grand Prize for the giveaway with some other prizes 🙂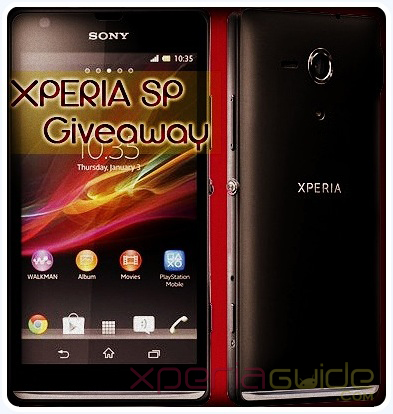 Giveaway Prizes
GRAND PRIZE – 1 black Xperia SP C5302. [ HSPA version ]
1 SEO Pressor V5 Multi-site plugin.
3 WpShit (Uxde) themes VIP 1 year License.
2 Samsung Galaxy S4 Flip Case cover (Black Mist color).
In total giveaway prizes are worth of $650. So it's gonna be a rocking giveaway with a lots of cool prizes to be won. If you are a blogger then SEO Pressor V5 plugin for your site is the best SEO plugin you can have. A good blog need a good theme and the WpShit (Uxde) themes are brilliant. A win-win situation for every person entering in the giveaway either a reader or a blogger 🙂
Giveaway Rules
Contest is open worldwide, yes an international Xperia SP C5302 giveaway. For INDIAN users, Xperia SP will be couriered to their address, while for foreign country participants, the phone will be shipped after ordering from either Ebay or Amazon.
Giveaway starts at 20th May 2013 at 12 pm till 3 July 2013 till 12 pm. i.e. for a period of 45 days. So you have more than a month to earn as many entries as you can 🙂 Giveaway winners will be chosen within 2 days after giveaway is finished.
Enter in the giveaway by given below embedded PunchTab form. Please provide your real name and email address as it will be used to contact winners.
MANDATORY Step – Please comment below, stating that you have completed all steps for the giveaway, as we have added an additional step in the giveaway which is excluded from the main entries so we need to know which person have done that step in comments only. To be eligible for the lucky random draw every participant must complete all steps of giveaway otherwise their entry will be disqualified without any notice to them.
Special Entry for Bloggers – One special entry for bloggers have been added, do have a look at that 😉 This entry can be skipped by other participants, it will be excluded from the main giveaway tasks but surely will fetch an entry to all who will do it 😛
Giveaway Grand Prize winner and other prizes winner will be chosen by a random draw, yes it's a lucky draw.
 NOTE
As per instructions of  Xperia Guide Team, it may happen that Grand Prize winner will be chosen randomly from the "top 30" individuals having more number of entries and for rest other prizes, it will be purely a lucky draw.
As giveaway proceeds we may add some more prizes to the giveaway.
Disclaimers 
Xperia Guide Team admins hold every possible right to cancel the giveaway at any moment without any prior notice to the participants of the giveaway.
Winners will be chosen randomly as mentioned above via PunchTab random winner selection tool, and the winner selection process may or may not be shown to the participants. No request regarding that will be entertained. Decision of Xperia Guide team in choosing the winner will be final and it can't be challenged in any case.
Xperia SP C5302 giveaway is sponsored by us i.e. gizmobolt.com and some undisclosed sponsor  Giveaway is not at all sponsored by Sony Mobile Communications or WpShit Themes, Samsung or by SEO Pressor Team in any manner. No claims regarding that please.
Enter in Xperia SP C5302 Giveaway
Using below form enter in the giveaway. Try to fetch as many entries you can by visiting the blog daily and promoting the giveaway as much as you can.  Good luck to all participants 🙂
Do not spam, participate only once, multiple entries by the same user are liable to be dis-qualified.
Thanks 🙂
Xperia Guide
Anurag & Ashish